MLB Playoffs 2011: Scouting the St. Louis Cardinals
September 29, 2011
Bob Levey/Getty Images
I'm normally an Astros fan, but after watching the St. Louis Cardinals come from the abyss to win the Wild Card, I am a NL Central fan. That means I'm rooting for the Cardinals and the Milwaukee Brewers. Tonight, we take a look at the St. Louis Cardinals. They worked hard to get in and now they get the Philadelphia Phillies. Congratulations.
When we get to the postseason, every facet of the game becomes crucial. This is where the Cardinals tend to shine. They were a very flawed team coming into the trade deadline and quietly filled a lot of those holes. The Phillies are coming in with the best playoff rotation in baseball. Here is a quick overview of what we are looking at.
Lineup
Everyone knows about the big three in St. Louis. Lance Berkman, Albert Pujols and Matt Holliday are all better than anything the Phillies have in their lineup. All three have OPS stats north of .900. It is a common perception that the lineup falls off considerably after that. That is both true and misleading.
It is true that no one else approaches a .900 OPS, but that's like saying that Murderer's Row fell off after Ruth and Gehrig. Yadier Molina put up a .817 OPS this season, David Freese nearly equaled that mark when he played and Rafael Furcal was much better in St. Louis than he was in Chavez Ravine.
The biggest change came when John Jay replaced Colby Rasmus in centerfield. Not only did he hit better this season, but Jay deserves a Gold Glove whereas Rasumus was below average. Funny, but most people thought that deal was only about a personality conflict between Tony LaRussa and Colby Rasmus.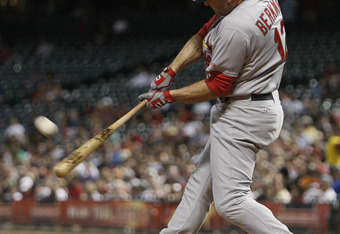 Bob Levey/Getty Images
Rotation
Everyone knows Chris Carpenter. He just pitched a two-hit shutout in the last game of the season. He is obviously on his game, but he won't be going until Game 3. Kyle Lohse looks like the likely choice in Game 1. He isn't exactly chopped liver. He went 14-8 with a 3.39 ERA. He isn't nearly as good as Roy Halladay, but no one on that staff is.
Game 2 will go to either Jaime Garcia or Edwin Jackson. Garcia has a 13-7 record with a 3.56 ERA while Jackson is 5-2 with a 3.58 ERA since coming from the White Sox. Pick your poison. As you can see, the Cardinals won't overwhelm you with their starting pitching, but they are all credible.
Bullpen
This is where the Cardinals have seen the most improvement. Ryan Franklin began the season as the closer and couldn't last until June. Suddenly, they were scrambling to find a closer. Fernando Salas wouldn't make anyone forget Bruce Sutter, but he was good enough.
Yet, the depth behind Salas left a lot to be desired. Yet, Jason Motte stood up and came through with a 2.25 ERA. Mitchell Boggs had a 3.55 ERA. No one else did anything until the deadline. At the deadline, they added Octavio Dotel and Marc Rzeczynski to give them five solid relievers. Then, they signed Arthur Rhodes to round out the pen. Again, no one spectacular, but all of them solid.
Bench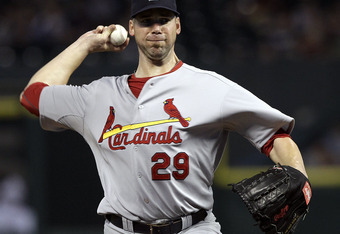 Bob Levey/Getty Images
The Cardinals acquired their depth in a round-a-bout way. When they acquired Rafael Furcal, they were able to move Ryan Theriot to the bench. Theriot can also play second base, so either he or Skip Schumaker will come off the bench. Meanwhile, Daniel Descaiso filled in for David Freese and obviously gained some valuable experience.
Nick Punto is a nice extra infielder to have. When the bullpen becomes shorter (carrying four starters means one less reliever can be carried), it allows teams to specialize a little more. Punto is a nice late-inning defensive replacement. Allen Craig has become a monster off the bench. Only Corey Patterson was a disappointment.
Overall
Outside of the top three hitters, there is nothing special on this team. What they do have is a lot of solid baseball players. A dominant Phillies rotation can hide a bullpen that is a bit shaky. The Cardinals aren't hiding anything. The Phillies probably win this series in three or four games, but they have a puncher's chance.