Denver Broncos: Ask Thyself of Another Football Player Named Tim Tebow (Part 1)
September 28, 2011
Garrett Ellwood/Getty Images
"To be, or not to be, that is the question: Whether 'tis nobler in the mind to suffer
 The slings and arrows of outrageous fortune,
Or to take arms against a sea of troubles,
And by opposing end them?..."
                   —William Shakespeare from Hamlet: Act III, Scene I
To "Slash" or Not To "Slash" or Remain, That Is the Question
When we look at Tim Tebow as a football player there are many unanswered questions on his overall viability at the NFL level.  The question of will he be or won't he be is out there.  Yet his determination and character could lead you to believe that he's seen "a sea of trouble and opposed it" previously, so why not now?  If we force ourselves to look a little deeper, we can see the mind for all its complexities, helping us find some answers to the question that is Tim Tebow.  
He's been ridiculed, called out and criticized all the while he remains himself, determined, patient and working hard in hopes the efforts will eventually payoff and land him the opportunity to become a starting NFL quarterback.  No doubt he's an athlete, however he has not been the best quarterback on the Denver Broncos roster.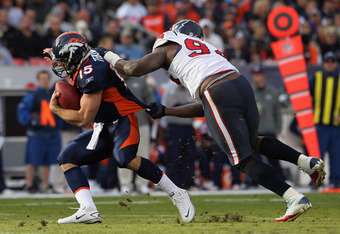 Doug Pensinger/Getty Images
Perhaps we've all been tricked into thinking or believing things in life and that were not quite what they may have seemed, only to find out later that certain stability had left us.  In the end a mind was left to ponder.  Maybe we could see the guise in our own eyes, one that reaches deeper into our own soul through our own image in the mirror.  Or perhaps another that is even more unstable, those reflections on the water—clear, yet faint for a moment and passing on thereafter.
In a mind there lies a vision, one that is, one that might be, one that could be,or pressing the phrase of what should be—only to find out it might not be.
So you set your sights on resolution, reconciliation and making sense of things, thoughts, plans and possibilities of what has yet come to be. 
The mind wrestles through such questions like:  I thought it was this, or perhaps it was that.  I was certain it had to be this way.  Why is it that the image seems to be changing on me?  Why is my ideology defying me?  Where can things possibly go from here?  Is it well with my soul?
Then as we step back and analyze things as they relate to the sports world, we find them complex, yet maybe not so deep or dark.
Still when it comes to one of the sports world's current and most beckoning questions regarding Tim Tebow, people wrestle with "what is to be."  Should he be a starting quarterback in the NFL right now?  Is he fully capable?  Will he make it?  Should he play another position?  How will this impact the team?  Or dare yourself to think and dream, should Tim Tebow be a "slash"?
Clearly at this point in time he's an overvalued asset riding the pine.  So let's dig a little deeper.  This article will leave the final opinion up to you but you will at least be persuaded to think a little more about the possibilities.
The Framework
Tebow is as strong as an ox it would seem, but let's get up close with some of the specifics.  Following his college career he participated in the 2010 NFL combine.  His vitals and results were reported as follows:
Height: 6'2.75"  
Weight: 236 lbs  
40-yard dash: 4.71 s  
10-yard split: 1.55 s  
20-yard split: 2.66 s  
20 ss: 4.17 s  
Three-cone: 6.66 s  
Vertical: 38.5"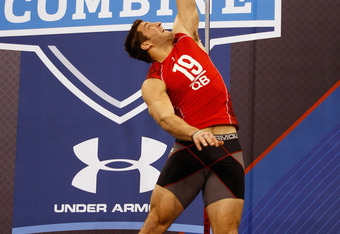 Scott Boehm/Getty Images
Broad jump:  9'7"  
Wonderlic: 22 
Tim is currently listed at 6'3", his own website puts his weight at 245 lbs while the Broncos list him at 235 lbs.  Tebow is currently 24 years old, born on 8/14/1987.  He is in the prime of his life, hoping to reach the prime of an NFL career sooner than later.
When looking at Tebow's vitals and evaluating the data for what it is and not on faith, he has a solid frame to work with.  Tebow has the natural build of a tight end or even a fullback, but he certainly is a good size for a starting quarterback in the NFL.  His height is common among NFL starting quarterbacks, while his weight is about 10 to 15 pounds above average.  That makes him a little less agile, but stronger, and able to take more punishment when taking big hits.
His dash and split times are decent for a guy his size, not superior or even great, but solid and something to work with.  It means he can burst as needed and outrun some guys on the field of play.
His vertical jump is over three feet which is big when you consider the idea of running quarterback sneaks.  It's understood that Tebow can run the ball, but a three-foot-plus vertical makes his body a weapon with the ball on the short-yardage leaps.  That's important.  Kyle Orton is not the sort of quarterback you want running that sort of play under center but Tim Tebow is.
The bigger and more important issue is that his weight is good and not a disadvantage in playing his position.  With his frame he is able to withstand hits from all angles and all types; it will take an effort to bring him down.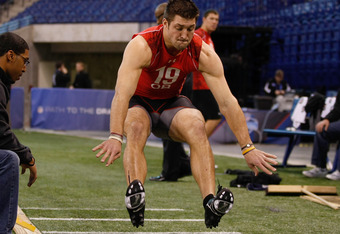 Scott Boehm/Getty Images
Additionally, his broad jump distance of over nine-and-a-half feet says he has a lot of lower body power.  That comes in handy when running into defenders and finding a way to get those extra yards you have to have in clutch situations.
Finally, his Wonderlic test score was a 22, which ironically put him at the NFL tight end minimum and two below the desired quarterback minimum.  If you were to translate this score on a 100 scale it would be about an 82 on the test.  Good, not great, but slightly above average for NFL players. 
So that tells you mentally there is something to work with there.  Now people should only take those scores with a grain of salt because some people are poor test-takers, but can be excellent workers—among the best in your company, or as it relates to this case, great football players.
It's Time To Ask the Question: Should Tim Tebow Be a "Slash"?
Now this is just a short, but Tebow has a versatile skill set and there have been lesser football players who have been successful as "slash" players.  This article will get deeper in depth with this idea, but the concept up to this point in time is that Tim Tebow is a quarterback; but what if he's not his team's best quarterback?  What if he could become a better contributor at another position?  Is it even possible?  
Is it time to entertain the full-bodied concept of "slash" in Denver as it pertains to Tebow?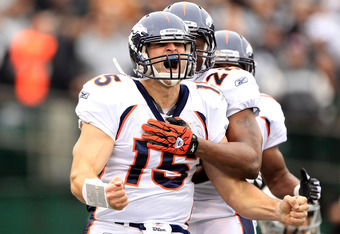 Ezra Shaw/Getty Images
Sit and think about that for the next day or so, then come back to this same space on Friday or sometime over the weekend to better formulate your opinions on this.  You might be surprised or at least a more knowledgeable football fan for being patient and doing so.
Read part II of this article out Friday.
Follow Chaz's national sports feed and other linked list on Twitter!