Broncos vs. Packers: TV Schedule, Live Streaming, Radio, Game Time and More
September 28, 2011
Streeter Lecka/Getty Images
The Denver Broncos are not in the same league with the Green Bay Packers. With the utmost respect and sincerity, they don't belong on the field with them.
That isn't to say that the Broncos aren't going to get better, but right now it simply isn't happening.
New coach John Fox and executive vice president of football operations, John Elway, know that improvement isn't going to happen overnight. Their defense is improved (it really couldn't have gotten much worse) but offensively they have no identity.
As for the defending champion Green Bay Packers, they are simply winning football games any way they can.
Defensively they've given up a ton of passing yards, but that is because they have the league's best rush defense and often force teams to play from behind.
The situation will be very much the same with the Broncos this week. This isn't to say that the game isn't worth watching though, as it's fun to watch the Packers offense anytime it is on the field
Where: Lambeau Field, Green Bay, Wisconsin
When: Sunday, Oct. 2 at 4:15 p.m. EDT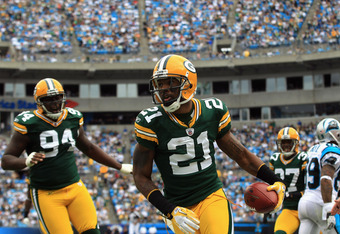 Streeter Lecka/Getty Images
Watch: CBS. DirecTV 715
Listen: Broncos - AM 850 KOA/KJMA 92.1/KMXA 1090, Sirius 117. Packers - WTMJ & Statewide Radio Network, Sirius 91
Live Streaming Audio: NFL.com Audio Pass ($29.99 for year, $27.99 team specific, $9.99 a month)
Betting Line: Packers -12.5
What's at Stake?
The Broncos need to find an identity. This fact cannot be stressed enough with a head coach that likes to run the football, but is forced to throw more often than not because he has to play from behind and because his running game isn't reliable.
Knowshon Moreno and Willis McGahee have not been good so far this season, and Kyle Orton hasn't been much better.
For the Packers, they'll just want to get out of this game healthy. Too many talented teams in the league are losing star players to injury and the Packers, who just lost Nick Collins for the season, do not want to see anyone else go down.
Green Bay made their run to the Super Bowl without a number of players last year, but they don't want to have to do that again.
Broncos' Injury Report
Knowshon Moreno, RB - He was active in an emergency role last week, but wasn't used. The status of the former first-round pick is still up in the air on whether he'll see any carries, despite the fact that he's been involved in team practices.
Champ Bailey, CB - The veteran corner will test his hamstring in practice before making a decision.
Elvis Dumervil, DE - The sack master was held out of last week's game but is expected to play this week.
Packers' Injury Report
Nick Collins, S - Out for the year.
Ryan Grant, RB - The veteran ball carrier does not expect to play this week.
Bryan Bulaga, OT - Status is up in the air with a knee injury.
What They're Saying
The Denver Post is saying:
Cornerback Champ Bailey, defensive end Elvis Dumervil, linebacker D.J. Williams along with defensive tackle Marcus Thomas were on the field for the start of practice.

Williams (elbow) and Thomas (pectoral, then groin) have yet to play a game this season, and Bailey (hamstring) and Dumervil (shoulder) have missed the past two games.

The team is hoping all four will be available for Sunday's game, though those decisions won't be made until closer to game time, after coaches and trainers see how their injuries hold up after several days of practice.
The Green Bay Press-Gazette is saying:
But McCarthy wants to wait until Friday to see the progress of Bulaga and Grant, who were injured against the Chicago Bears on Sunday.

McCarthy said Bulaga has made a lot of progress and is exceeding expectations.

Although McCarthy didn't say it, if past Packers injury practices hold to form,  the chances of Bulaga and Grant playing aren't high. The Packers have always tended to err on the side of caution when it comes to injured players.
Broncos' Player to Watch: Elvis Dumervil, DE
If the Broncos have any chance of making something happen against the Packers' offense, it will have to come in the form of pressure. Dumervil is one of the league's most feared defensive ends (when healthy) and he has to be a factor for the Broncos.
Packers' Player to Watch: James Starks, RB
With Ryan Grant likely out of the lineup, Starks will carry the load offensively. Don't expect him to be used a ton early as the Packers will come out throwing, but once they have the lead, they'll start pounding the rock. The Broncos were one of the worst rush defenses in the league last year.
Key Matchup: Broncos D-Line vs. Packers O-Line
The only way to disrupt Aaron Rodgers and his receivers is to get in his face. The super-accurate quarterback will shred the Broncos' secondary if they do not get any pressure up front.
Coach John Fox needs rookie Von Miller and Dumervil to be key contributors early in this game.
The Packers will look to set up the run with the pass game early, then simply wear down the Broncos as the game goes on.
On the Hot Seat: Kyle Orton, QB, Broncos
The Broncos organization went out on a limb starting Orton this season. The fan base is restless and only wants to see Tim Tebow out on the field. Orton needs a good showing in Green Bay to help quiet the critics that will follow him all season long.
Prediction: Packers 34, Broncos 17