Bruce Chen to the Rescue? He Might Be the Calvary for the Red Sox
September 28, 2011
Jamie Squire/Getty Images
In what would be a truly unique baseball happening the Boston Red Sox on the afternoon the 162nd game of the season may be in the process of completing a deal for Royals starting pitcher Bruce Chen. There are reports from both the Boston Globe's Peter Abraham as well as Fox Sports' Ken Rosenthal that the talks are indeed happening.
This would be an extremely desperate move by the Red Sox considering that Chen is a free-agent after the season. He also would not be eligible for the post-season roster since he would be acquired after August 31.
In addition, Chen would need to be placed on the Sox 40-man roster which could impact other players in the offseason as well. That means the Red Sox would be acquiring him for what would likely be a one game appearance in a Red Sox uniform.  
All this for a player with a resume that could at best be called "O.K." Chen is a 34-year-old lefty who has been in the league since 1998. Chen, who has played on 10 different major league teams including a not-so-memorable two starts for the Red Sox back in 2003 when he amassed a 5.11 ERA, is not the first guy that comes to mind when one thinks of "big game pitcher."
Nonetheless Chen is a lefty and Tampa is a team that is batting just .249 against lefties this season. 
Chen's season in Kansas City was one of Chen's best as a big leaguer. He is 12-8 with an ERA of 3.98 in 2011. Make no mistake about it, if the Sox were to pull of a trade for Chen to pitch just one game then they'd be taking a mammoth sized risk.
Kansas City knows what's at stake in Boston. They will part with Chen but they're going to try and extract prospects from Boston. What the Sox will be willing to part with is an interesting question.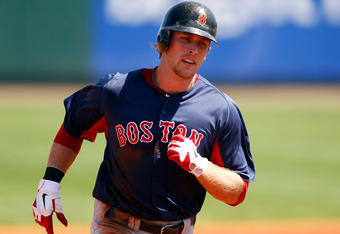 J. Meric/Getty Images
I'd be almost sure that Lars Anderson will be one guy who the Red Sox would be willing to part with. The one time top prospect has yet to become the Major League talent he was projected to be.
And now with Adrian Gonzalez entrenched at first base for the foreseeable future there's no place for Anderson even if he were to emerge as a big league talent. Add in the fact that he's currently taking up a spot on the 40-man roster and you've got a guy who is clearly expendable. 
The Royals may or may not bite on Anderson. If they were to acquire him it would likely be in hopes he develops and can become trade bait for them to deal.
But why?
Because the Royals have emerging mega-star Eric Hosmer at first base. The 21-year-old Rookie Of The Year Candidate is finishing up a season in which he's batting .294  with 19 home runs and 78 RBI in only 127 games. 
It's an odd situation and one that is developing quickly. It may or may not have transpired by the time you read this but it's a sign of just how desperate the Red Sox are as this season. The Red Sox seem to be willing to do anything to avoid becoming historically significant for all the wrong reasons.