Cam Newton: Why He Has a Chance to Be the Best NFL Quarterback Ever
September 28, 2011
Streeter Lecka/Getty Images
There is no more bizarre, arcane and mystical science in the NFL than drafting and grooming quarterbacks.
Teams that get the alchemy just right become perennial contenders. Coaches who groom a greenhorn into a blue-ribbon signal-caller get fat contracts and lifetime reputations. Every year, teams spend mega-millions on rookie quarterback lottery tickets, hoping they scratch off a winner.
The Carolina Panthers may have hit the jackpot.
From 4H judges to Mountaintop Mystics
In the past, quarterback evaluation relied on two things: college production and physical tools. Collegians who led big programs to big wins got the first look, as did players with obvious physical gifts like size and arm strength. As with livestock, pedigree and the "eyeball test" won blue ribbons.
In the late '70s, the NFL began transitioning to its current state: a passing league where the quarterback is an extension of the coach on the field. Third-round picks Joe Montana and Dan Fouts neither threw the ball a country mile nor played the role of battle-scarred field general.
They read the field and hit the open man with accuracy and efficiency. They executed the intricate offenses of their head coaches Bill Walsh and Don Coryell to a tee—and are now enshrined in Canton.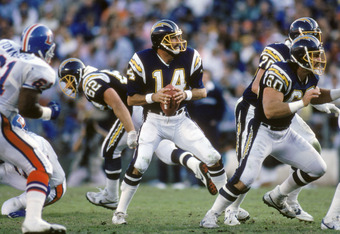 George Rose/Getty Images
Now, teams need to know if a quarterback has "it," the X factor that turns unimpressive specimens like Drew Brees into Jedi masters of pro quarterbacking.
Teams have tried everything: combine drills, IQ tests, Meyers-Briggs personality profiles, Pro Day workouts, college All-Star games, chalkboard sessions...yet the Kurt Warners and Tom Bradys still slip through the cracks while the Tim Couches and JaMarcus Russells count their millions.
Coaches who shepherd a less-than-elite quarterback prospect to stardom, or multiple quarterback prospects to serviceability, get labeled "Quarterback Gurus." Like horse whisperers, these men supposedly have the gift of understanding who has the magic ability to perform. But every Bill Walsh has his Giovanni Carmazzi, every Mike Martz has his J.T. O'Sullivan and every Jon Gruden has his, well, actually, Jon Gruden has a lot of them.
From Mountaintop Mystics to Advanced Analytics
The age of modern statistical analysis has led many to build models that correlate key performance indicators with future NFL success. Football Outsiders uses the Lewin Career Forecast model, built by Cleveland Cavaliers stats analyst David Lewin. Using indicators like completion percentage, interception rate and starting experience, LCF projects near-future NFL performance with surprising accuracy.
Of the eight QBs taken in the first five rounds of the 2011 draft, the Lewin model projected Cam Newton  to finish eighth, dead last. By the most accurate statistical way of divining "X factor," Newton should be looking up at Colin Kaepernick and Ricky Stanzi. All Newton did was throw for 854 yards in his first two NFL games, setting and tying a whole slew of NFL records in the process.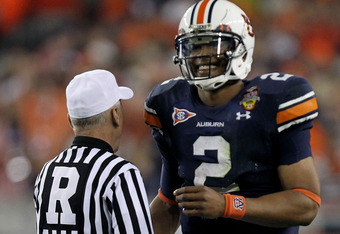 Ronald Martinez/Getty Images
Cam Newton defies the modern way of evaluating quarterbacks. His multiple college transfers, his father's alleged solicitation of money for commitment and multiple academic scandals point towards a poor decision-maker with an iffy support network.
His single year of big-time college football is a classic "red flag." He relied on his size and athleticism to make plays at Auburn; that rarely holds up in the NFL because defenders are much bigger and more athletic. He shares many traits with talented "busts" like JaMarcus Russell.
Sometimes, the Old Ways Are Best
Yet, by the old ways of reckoning, Cam Newton is the perfect NFL quarterback prospect. He's blessed with immense size at 6'5", 248 pounds—yet with a 4.56 40-yard dash speed and a 35" vertical leap, he's also a breathtaking all-around athlete, unlike Russell. Also, unlike Russell, Newton was the driving force behind an undefeated, undisputed national championship team.
Newton's list of college honors reads like a list of the college honors; Newton simply won everything:
2010 Heisman Trophy
2010 Maxwell Award
2010 Walter Camp Award
2010 Davey O'Brien Award
2010 Manning Award
2010 Associated Press College Football Player of the Year
2010 First-team All-American by AFCA, Associated Press, The Sporting News, WCFF, CBS Sports, College Football News, ESPN, Rivals.com, Scout.com and Sports Illustrated
Mark Wilson/Getty Images
Unlike similarly decorated college quarterbacks whose game didn't translate to the pros, neither Newton's arm nor competitive fire are in question. Newton approached veteran receiver Steve Smith and recruited him back to the Panthers, knowing the value a great wideout has to a young quarterback. Smith, in turn, raved about Newton's frustration in the wake of his brilliant—but losing—debut effort.
To turn to a hackneyed old chestnut, "you can't measure heart." Usually, that's used to illustrate how the Warners of the world can climb to the top of the NFL mountain over the backs of more gifted, less motivated players like his understudy Matt Leinart.
In Newton's case, he's been blessed with every conceivable physical gift, and he won't accept anything less than winning. That's an extraordinary—and extraordinarily rare—combination of traits. If he continues to be this humble, this hungry and—knock on wood—this healthy, Cam Newton has a chance to be the best NFL quarterback ever.