Minnesota Vikings: Why Leslie Frazier Isn't the Long-Term Answer
September 28, 2011
Grant Halverson/Getty Images
At the end of the 2010 season, Leslie Frazier showed he was a potential solution for the coaching problems the Minnesota Vikings were experiencing. However, after three horribly managed games, Frazier doesn't look to be that long-term answer after all.
The problems that are starting to surface with Frazier are multiple in number, but are minor in regard to potential harm, and one of the issues at hand is Frazier's passive approach in each of his first three games this year.
Frazier doesn't seem to be the aggressive mold of a coach that winning teams in the NFL have.
Furthermore, Frazier hasn't shown a true "governing hand" and hasn't shown that bullish aspect that successful coaches have, and a lot of that can be linked to his personal player management.
Through three games, Frazier has stuck with a few players who have proven they have no business being on the field, but yet, Frazier does nothing to blow any winds of change into the failing sails of the Vikings team.
One player who stands out is receiver Bernard Berrian.
Bernard Berrian has already come under heavy criticism for doing the bare minimum as he collects a fat paycheck that is not supported by his individual play.
Through 2010, there were plenty of games where Berrian seemed to simply "quit" on plays, and many others where he shown an unwillingness even to go over the middle to help his team move the chains.
His latest example was against the Lions in Week 3 where quarterback Donovan McNabb lofted a deep ball pass his way, but Berrian seemingly did nothing more than run the route—albeit haphazardly—never going that extra mile to even extend his hands for the ball, let alone dive to make a play on the pass.
This falls on the head coach and his staff in regard to player management: when a player is not living up to expectations, you need to remove him from the equation in favor of a potentially better option.
The Vikings have a viable down-field threat in Devin Aromashodu who is once again champing at the bit to become a play-making starter—similar to his situation as a Bears' receiver in 2010.
When Aromashodu got the chance in Chicago late last year, he responded by closing the season with 10 catches for 149 yards, which by all measures is modest at best, but a good notice as to what the guy will provide if you just give him the chance.
But I digress.
Yes, Leslie Frazier wanted to run the offense through running back Adrian Peterson, and when they do that, it seemingly works.
The trouble is, at some point, a team has to adjust and offer other offensive looks to keep the defense off-kilter for four straight quarters; something Frazier has not done.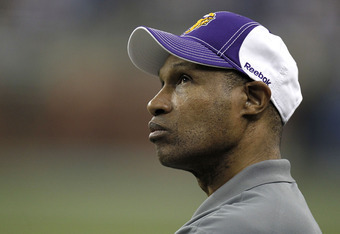 Gregory Shamus/Getty Images
Running the offense through Adrian Peterson is a great way to build a first-half lead and put the opposition on their heels, which the Vikings have accomplished, but alternative offensive approaches are the supplemental decisions a head coach must make within any given game to PRESERVE what lead they may have.
Something else that Frazier has not done.
The bottom line that is starting to rear its ugly head is this: Leslie Frazier can't seem to adjust as a head coach, properly manage and utilize his players and is becoming subject to his own passive approach as a head coach, which does not point to a long-term solution for the Minnesota Vikings.
I said it before and I'll say it again: the NFL is no place for passive head coaches who are obviously more gun-shy than previously thought; like Leslie Frazier, and it is becoming evident that Frazier is not the long-term answer Minnesota thought he was.