Kansas City Chiefs: Why Is Ricky Stanzi Not Playing?
September 27, 2011
Dilip Vishwanat/Getty Images
With the popularity of Matt Cassel decreasing, another player's popularity is increasing. And no, that player's popularity increasing that I'm referring to is not Andrew Luck.
Ricky Stanzi has yet to play a game for the Chiefs this season. However, he is arguably one of the most praised players on the team. Along with the losses, fans are bewailing the decision the Chiefs have made in every game this season to make Stanzi inactive.
Chiefs fans love Stanzi for three reasons.
He is a local guy from Iowa.
Although there are no professional football teams in the state of Iowa, there is a strong foundation of Chiefs fans there who support the Kansas City Chiefs.
Being drafted out of the University of Iowa last year, Tony Moeaki received a lot of support and attention because of where he was drafted from.
Outside of the local (soon-to-be disbanded) Big XII teams, Hawkeye fans are not hard to spot in the Kansas City area.
He was successful as a Hawkeye.
After being redshirted in 2006 and a backup in 2007, Stanzi put together three remarkable seasons that Hawkeye fans will remember. Stanzi led the Hawkeyes to three straight bowl victories as the starting quarterback from 2008-2010. It was the first time in school history the Hawkeyes had won three consecutive bowl games.
Stanzi and the Hawkeyes captured the Outback, Orange and Insight Bowls during the three-season stretch.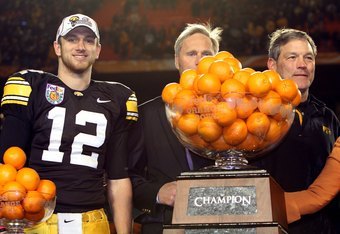 Doug Benc/Getty Images
Along with the team's success, Hawkeye fans will also remember Stanzi for his individual performance. Stanzi completed 59.8% of his passes throwing for 7,377 yards, 56 touchdowns and 31 interceptions during his time in Iowa.
In 2010, Stanzi had one of his best seasons statistically and had career highs in passing yards (3,004), touchdown passes (25) and completions (221). Stanzi ranked third in the nation in passing efficiency that year.
He is a quarterback
When a quarterback gets selected by a team in the draft, he is always regarded highly by his new fans no matter what round he was taken.
Chiefs fans were surprised Stanzi was still available in the fifth round, but were ecstatic that he came to Kansas City.
Every player gets drafted out of college for a reason. They helped give their program a name and played well individually. There are many reasons why Stanzi was successful with Iowa and has earned a spot in the NFL. However, not every player drafted will become successful.
For all we know, Stanzi might be the next Len Dawson or the next Brodie Croyle. We don't know.
For now, Stanzi is not the most reliable player to have as the Chiefs starting quarterback. Even though Cassel is struggling, Stanzi would not be able to make much of a difference. Fans are upset that Stanzi has yet to be active this season and feel he deserves a chance.
My question is, what makes Stanzi more important than Tyler Palko? Is it just because Stanzi is a local guy and was selected by the Chiefs? That seems to be the only reason fans need to support Stanzi. Stanzi is no different nor is he better than Palko at this point.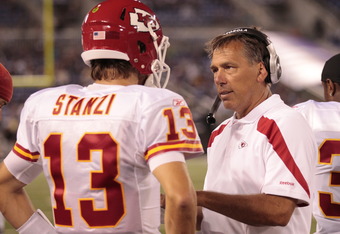 Rob Carr/Getty Images
Stanzi's popularity reminds me of Bobby Sippio and how crazy fans went over Sippio for how well he was featured on HBO's Hard Knocks. Sippio was represented as a player who was a champion in the AFL and did not drop any passes during training camp.
When Sippio got a chance to play a regular season game, he had a hard time catching passes and was eventually let go. Sippio has not played a regular season game in the NFL since 2007.
As much as everyone wants Cassel out, there is no one that could take over and make much of a difference for the remainder of the season.
The decision factors in making Stanzi inactive is not hard to depict. Fans must be aware that teams can only carry 45 of their 53 active players into a game. That means seven players must receive the call for being inactive.
It is logical to make a fifth-round rookie quarterback inactive. If the Chiefs injury bug spreads to the quarterback position, perhaps Stanzi will get some playing time. For now, Stanzi is nothing more than a backup.