Ryan Mathews Should Be the Focus of the Chargers Offense, Not Philip Rivers
September 27, 2011
Stephen Dunn/Getty Images
The last time before last Sunday that I missed a San Diego Chargers game was a 2005 game against the Kansas City Chiefs.
Apparently I didn't miss much, other than another one of my observations proving to be correct.
Ryan Mathews should get over 20 touches in every game. He's bound to race past the 200-yard mark in a game eventually.
That's the type of production that can change the entirety of what a defense does.
All eyes on Mathews.
I heard through the grapevine, and I believe it, that quarterback Philip Rivers took a ton of punishment. I also heard a lot of blame being heaved upon the offensive line.
That's the stupidest thing I've ever heard. It's not the offensive line's fault.
How many times have you heard that "if you give the quarterback all that time, he'll kill ya!"
Have you ever thought that if you leave your quarterback back there all that time he'll get killed?
One by one, fans are starting to ignore the media and football alumni fraternity and realize that Norv Turner is not a genius. I'm starting to hear about it every where. Youtube comments, people who call in to radio shows, my comments.
They are starting to come around. Norv is not a genius.
He's just not. Jennifer Lopez can't sing and Norv Turner is not a great play caller. That's reality.
His play calling is fundamentally wrong. It's not designed to be successful on the east coast in the winter time. You know, that's how you get past New England and Pittsburgh and get in the Super Bowl.
To compound matters, seemingly every team in the league has started to run the same offense the Chargers run with the same type of personnel. I'm annoyed, you're annoyed, but it's a copy cat league.
The Chargers really need to go back to square one. This offense works when the quarterback is protected by the play calling and the running game, not the offensive line.
Remember the national media's main insult of the Chargers' offense in 2006?
"San Diego has a good offensive, but they have no good wide receivers."
Meanwhile, San Diego was scoring nearly 500-points and blowing teams off the field.
Oh yeah, and the Quarterback never got sacked 30 times in a season.
The running back really needs to be a huge factor in Turner's offense for it to really be effective. He needs to be able to be a multidimensional threat that keeps defenses on their heels.
Rivers has proven that he can be a gunslinger, now put that accomplishment on the shelf and let him come back down with the rest of the offense. Let him work with a star runner that can take the defenses focus off of him so he can really get them (when they least expect it).
Mathews is that guy.
Mathews has rare ability at running back. It's only the third game of the season, but he's on pace for over 2,000-yards from scrimmage and 16 touchdowns, and that's with splitting way too much time with Mike Tolbert.
He's got the talent to make a defense consider that he could catch a screen, he could run it inside, he can run it outside, he can take an inside hand off and bounce it outside for big yardage, and he is a threat to score from anywhere on the field.
Hell, the guy might run a post pattern.
That versatility will help keep defenders out of Rivers face. Right now, nobody is falling for anything the Chargers do.
Nothing.
They know that the Chargers don't value five to seven yard gains. If you stop the big play and the run, what do the Chargers have?
Nothing.
Norv has begun to spin out of control with his uninspired, high risk play calling. Rivers is paying the price by getting slammed to the turf repeatedly. He might not last the season and many more interceptions are coming. 
Where are the solid offensive red zone plays? Where are the plays designed to get you a good five yards on first down? Where are all of the quick passing plays that frustrate a defense because Rivers keeps getting rid of the ball too fast?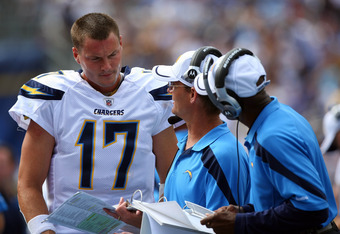 Donald Miralle/Getty Images
Turner needs to allow Rivers to rely on Mathews even more. Dare I say Mathews should get the ball close to 30 times a game? He should also copy the Patriots and allow Rivers to get rid of the ball much more quickly.
This run up the middle, run to the right, heave the ball down field offense is not doing Philip Rivers any favors.
Where are the plays designed to get five to seven yards? That's where Mathews and some of the smaller receivers like Bryan Walters or Patrick Crayton can help.
Right now, the play calling is making the offensive line look worse than it is and putting Rivers' health at risk and it's reflected in the below average point output seen by the Chargers this year.
The Chargers have averaged more than 24-points a game in each of the previous seven seasons, a feat not matched in NFL history.
Greatest offense ever. They're averaging 22 points a game this season.
Side Note
I was listening to the Scott and BR show on Double X 1090 this morning and I happened to catch my favorite caller who is known as The Rocket Scientist Brain Surgeon or RSBS for short.
RSBS (mistakenly it's assumed) called the Turner's offensive approach "three clouds and a yard of dust" which is what I may start calling it, or better yet "two yards and a cloud of dust" (run, run, pass).
Either way it's usually two uncreative running plays and a long heave down the field for the Chargers in the first half of games.