49ers Beat the Bengals: The Fleeting, the Notable and the Flags
September 27, 2011
John Grieshop/Getty Images
Midway through the second quarter of the 49ers-Bengals game, I found myself wanting to call the match "a defensive battle." That would be giving the offense too much credit.
Forgetting that Andy Dalton has played two games and Alex Smith half a decade, these are offenses still getting their footing. Sure, there were nice defensive plays here and there, but penalties, drops and miscues looked like the most crucial players on the field.
After a while, this game just started to look like two guys without arms trying to have a wrestling match—all kinds of heart and sweat, but nothing really getting done. If you are looking for a rosy summary of the game, please look elsewhere.
With that said, for fun, I'm going to randomly comment on the commercials because they happened to be more interesting most of the time.
Fleeting
Josh Morgan, I saw that. After the gorgeous Crabtree completion after the two-minute warning, you alligator-armed a pass because you knew Clements was coming. I saw the way you were looking around as if you hadn't. I saw it. You play in the NFL, Josh Morgan. You put your hands out, catch the ball and take that hit for the first down. You don't half-assedly throw an arm in the general direction and let the ball fly by. Get off the field if you're going to pull that crap. I know Smith was setting you up for a blast by chasing you with his eyes (more on that in a sec), but you're being paid to take that hit. Don't do that again.
I really enjoyed having Brian Billick commentating last week—I hated having Jim Mora commentate this week. This was a mute-on game for me. First, why was he telling me that Alex Smith is "different"? Why does this happen with any broadcaster? Hey Jim, I've watched Alex Smith for five years. He is the exact same. Seriously. Shut up. Quit telling the world otherwise. No one cares if he was nice and confident when you met with him on Thursday. He sucks at quarterback.
John Grieshop/Getty Images
Side note: I'm over the Geico Gecko. Time to move on.
Add: Mora. He tells me that Jim Harbaugh "does a great job protecting Alex Smith" less than five minutes removed from ripping Harbaugh for sending Smith out alone on a bootleg and getting decapitated by Clements. Also, Ron Pitts said that hit "started this drive," when it was actually the previous drive. NFL announcers, everyone. Getting the B-team announcers really compounds an already aggrevating game (if you can't tell).
Alex Smith actually checked his playcard before taking the snap. I wrote in my notes "EXACTLY."
Hey Fox, I'm not watching The New Girl. How are you so tone deaf that you'd think the people watching football are also the people saying, "Yeah, I'd totally enjoy a comedy where some moderately cute girl moves in with three over-acting guys and seems as if she has brain damage. Sure, that won't be annoying."
Also in my notes, "Niners playing as if they met on Match.com last night." That could explain my overuse of italics above…
Notable
I've created a new adjective. Phonetically, it's pronounced andly, but its spelled And-Lee. It still functions as an adverb, though. For instance, "Uh oh, the Niners offense is playing And-Lee in the second half." When someone says this, you know you're going to see a lot of punter Andy Lee.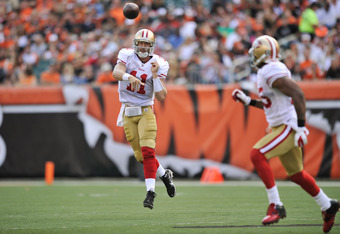 Jamie Sabau/Getty Images
The Bengals started with a textbook west coast offense opener. And the Niners looked completely powerless to stop it. Dalton was a surgeon in the middle of the field, finding every tiny seam and slicing it open. Finally, the Niners D got a text message saying the game had started and they locked it down around the goal line. Regardless, that's what a below-average passing offense can do to this secondary. I said it in Week 1—lots of chasing going on, not a lot of covering.
Crabtree played like an NFL receiver at times. Let's hope that trends up and to the right as he mends.
Is Chevy apologizing for the Volt being electric? I felt like the "Hey, I thought these were electric" ads were apologizing. If anything, they're not embracing the fact they're environmentally friendly. The subtext just felt like, "Hey, don't worry, if you really can't bear the thought of not burning gas, you'll always have that option."
Gore's fumble was painful. But on the bright side—and I'm being serious—it was only the second offensive turnover of the season.  So we had that going for us, which was nice.
My crush on Kendall Hunter grows. Quick. Let's get this Thunder and Lightning thing going a little more with Gore. I am fine with a timeshare. And I'll bet a dollar so is Frank. He just got his last big contract.
I have officially moved Harbaugh's decision-making into Notable and suspect. Why were we running a tight-end reverse when we need to ice the game? A massive misdirection, lateral field running play to a guy not known for clamping down on the ball when we have the game on the line? Dislike. Give the ball to a running back, go north-south. Bad call that was lucky not to have ended badly.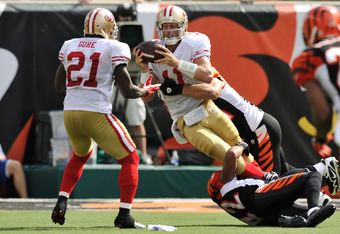 Jamie Sabau/Getty Images
Is it me, or do people in Corona ads always look like really boring people? They're literally just staring at the waves, and the waves aren't even that cool. Am I the only one that reads a book, plays games or talks to people at the beach? I feel like these Corona ads should actually be medicinal marijuana ads or something.
The 49ers had more penalty yards (70) than they did rushing (50).
The 49ers had fewer penalties (12) than they did instances where I almost shattered the television with my cell phone.
Those two statistics mean the 49ers were playing And-Lee.
Flags
Green: Our run defense is just a work of art. I have no complaints.
Red: Our pass defense is just a smelly fart. I have lodged my complaints.
I'm not going to lie. That Google Chrome add with the little girl growing up and her dad cataloguing it all in emails really gets me. That's right. Have at me in the comments.
Super Red: This offense can't go anywhere until Alex Smith stops following receivers with his eyes. He had some nice completions, but rewatch any of them and you'll see a guy tracking his target from the snap. I said this last week—and I'll say it again—a better secondary will go to town on that.
Add: Smith. The problem is that when you start asking him to check options, his feet go crazy. They look like engine pistons, and if there is any semblance of pressure, forget about it. It's like he's trying to throw from a log bobbing in a lake.
Add: Smith. I can't pinpoint what in his mechanics cause him to drill the ball groundward and kill a thousand blades of grass. But I have an idea—change his helmet and facemask. You can tell when its going to happen—he cocks his head forwards, as if he's getting a better look, and then promptly mows the lawn. When his head cocks forward, it lowers his front shoulder, his arm comes over the top and is predisposed to aim at the ground. I don't get why he does this with his head. It's not changing the view unless there is something hindering him in his helmet and he needs to make this last-second adjustment to see best. Or he needs some special contacts. I dunno. I completely realize this is grasping for straws, but after five years of watching him leave skid marks I'm ready to explore weird solutions.
As far as the Eagles next week, let's hope Vick takes a week off with that bum hand (and bum brain). Otherwise it'll be a long day.
Caleb writes for Wired and says other stuff at www.twitter.com/calebgarling