NFL Power Rankings: Pittsburgh Steelers and 3 Teams Falling Fast
September 27, 2011
Joe Robbins/Getty Images
We are only three weeks into the NFL season and already we have several teams that are falling down the power rankings faster than the speed of gravity.
There is still plenty of time left, of course, but these teams will have to right the ship quickly if they are going to have the season they were hoping for. Let's take a look at which three teams are falling the fastest through three weeks of the regular season.
Pittsburgh Steelers
You still have to consider the Steelers as one of the favorites in the AFC, but to be frank, they haven't looked good so far this season.
They are 2-1 on the season, but something doesn't seem quite right. They had an easy win over Seattle in Week 2, but outside of that they were blown off the field against the Ravens in Week 1 and just squeezed past the hapless Colts in Week 3.
Their biggest concerns have to be on the offensive side of the ball. They are 26th in the league in scoring so far this season and the running game has been of particular concern. They are 23rd in the league in rushing yards per game.
Atlanta Falcons
I'm beginning to think that I was wrong about the Falcons. I figured they would take the next step this season, blow past the New Orleans Saints in the NFC South and really become favorites in the NFC.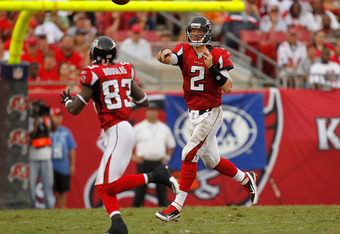 Mike Ehrmann/Getty Images
Obviously, that hasn't happened.
They got a good win in Week 2 against the Philadelphia Eagles, but their two losses have not been pretty. The Chicago Bears handled them with a score of 30-12 in Week 1 and they lost an ugly game in Week 3, 16-13, to the Buccaneers.
The Falcons have the talent to really have a special season, but they need to get it going pretty quickly to realize that potential. The NFC, and their division in particular, are too tough to come back from much of a deficit.
Chicago Bears
The Bears look like a mess all too often for them to be a playoff team. They don't run the ball enough considering how big a star Matt Forte is, Jay Cutler still comes off as immature and makes too many mistakes and the defense is solid, but not nearly as good as they once were.
They had the aforementioned win over Atlanta earlier this season, but they looked pretty flat in their losses to the New Orleans Saints and Green Bay Packers.
Those losses are somewhat excusable because they were against playoff teams, but considering the Bears have designs on being a playoff team themselves, you would have expected them to compete better.
Joseph Healy's NFL Power Rankings After Week 3
1. Green Bay Packers
2. New England Patriots
3. New Orleans Saints
4. Baltimore Ravens
5. Pittsburgh Steelers
6. Philadelphia Eagles
7. San Diego Chargers
8. New York Jets
9. Detroit Lions
10. Buffalo Bills
11. Tampa Bay Buccaneers
12. Atlanta Falcons
13. Houston Texans
14. Dallas Cowboys
15. Chicago Bears
16. Oakland Raiders
17. New York Giants
18. Washington Redskins
19. Tennessee Titans

20. San Francisco 49ers
21. Minnesota Vikings
22. Arizona Cardinals
23. Carolina Panthers
24. St. Louis Rams
25. Cleveland Browns
26. Jacksonville Jaguars
27. Miami Dolphins
28. Denver Broncos
29. Cincinnati Bengals
30. Seattle Seahawks
31. Indianapolis Colts
32. Kansas City Chiefs