Ozzie Guillen's Days with the Chicago White Sox Numbered: What Does That Fix?
September 26, 2011
Brian Kersey/Getty Images
So often the blame of an underachieving team settles on the shoulders of a manager, when in reality, there's nothing the manager could do but keep writing the same lineup and sending out the same five pitchers.
Yes, the manager of an office receives the blame for bad work for a company, just as he/she receives the glory of good work. However, the manager of the office is responsible for the hiring of those employees, so it's understandable why much of the results falls on their shoulders.
As a season in which the Chicago White Sox were ranked fourth in ESPN's preseason power rankings and fifth in terms of dollar signs on a payroll ends with zero playoff games, Ozzie Guillen is out as the White Sox manager.
Monday's game was the last game Guillen would manage in a White Sox uniform, as Guillen is being released from his contract to pursue other managing opportunities.
After a having a meeting with owner Jerry Reinsdorf, Guillen apparently got the notion he wouldn't be getting an extension before next season, which would be the final year of his contract. Rather than wait for the White Sox to use Guillen as a lame duck manager, it would seem Guillen is leaving.
As usual in baseball, Guillen is acting as the perfect scapegoat manager. The problem is, Guillen wasn't doing the hiring of this office.
GM Kenny Williams did.
We can excuse Williams for the Adam Dunn signing, even though it's his job to know his personnel, because there's no one who watches the game of baseball that could have predicted Dunn would forget how to hit and walk.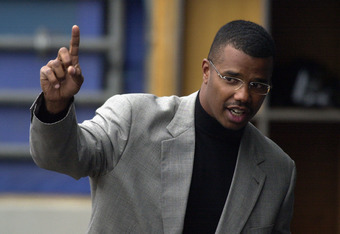 Jonathan Daniel/Getty Images
Dunn will most likely be fine next season, considering the best hitter in White Sox history struggled his first season moving to full-time DH.
In 146 games at DH and 14 games at first base, Frank Thomas had the worst season of his then young career, batting .265 with a .381 on-base percentage, .480 slugging percentage, .861 OPS, 29 homers, 109 RBI, 109 runs, 93 strikeouts and 110 walks. 
In the previous season, with 97 games at first and 49 games at DH, Thomas hit .347 with a .456 OBP, .611 slugging, 1.067 OPS, 35 homers, 125 RBI, 110 runs, 69 strikeouts and 110 walks.
Thomas went on to have a fine career and Dunn will most likely turn things around. He clearly can't get much worse.
Even if you don't blame Williams for Dunn, which, judging by the boos, most White Sox fans are not excusing the GM, you cannot excuse him from the real reasons the White Sox did not make the playoffs this season.
It was Williams who gave giant contracts to the inconsistent Alex Rios when no team would touch him, and to Jake Peavy when the world knew he was bound for injury and a product of the pitcher-friendly PETCO Park and the watered-down National League.
It was Williams who essentially traded away young talent in Gio Gonzalez (3.24 ERA, 357 strikeouts, 180 walks in 394.2 innings pitched in the last two seasons) and Daniel Hudson (2.97 ERA, 234 strikeouts and 65 walks in 294.2 innings pitched since being traded from the Sox) for 24-year-old former third-round pick Zach Stewart (6.22 ERA in 50.2 innings for the Sox this season) and middle reliever Jason Frasor (10 earned runs and three home runs in 17.2 innings since joining the Sox).
Remember when Gordon Beckham was dubbed untouchable, even if it meant getting Adrian Gonzalez or Cliff Lee?
Good call, Kenny.
So use Guillen as your scapegoat.
Blame him for not demanding Dayan Viciedo be brought up early enough this season or believing far too much in Juan Pierre.
Blame him for being obnoxious and loud all the time because he didn't know that those two things only are tolerated when your team is winning.
Blame him for not getting the memo that managers were supposed to be boring and say the same answers to every question, rather than speak their mind.
But also blame him for winning a World Series with a team that went 83-79 the season before. Williams added a Japanese second baseman (Tadahito Iguchi) no one knew anything about, traded a power-hitting outfielder who has hit nearly 200 home runs since 2005 (Carlos Lee) for a guy who can't find a job in baseball (Scott Podsednik) and replaced Esteban Loaiza (4.86 ERA in 2004) with Orlando Hernandez (5.12 ERA in 2005) and the White Sox won 110 games, including the final game of 2005.
Not exactly the most savvy GM moves.
Ozzie also deserves blame for handling the bullpen problems, considering Shingo Takatsu, Dustin Hermanson and Bobby Jenks all had to close for the White Sox in 2005 along with setup relievers who would never touch their 2005 season numbers again in Cliff Politte and Neil Cotts.
Considering the White Sox were picked to finish fourth in the American League Central before the 2005 season, I'd say Ozzie deserves some of the blame for that as well.
Most importantly, be sure not to forget to blame the new manager when he loses because he is stuck with the contracts of Dunn, Rios and Peavy that Williams put together.
Now, let's start getting the Steve Stone rumors going. Lord knows any job is better than having to sit next to Ken Harrelson for 162 games.