Edgar Martinez: Should He Be a Hall of Famer or Not?
September 27, 2011
Otto Greule Jr/Getty Images
Edgar Martinez was the anonymous member of the great Seattle Mariners in the late 1990s and early 2000s. Ken Griffey Jr., Alex Rodriguez and Randy Johnson got all the press, but Martinez was as steady as all of them. He will also be the first full-time designated hitter to get serious consideration for the Hall of Fame.
He ended his career in 2004, so he first became eligible in 2010. He got 36.2 percent of the vote that year and 32.9 percent last year. Believe it or not, if we go on past voting, Martinez has a good shot eventually.
Of course, first we have to convince people he has the numbers to get in and then we have to convince people that a designated hitter deserves to get in.
I personally abhor the designated hitter and did not include a chapter for them in my book The Hall of Fame Index. I included Martinez as a third baseman since he played there before being converted into a designated hitter. Before I can make the case for or against Martinez, I need to talk a little about how the index works.
The Formula
 The idea behind the Hall of Fame Index was the fact that the Baseball Beatwriters Association of America (BBWAA) and Veterans Committee often overlook certain players based on prejudices they have.
In the sabermetric field, there have been numerous "ubermetrics" designed to evaluate the whole player. Unfortunately, all of those have their own sets of assumptions that sometimes overlook or overvalue certain things.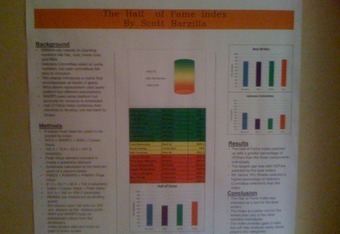 The most popular of these are called win shares, wins above replacement player (WARP) and wins above replacement (WAR). What I did was combine these three numbers into one number. I also added an element for peak value as well. The end result was that the combination did a better job of matching the selections made by the BBWAA.
The implication here is that if it does a better job of explaining what has been done in the past then it will do a better job of predicting who will make it in the future. It also will help the voters separate the deserving candidates from the pretenders. Naturally, it can also help rank players, but that was not its intended purpose.
Career Value = Win shares/3 + WAR + WARP3
Peak Value = Win shares best 10 years + WAR best 10 seasons + WARP3 best 10 seasons.
The book was published at the end of 2010 and the data was compiled as of the end of the 2009 campaign. Therefore, the numbers have changed since then and WARP3 doesn't even exist anymore. At the time, it was compiled to allow for differences in the length of schedules. The current formula is similar, but not exactly the same. We'll use current numbers. 
Career Value
 Win Shares: 101.67
The typical standard for career win shares is 300. Three win shares equal one win, so we divided the win shares' total by three so that the number would be in line with WAR and WARP3. So, 100 is the bench mark that Bill James had in mind.
According to that alone, Edgar Martinez should be a borderline Hall of Famer.
WAR: 67.2
Sean Smith and Bill James have a lot of differences in their formulas. WAR is the preferred number today. It is based more on expected wins than actual team wins. It also calculates fielding differently. Both compare to the replacement level player, but since that is a theoretical construct it will change. Martinez had 0.2 defensive WAR, which means he had virtually no value as a defender.
That being said, 67.2 also puts him right at the borderline for career value. All of the WAR scores will be lower than win shares. We really won't be able to put too much stock into what these numbers mean until we compare them to the other third basemen on the list.
WARP3: 88.2
Naturally, since this number is now defunct, it will come under some scrutiny. The new WARP formula falls more in line with WAR. This could change some votes, but we have to remember that the ship will come down with the rest of the fleet, so to speak. In this case, this puts him comfortably in.
Career Value = 257.07
Peak Value
 Win Shares: 81.67
This means that, according to win shares, Martinez averaged more than eight wins per season over the course of his 10 best seasons. This is damn good—and especially good considering that he had no help from his glove. Most quality third basemen are good for a win or two from their glove. 
WAR: 58.1
Obviously, these numbers have to be taken in context. He barely cleared 65 wins for his career, so getting 58 in his 10 best seasons demonstrates that there was a ton of quality packed into Martinez's career, even if he didn't amass the same career totals as the other superstar third basemen.
WARP3: 72.4
Again, this formula is older, but the implication is the same all the way around. Martinez's peak was a lot shorter because he didn't become a regular until his latter 20s. However, once he did become a regular, he packed a lot of wallop into 10 or 11 seasons of greatness.
Peak Value = 212.17
Total: 469.24
Putting It All Together
I obviously don't want to give too much away. Suffice it to say, Martinez is one of the top 10 third basemen in baseball history and therefore a Hall of Famer in my book.
Typically, anyone with 500 or more index wins is what I would call a first-ballot type of Hall of Famer. Anyone between 450 and 500 is comfortably in. Anyone between 400 and 450 is what I would categorize as a borderline Hall of Famer. 
With Martinez's score, he should be in someday. His very strong peak value takes him from borderline candidate to solid candidate in my book.
A lot of voters overlook him because they don't respect walks as much as they should and he did not hit a ton of home runs. He did hit a lot of doubles, which made him a lot more valuable than most people considered him in his career.
Want More?
If you are interested in reading more about the Hall of Fame Index, you can find it at Amazon and Barnes and Noble. Both sites have it available in paperback and e-book form.