Jets at Raiders: Here Are the Problems. Here's How to Fix Them.
September 27, 2011
Jed Jacobsohn/Getty Images
You know what I think is the problem with the Jets so far this year?  It's almost like they are collectively thinking, if we can just get back to the AFC Championship game, this time we'll win it.
And everything else is just marking time and crossing off opponents until they get there.  But none of the teams they are facing think that.  Opponents see beating the Jets as a test of where their team stands in the AFC pecking order. 
This isn't the first time I've addressed this topic.  Football isn't like baseball where there are so many games that wins are watered down.  Each game in a 16-game regular season is tremendously important.  You cannot look past anybody.  The Jets are this close to being 1-2.  It is very possible that the Jets have not seen the last of the Raiders.  The Raiders have a real chance to steal the AFC West from the Chargers. 
What's frustrating about watching the Jets so far this season is that the problems are all of their own making.  It's not like there isn't a ton of talent on both sides of the ball. 
Here are what I think are the three biggest issues that need to be addressed:
Issue No. 1: When the defense gets in trouble, it's because they let their opponent dictate the tempo of the game.  Dating back to the AFC Championship game, this is a problem.  Remember when Rashard Mendenhall gashed the Jets to the tune of 24 unanswered points?   Dallas did it against them in the home opener...racing down the field immediately to score.  Jacksonville has no offense, so they couldn't do it, but the Raiders marched right down the field from the minute the game kicked off.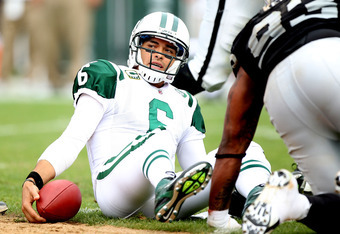 Jed Jacobsohn/Getty Images
How do you stop that? 
First—if you win the coin toss, start on offense.  Make your opponent's offense cool their heels. 
Second, do not be afraid to use your timeouts in the first half.  When you are getting steam-rolled, call timeout, pull the defense over and make adjustments.  It's really not that hard.  I do not understand coaches reluctance to call timeouts in the first half.  It's not like they carry over to the second half. 
Third—get back to fundamentals, like tackling.  Sometimes I think this team spends too much time reading their own press.  Quit listening to the pundits telling you how great you are and start making stops.  There is way too much talent in this defense to have these kind of results.  Get disciplined, get low on tackling and remember to use the sidelines to knock guys out of bounds. 
Issue No. 2: The Offensive Line.  Props to Colin Baxter for a job well done on Sunday.  I thought maybe the line had gotten itself together, but in the second half the protection problems resurfaced and Mark Sanchez was sacked four times.  And now he has a broken nose.  I said this last week, but it bears repeating:  If Sanchez goes down, so do your postseason hopes. 
You can tell he doesn't trust the protection, which leads to him not getting his feet set, which leads him to press, which leads to the timing of the throws to the wide receivers being off.  Every defensive coordinator in the league can see the problem.  And it just spirals out of control because nobody really fears the deep ball right now because Sanchez doesn't have enough time for the routes to develop, which means he is looking to LaDainian Tomlinson or Dustin Keller to check down, which means nobody else is in the backfield to offer extra protection.  And it all starts with the offensive line.  You are playing with fire Jets.  Sanchez has taken a serious beating in each of the first three games.  It's unsustainable. 
Issue No. 3:  Quit looking ahead.  I don't think you respected the Raiders and they cleaned your clock.  Now you head to Charm City.  The Ravens are a quality opponent.  Their defense is still fearsome.  Ray Lewis is going to attack from the right side of the line all night.  It's a nationally televised game.  All egos will be front and center.  Forget about the Patriots the following week.  There will be more than enough time to address that after Baltimore. 
Jets: get back to fundamentals.  Control tempo and time of possession.  And whatever else you do, protect your quarterback.  If you don't, you will not be the only previously highly touted AFC team limping to December with a backup under center.