New Orleans Saints: Darren Sproles Is Just Getting Warmed Up
September 27, 2011
Chris Graythen/Getty Images
It's hard to believe that ESPN's Mike Greenberg and Mike Golic get paid five times what most of us make in a year.
Especially when you think back to that day in the summer when they dismissed the New Orleans Saints chances of seriously challenging the reigning NFC South champion Atlanta Falcons.The reason they said- Reggie Bush couldn't be replaced.
Yet, if you have lived enough life you know that truth is indeed stranger than fiction.
Look all around you these days and you'll see that high salary doesn't always translate into high IQ.
As I watched Sproles explode into the Houston Texans defense Sunday afternoon, I felt I was watching one of the best athletes to ever wear a Saints uniform.
Maybe I just got swept away by the emotion of the moment like when you buy one of those $35 concert T-shirts that you never wind up wearing again.
But somehow I think Sproles is every bit the real deal, a will-of-the-wisp running back in a pint-sized body.
Yeah, ole' Mike and Mike said the Saints would never be able to overcome the loss of the dynamic, multi-talented Reggie Bush.
The clear implication was that the newly acquired Darren Sproles was no slouch but he was no Reggie Bush either.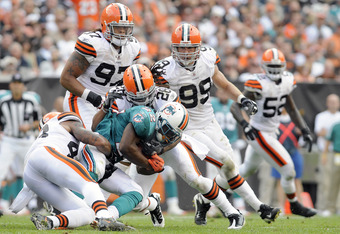 Jason Miller/Getty Images
Every time over the years you read one of those anonymous scouts in one of those glossy preseason publications saying Reggie Bush was the player on the Saints roster they feared the most because you had to always account for him... they were all guilty of bullshitaky- every last one of them.
Remember football is nothing but a high-stakes poker game and they all lie with a straight face.
The emergence of Sproles in Black-n-Gold may be a surprise to those talking heads at ESPN but not to anyone who saw him in those August practices back in the dog days of a New Orleans summer.
Nobody on the Saints defense could tackle him in practice and now no one one can tackle him in games.
No Jukin'-n-Jivin'. No triple somersaults in mid-air that gain two yards a-la-Reggie Bush.
Sproles is sheer explosion in a north-south direction.
What did Reggie gain down in Miami yesterday? Just 24 yards on 11 carries.
Well, who really cares? He's one of the many the Dolphins' problems now.
Reggie Bush is not and never will be half the football player Darren Sproles is.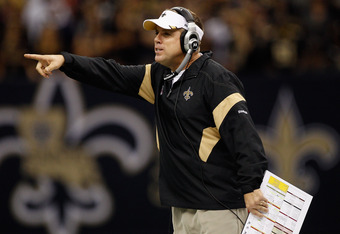 Chris Graythen/Getty Images
But I guess any jackass can knock down a barn., and those guys at ESPN have certainly tried when it comes to the Saints. Good thing the games are decided on the field and not in Bristol, Connecticut.
The best things really do come in small packages after all.
If you think Sproles is electrifying so far, just wait, folks.
He's just getting warmed up.