Week 4 Fantasy Football Waiver Wire: Torrey Smith and Week 3 Studs Worth Pickup
September 26, 2011
Jamie Squire/Getty Images
There is no bigger boon to a fantasy team's chances to win a league title than a clutch waiver-wire pickup during the season.
They cost little to bring onto your team and unlike players you draft before the season, they have proven their worth for that particular season.
In Week 3 of the NFL season, several players emerged as fantasy stars. The following are three players you should look into having on your roster, as they promise to be consistent performers.
WR Torrey Smith, Baltimore Ravens
Smith burst onto the scene in a big way this weekend against the St. Louis Rams. He had yet to catch a pass all season, but in this weekend's game, he caught five passes for 152 yards and three touchdowns.
In the bigger picture, Smith will be a big-play target for Joe Flacco. The two top receivers on the roster, Anquan Boldin and Lee Evans, are more possession receiver types. Smith is a burner who can get open against anyone.
Chances are every owner in your league will be trying to get their hands on Smith this week. Make sure you have your waiver claim on him turned in so that you have a chance to snag this budding receiving star.
FB/TE James Casey, Houston Texans
It's clear at this point that Texans running back Arian Foster is not 100 percent, nor will he likely be for some time. Casey, of course, is not a running back, but Foster's absence forces each offensive player to slide up a spot into a bigger role.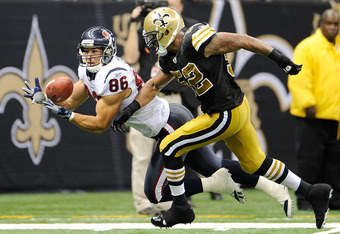 Stacy Revere/Getty Images
Gary Kubiak worked Casey into the offense perfectly on Sunday against the Saints. Casey spent most of his time lined up at fullback, where he is the starter, but Kubiak drew up a number of plays for Casey from that spot.
In total, Casey caught five passes for 126 yards and a touchdown. He also ran the ball once for 11 yards. As long as Foster is out, Casey will find his way into the offensive game plan in one way or the other.
WR Victor Cruz, New York Giants
The Giants receiving corps is quickly becoming paper-thin. They lost Steve Smith to the Eagles in free agency and Hakeem Nicks and Mario Manningham have both been banged up. That's to say nothing of the fact that the Giants haven't really addressed the need at tight end after Kevin Boss left for Oakland.
With Manningham out on Sunday, Victor Cruz stepped up in a big way. He caught three passes for 100 yards and two touchdowns, including a 74-yard touchdown reception that featured an incredible run after the catch.
Cruz will be a great fantasy play as long as Manningham is out, but even after the team is back at full strength, I have to believe that they will find a way to keep Cruz a part of the offense.