Cam Newton: 3 Roster Changes That Would Help the Rookie QB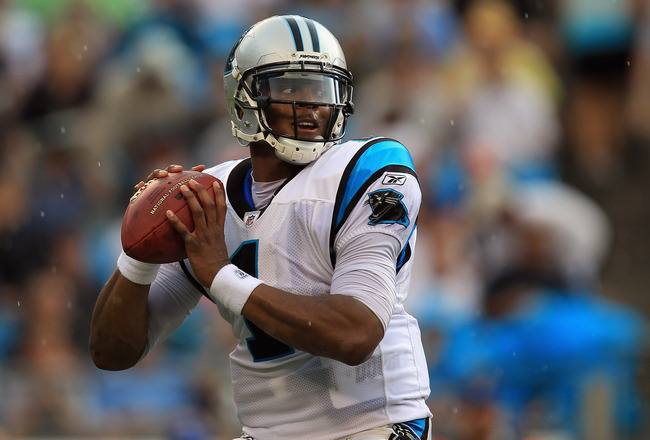 Streeter Lecka/Getty Images
Cam Newton got his first win of his NFL career this past Sunday as the Carolina Panthers managed to hold on to beat the Jacksonville Jaguars. Through three games, Newton has had more ups than downs, but there definitely have been times when the young quarterback has looked like the rookie he is.
The Panthers are doing their best to make his transition to the NFL seamless and have succeeded in doing so for the most part, yet there is always room for improvement. Roster changes are always happening in the NFL and the Panthers could make some that could help Newton now, and some that need to be made in the future to help him for next season.
Seeing how the Panthers' roster is pretty much set in place, and how there isn't a whole lot of legitimate NFL players available, I've decided to direct focus to future moves that Carolina could make to help Newton in the future, with one that would help him right away.
With that being said, here are three roster changes that would help the No. 1 overall pick out of Auburn succeed in the NFL.
Acquire a Pass-Catching Back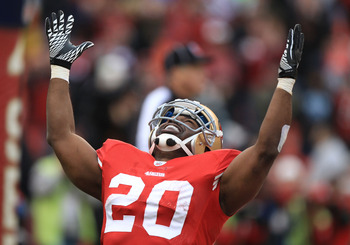 Jed Jacobsohn/Getty Images
Jonathan Stewart and DeAngelo Williams are not known for being able to catch the ball out of the backfield with great success, although Stewart did have eight catches for 100 yards against the Green Bay Packers, that was more of a fluke than anything. Mike Goodson is supposed to be Carolina's pass-catching back, but he is prone to fumble and has a case of the dropsies.
A couple of backs that the Panthers could easily sign would be the old but reliable Brian Westbrook and the career underachiever, Julius Jones. In Westbrook's heyday, he was the best pass-catching running back in the league. That obviously wouldn't be the case anymore, but the man is looking for work and could help Newton in certain passing situations.
Jones would be a more intriguing case. He's more shifty and elusive at this stage of his career, although he isn't as good in the passing game as Westbrook is. Having younger legs would make him a better option, though.
The chances of the Panthers bringing in another back, especially the two that I have named, is closer to zero percent than 100 percent. Still, this is an area the Panthers need to improve in and will have to address it at some point.
Draft a Wide Receiver or Sign a Veteran One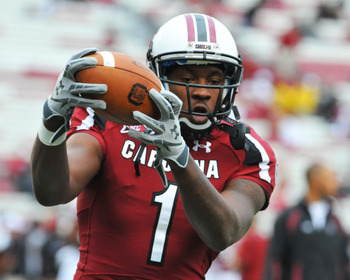 Al Messerschmidt/Getty Images
Steve Smith isn't getting any younger, and it's time for the Panthers to start thinking about finding his eventual replacement after this season. There is a good crop of wide receivers that will be available in this April's draft, such as Alshon Jeffrey and Justin Blackmon.
Another option would be to go out and sign a veteran free agent receiver. Marques Colston and Dwayne Bowe will be two players to keep an eye on. If their respective teams don't re-sign them at some point this season, they will hit the free-agent market heading into 2012. Both would garner a good amount of dough in free agency, though, but we saw Jerry Richardson's willingness to spend money this past offseason.
The bottom line is that the Panthers need to bring in another receiver through the draft or free agency after this season concludes.
Find a Lead Full Back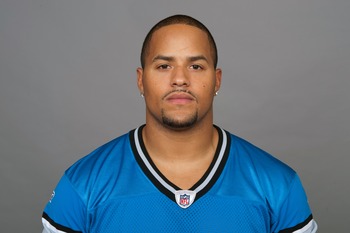 Jerome Felton
Handout/Getty Images
The importance of a full back is often understated. Having a personal blocker in front of your running back is important to the success of most running games. The Panthers have gone away from using their full back as much as they used to when Brad Hoover was around.
Now, Jerome Felton is Carolina's full back and he hasn't done anything noticeable yet. The Panthers' running game as a whole hasn't gotten on track this season, and using a set where the full back is utilized could be a solution. But Felton may not be the answer at the position for Carolina, which would explain why the Panthers have gone away from using the position.
There are always serviceable full backs that are available, but when a team finds a good one, they normally wrap him up over the long term, making it all the more difficult to acquire a top-end talent. An example would be Tony Richardson, who spent the majority of his career with one team—the Kansas City Chiefs.
Improving the running game would greatly benefit Newton, and if it means upgrading at the full back spot, they need to do it. Unfortunately, for the Panthers, they will have to most likely wait till the offseason to do so.
Keep Reading

Carolina Panthers: Like this team?