Week 3 Results: 12 Things We Learned About Cleveland Browns in Week 3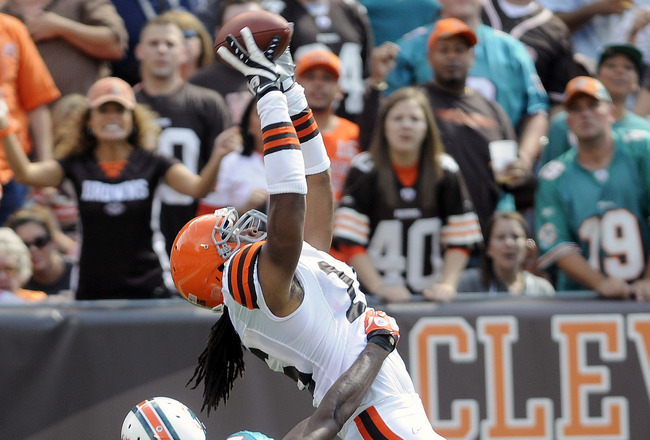 Jason Miller/Getty Images
The Cleveland Browns got their second win of the season against the Miami Dolphins today on what was the most exciting game of the season thus far.
Down and out for most of the game, the Browns came back with a game-winning drive with two minutes left in the game.
The Dolphins really looked like a decent team for a majority of this game. The offense was moving the ball well. Chad Henne was playing well, making all the right passes and reads, and the defense was doing a number against the Browns offense, who looked baffled throughout the game.
The Browns were able to stay in the game just enough to get that last drive, and on that last drive we learned a lot about the Browns.
Here are 12 things we learned about the Browns in Week 3.
1. Jabaal Sheard Proves Himself Again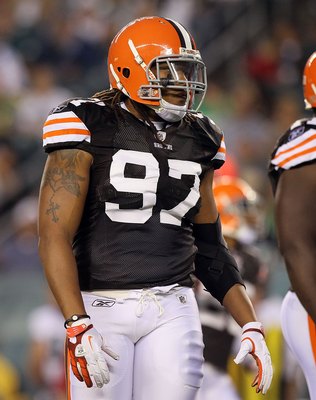 Jim McIsaac/Getty Images
Jabaal Sheard continues to prove that he is going to make a difference at the defensive end position.
Nearly each and every play, Sheard was in on Henne and was able to hit him quite a few times. Sheard also helped the Browns to contain the Dolphins run game.
Sheard didn't necessarily have any statistics, but it was Jabaal who lead the way for Rubin and Mitchell to make plays on Henne.
If he continues to dominate right tackles week after week, Sheard could be a defensive ROY candidate, and could easily be the Browns defensive player of the year.
2. So Does Joe Haden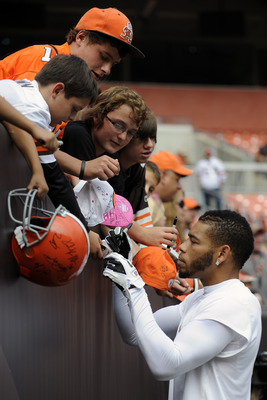 Jason Miller/Getty Images
Joe Haden was great yet again.
He's made his impact felt week after week, as he's been able to lock down the No. 1 receivers week after week after week.
Watching Haden battle Marshall was exciting, and as he continued to lock him down, you could see Marshall's frustration.
While Marshall sometimes was covered by other guys in the Browns secondary, Haden was on him for the majority of the game and made his impact minimal.
Joe Haden could be a top 3 corner in the NFL if he continues his production.
3. Josh Cribbs Has Become a Receiver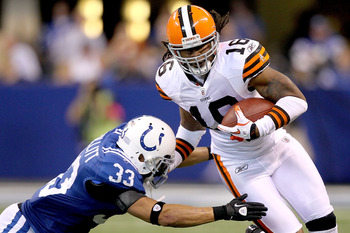 Matthew Stockman/Getty Images
Josh Cribbs has always made his impact felt on special teams and as a special play guy on offense, but he really never solidified himself as a receiver.
It's obvious that Cribbs has worked very hard to become a true offensive weapon for the Browns, and he's definitely becoming that.
His touchdown catch today was incredible, but even more than that, he's showing that he can be a reliable receiver for the Browns.
4. Montario Hardesty Can Play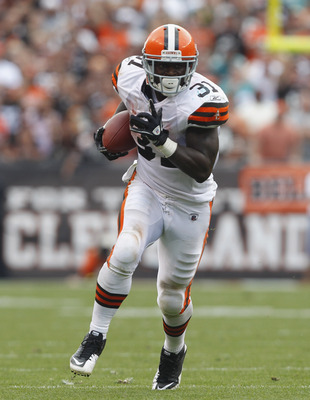 Matt Sullivan/Getty Images
I will gladly eat my words about Montario.
I said last week that Montario Hardesty was not the real deal thanks to his performance against the Colts. I said that he had better prove himself if he wanted to play in this offense.
So, again, I can admit that I was wrong.
Montario played extremely well today. Not only was I impressed with his abilities as a running back, I was impressed with his skills as a receiver out of the backfield.
With 14 rushes for 67 yards and three receptions for 19 yards, Hardesty showed flashes of brilliance against a good Dolphins defense and showed Browns fans that he's a guy who can definitely play for this team.
5. Browns Can Win Without Hillis, but They'd Rather Not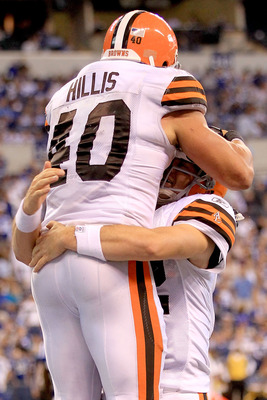 Matthew Stockman/Getty Images
Peyton Hillis got hit with strep throat at a pretty inopportune time.
You know the guy wanted to play, and I'm sure he took the best measures to ensure that that could happen, but I don't think Shurmur wanted a bunch of Browns out next week with strep.
It was the right move not to let Hillis play, but it may not have been the move the Browns wanted.
As the game started out, it was obvious neither the Browns nor the Dolphins were thinking run.
The Dolphins knew that with Hillis out, the Browns wouldn't be as apt to run the ball and therefore dialed up coverages to ensure that McCoy would have to wait longer to throw.
McCoy seemed out of it as the game started, and I think if Hillis were in the game, he might've been a little more comfortable.
Yes, the Browns got the win, but with Hillis in the game, it might've been a different way.
6. Colt McCoy Is Clutch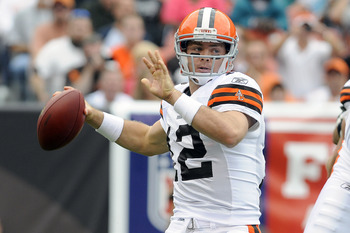 Jason Miller/Getty Images
But we already knew this.
Maybe we did, but Colt McCoy showed us again that he is a clutch player.
With three rough quarters under his belt, McCoy booted up and lead the Browns with a game-winning drive with around 2:00 left in the game.
His passes were accurate, his reads were good, and the pressure was unphasing.
I don't care how many times I've said it, McCoy is a winner.
He showed Browns fans that he is best when the pressure is on.
The Offensive Line Continues to Be Shaky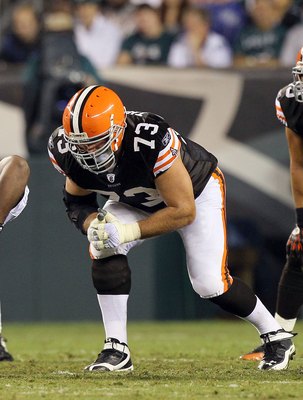 Jim McIsaac/Getty Images
The Browns were dominated on the offensive line today.
The Dolphins defensive is good, but the offensive line took an unnecessary beating today.
Part of the reason Colt McCoy was out of sync to start this game was because he was under constant pressure from the Dolphins.
He had little time to throw and seemed to always be getting hit.
The right tackle position still has to be settled. It's baffling to me that with Cousins, Hicks and Pashos, this continues to be a problem.
Last season, the Browns couldn't figure it out, and this season seems all to much like the last in this regard.
Hopefully Pashos can come back soon to put this battle to rest, but in the meantime someone needs to step up.
The offensive line as a whole has to step up as well.
Pat Shumur's Play-Calling Is Questionable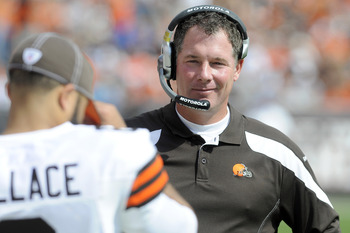 Jason Miller/Getty Images
At many points during the game today, I was scratching my head trying to figure out why Shurmur called the plays he did.
I was baffled by some of his decisions, and while some seemed to pay off, the majority of the questionable play calls didn't.
I don't like Shurmur having the responsibilities of the offensive coordinator, and thus far, he's done nothing to sway me away from that feeling.
I must say, however, that on the last drive of the game, I thought his play-calling was brilliant.
It might have been that, or it might have been McCoy's execution of those plays.
9. Massaquoi Was Lost and Found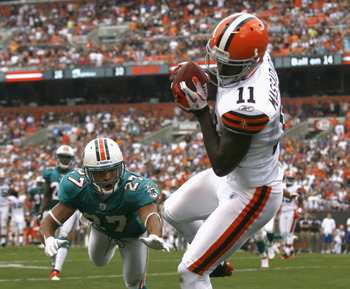 Matt Sullivan/Getty Images
Mohamed Massaquoi was nowhere to be found in the first half of action.
He had no impact until the last drive of the game.
But in that last drive of the game, Massaquoi made some huge plays.
With a huge first-down catch on a slant and the game-winning touchdown, Massaquoi made his impact when he needed to. For as well as he's played thus far this season, it was important that Massaquoi did something in this game.
Although his stat line was unimpressive, with only two catches for 26 yards, Massaquoi made sure that his catches were big ones.
The Browns Need a Punter... Again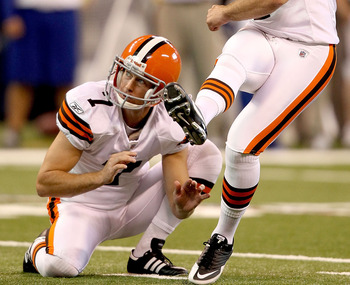 Matthew Stockman/Getty Images
Richmond McGee caused a problem that Brad Maynard was picked up to fix.
Last game, Maynard was impressive against Indianapolis.
This week was a different story.
Maynard's punts were wobbly and short, losing the Browns the field position battle they so desperately needed to win.
His average punt went 36 yards, which for an NFL punter, I find completely unacceptable.
The loss of Reggie Hodges was bigger than anyone thought.
Chris Gocong May Be Better Than We Thought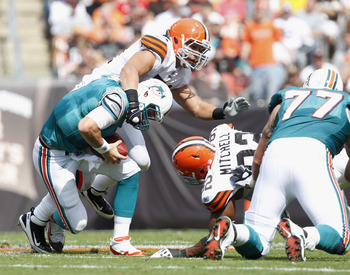 Matt Sullivan/Getty Images
I was really impressed with Gocong for the first time since he's been a Cleveland Brown.
WIth two tackles and two assists, as well as a half-sack, Gocong was able to get pressure on Henne, much like Sheard.
Gocong is usually overlooked and doesn't get the credit he unknowingly deserves.
But today I noticed Gocong and thought he did a tremendous job against the Dolphins.
The Browns Are a Resilient Group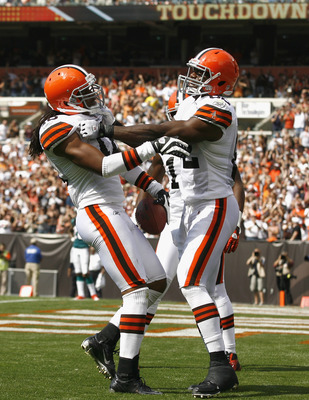 Matt Sullivan/Getty Images
For as bad as the Browns played this afternoon, they were able to win.
The Dolphins may not be a good team, but the Browns showed that they can stay in games and can win.
The Browns had less than 100 yards of offense in the first half including a turnover, and were still able to come out and move the ball in the second half.
The defense looked as if it didn't have an answer to Chad Henne, as he was able to move the ball all over the field, but hung on just enough to make sure he didn't put the game out of reach.
The Browns showed that they'll fight to the finish. Even if things aren't going right and they can't seem to do anything well, they will give everything they have in order to win the game.
This is something I really haven't seen from a Browns team in a while. Not often do the Browns play that badly and win.
Maybe it's a sign that the Dolphins are bad, but I like to think it's a sign of a new era for the Browns.
Keep Reading

Cleveland Browns: Like this team?