Jacksonville vs. Carolina: 5 Halftime Adjustments the Panthers Must Make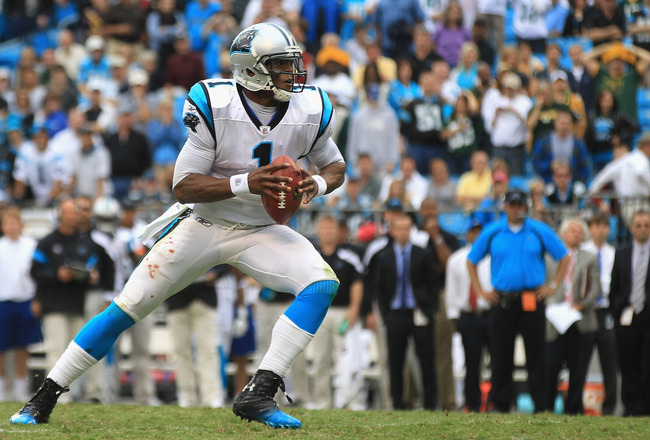 Streeter Lecka/Getty Images
The Carolina Panthers' defense has done well thus far, but they need more production out of the offense. Steve Smith hasn't gotten involved and Cam Newton's accuracy has been off and on—but mostly off.
Blaine Gabbert has been under a lot of pressure, and I only expect him to play better in the second half. This Carolina secondary has been mistake-prone, and it only takes one play to get the Jaguars back in the game.
Here are some adjustments the Panthers must make to pull away from Jacksonville in the second half and come away with Cam Newton's first victory as an NFL quarterback.
Short Passes
Al Messerschmidt/Getty Images
Newton's deep accuracy has been his weak point throughout the first half. He is putting too much air under the ball instead of letting it rip like he did in the first two weeks.
Offensive coordinator Rob Chudzinski needs to get Newton in a groove with more screens, flat patterns and curls by the tight ends. Jacksonville has struggled to contain Jeremy Shockey and Greg Olsen, and the Panthers have to keep going back to them.
Keep Pounding the Rock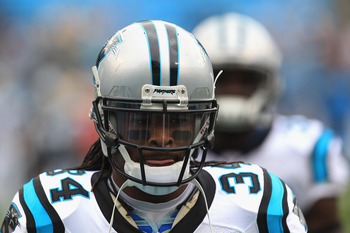 Streeter Lecka/Getty Images
Jonathan Stewart and DeAngelo Williams were hardly utilized in the first two weeks, but Cam Newton's production was enough to compensate for the lack of a running game.
Today, Stewart and Williams have been running physically, and are putting Carolina in short third down situations. They have struggled to convert on third down so far, but that's a combination of unlucky play-calling by the Panthers and some solid plays by the Jacksonville defense.
They will convert those third downs if they begin to tire out the Jags' front four.
Keep Blitzes to a Minimum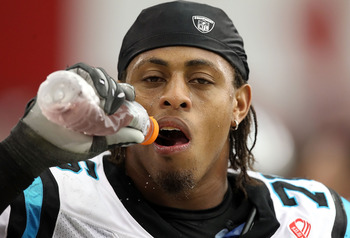 Christian Petersen/Getty Images
Greg Hardy and Charles Johnson are getting a great rush up front. Hardy created a safety, and Johnson has gotten penetration all day.
The Jaguars don't have a very talented offensive line, and Gabbert has looked uncomfortable in the pocket. It's his first NFL start, so that can be expected.
When you're facing a rookie quarterback, it may seem obvious to blitz early and often, but Gabbert is taking short drops and getting rid of the ball quickly. The Jaguars are targeting the middle of the field with their routes, so it makes more sense to keep those linebackers dropping back into coverage.
Keep the Linebackers in Shallow Drops
Streeter Lecka/Getty Images
I hit on this in my last point, but it's very pivotal that the Panthers keep their linebackers in short drops. Blaine Gabbert doesn't put a lot of zip on his passes, and he's picking up most of his yards on underneath passes.
Maurice Jones-Drew has made more of an impact as a receiver, and they need to control him. If he cannot get going, the Jacksonville offense will not either. With Jon Beason and Thomas Davis out of the lineup, they can't afford to take deep drops because Dan Connor and Omar Gaither aren't athletic enough to consistently make open-field tackles.
Attack the Ball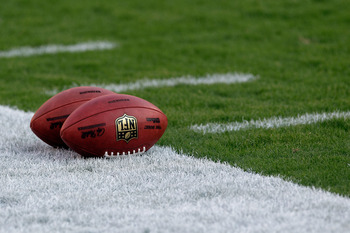 Rob Carr/Getty Images
With the rain coming down, a big fumble or interception becomes a greater possibility. Blaine Gabbert is likely to make a mistake, and if the Panthers' defense takes advantage, it could really break the game open.
They must also attack the ball in the run game. Fumbling is not a huge issue for Maurice Jones-Drew, but in these conditions, anything can happen.
Keep Reading

Carolina Panthers: Like this team?