Green Bay Packers Win Amidst Questionable Calls Against Chicago Bears
September 25, 2011
Scott Boehm/Getty Images
Sunday commenced the 183rd meeting of two rivals whose distaste for each other is engrained into their DNA at birth. And while Green Bay walked away the winner, some calls during the game left fans on both sides wondering what happened. This game will surely be one more reason why the teams continue to have a distaste for each other.
After kickoff commenced and just two and a half short minutes into the game, Chicago was issued what would end up being a costly penalty after a false start by Lance Briggs. Realizing he had nothing to lose, Aaron Rodgers threw high, resulting in a pick off by Chicago's Charles Tillman. Not realizing the play was dead, Tillman ran it back with what would have been an amazing gain of 61 yards before ending a frustrating, yet promising play.
Too bad Rodgers hadn't noticed Jermichael Finley, as he stood open and ready at the right of the end zone. Finley was visibly frustrated over losing what would have been an easy touchdown for him. Just one minute later on the clock, though, Finley received a six-yard touchdown pass for the first score of the game.
With 4:21 left on the clock, Morgan Burnett made his second pick of the season with a pass that was intended for Chicago's Roy Williams at the GB 32. Preventing Chicago from advancing was all that came from that play, and it was punted off at the end of the drive with 2:29 left in the quarter.
The second quarter began, and RB Ryan Grant helped Green Bay with 18 yards over a total of three plays before Finley received again from Rodgers for a seven-yard touchdown, his second of the season.
Chicago retaliated shortly after, with Dan Sanzenbacher receiving a four-yard pass from Cutler at the end of a 3:48 drive into the end zone (kick from Robbie Gould was good) with 8:41 to go.
Green Bay began a long drive, before being broken up by a penalty they earned for delay of game as Rodgers tried to get his offense ready at 2:44 left in the half. Perhaps this was a good thing, though, because players were able to discover a hazard protruding from the newly lain turf of Soldier field which needed to be removed for safety before the game was allowed to continue.
Right at the two minute warning, the 10th penalty of the game was called, this one for Green Bay for a false start against T.J. Lang.
Next, a 37-yard field goal by Mason Crosby put Green Bay at 17 before the close of the half.
Chicago brought it back to a seven-point game in their next possession by kicking a field goal of their own with 53 seconds left on the clock.
The opening of second half brought back the words by Fox NFL Sunday prior to the game, referring to Cutler as "the human piñata." It took five seconds before he was ominously sacked by defensive end Jarius Wynn.
The next few possessions put nothing on the score board, until a frustrated Rodgers watched Crosby chip shot another field goal. Green Bay secured this 10-point edge after the drive stalled in the end zone on 4th-and-8.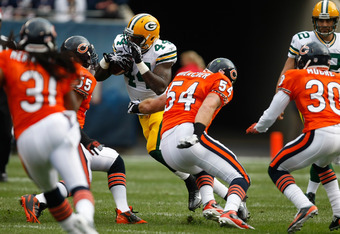 Scott Boehm/Getty Images
Chicago's next possession resulted in another sack by Wynn on 3rd-and-10 for a loss of eight. They punted off to Green Bay with a fair catch by Cobb on Green Bay's 48.
During the next drive, on 3rd-and-5 on Chicago's 47, Chicago's Brandon Meriweather showed some great defense by breaking up a potential play to Jennings for an incomplete pass. Punting back 45 yards to Chicago, it was downed by Green Bay's Pat Lee on Chicago's 2-yard line.
The next 3:02 was a demonstration of incomplete passes, false starts, and aborted fumbles by Chicago's struggling offense before it was punted back, once again, to the Packers.
The first drive of the fourth quarter brought Green Bay into the red zone, and Finley soon made his third touchdown of the game.  The extra kick by Crosby was good, and the Packers led by 17.
Just 39 seconds into Chicago's next possession, Morgan Burnett intercepted a pass from increasingly frustrated Jay Cutler. James Starks gave possession back on a fumble, recovered by Chicago's Julius Peppers. Green Bay challenged the recovering ruling but the call stood. Apparently encouraged, Cutler's next play was his second complete pass of the quarter for a 32- yard touchdown to TE Kellen Davis.
Jennings made a beautiful catch in the next play for 25 yards, bringing Green Bay to the 50. As if Chicago had decided this game was not going to end this way, Brian Urlacker, Aaron Rodgers' favorite athlete, demonstrated to us with a pick off exactly why he was respected by the esteemed quarterback.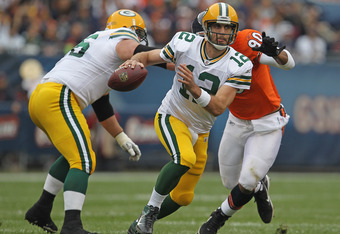 Jonathan Daniel/Getty Images
Cutler was then picked off again, third of the game, by Green Bay's Tramon Williams. Due to a penalty on Eric Walden for roughing the passer, this was offset, and Chicago remained in possession.
Holding true to Bears-Packers tradition, unnecessary roughness was called on Devin Hester for their ninth penalty of the game. This is one which is only going to feed into the rivalry though, because hits were swung by both, including a hit to Hester's helmet by the Packers defense while officials looked on and allowed it before calling it on Hester.
No score was allowed during Chicago's drive, and Green Bay maintained a similar tempo in the first three minutes of the next possession before calling a time out with 4:09 left in the game. One penalty later (M. Newhouse, ineligible downfield pass, declined), Green Bay punted to Chicago.
The first two downs looked promising for Cutler and his Bears with a gain of 21 yards. A sack by Jarrett Bush erased that. After another incomplete pass by Cutler, Green Bay began another drive as the two-minute warning was issued.
No score was made by Green Bay during this drive, and Chicago was briefly encouraged then discouraged by a confusing call against Chicago's No. 21 Corey Graham. The punt was caught and brought all the way in for an 85-yard touchdown return by Johnny Knox, which was nullified by Graham's alleged penalty of offensive holding. Even the announcers continuously expressed their confusion of the call, stating they saw no one near him.
The game closed out with Green Bay taking it with a 10 point lead at 27-17. Until today, neither team ended with a score of more than 21 points in the previous six encounters.