San Francisco vs. Cincinnati Bengals: Live Score, Highlights and Analysis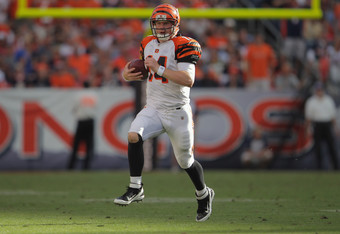 Doug Pensinger/Getty Images
Final Score: 49ers 13, Bengals 8.
The San Francisco 49ers visit the Cincinnati Bengals today in a battle between two teams with storied history. The 49ers have beaten the Bengals twice for Super Bowl titles and hold a 10-3 series edge against them all-time.
This is an important game for Cincinnati since they are facing a long stretch of games without their sure-handed slot receiver Jordan Shipley (injury), Cedric Benson (possible suspension) and Jerome Simpson (possible suspension).
San Francisco comes into the after a tough loss at home against Dallas. They match up well against this Bengals team that has historically struggled against good tight ends. Vernon Davis will be the key player to watch as the home opener for the Cincinnati Bengals unfolds.
Can the Bengals cornerbacks tackle Vernon Davis?
Can the 49ers defense continue to shut down opposing running backs they way they have the past two weeks?
Stay tuned to Bleacher Report, as we'll be updating all game long for those of you unfortunate enough to be stuck in the dreaded "blackout zone."
Be sure to comment below or feel free to send me e-mails with questions or comments to scottsewell80@me.com!
Final Score: 49ers 13, Bengals 8
Bengals with a feeble attempt at a kick return against the 49ers and the game is over.
49ers improve to 11-3 all time against the Bengals, and the Bengals continue to lose games in what is supposed to be the easy part of their schedule.
The 49ers pulled out an important road win after their heartbreaking home loss to the Cowboys last week.
The Buffalo Bills - who are 3-0 after beating New England - are coming into Cincinnati next week for what is now shaping up to be an early must win game for the struggling Bengals.
Updated Score: 49ers 13, Bengals 8
49ers take the safety by running through their own end zone. 49ers will have to punt with 2 seconds left, giving the Bengals one last chance to make something happen.
Updated Score: 49ers 13, Bengals 6
Ruling on the field stands and the 49ers take over possession with just 1:45 to play. 49ers should be able to run out most of the clock and it looks like the Bengals are going to drop to 1-2 while the 49ers improve to 2-1.
Bad decision making by the rookie quarterback cost the Bengals dearly in this game.
Updated Score: 49ers 13, Bengals 6
Dalton with an awful throw and the ball is picked off. The play is under review but I don't see it being overturned.
Great play by Reggie Smith on an awful throw by Andy Dalton.
Updated Score: 49ers 13, Bengals 6
We're at the two minute warning in Cincinnati.
Andy Dalton has completed back to back long passes to Jermaine Gresham and the bengals are rolling.
Bengals will have 1st and 10 from the 49ers 39 yard line.
Amazing what happens when you open up the playbook.
Updated Score: 49ers 13, Bengals 6
It's Good! David Akers easily knocks through a huge 53 yard field goal to put the 49ers up by a touchdown.
Updated Score: 49ers 10, Bengals 6
The 49ers conservatively ran the ball on first and second down to waste clock and that forced a 3rd and long pass to Vernon Davis behind the line of scrimmage. Davis ultimately lost yardage on the play and that may have forced the 49ers out of field goal range.
4th and long for the 49ers in a pivotal moment of a close game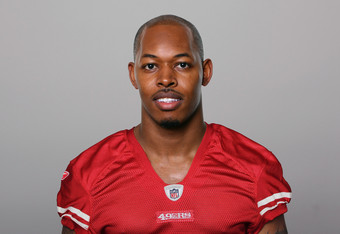 Updated Score: 49ers 10, Bengals 6
Picked Off! Carlos Rogers with a big interception off of an ill-advised throw by Andy Dalton. Dalton played with fire all game trying to force tough throws to well covered receivers and Rogers was finally able to make him pay.
49ers take over possession with 3:30 to play.
Updated Score: 49ers 10, Bengals 6
Rookie Kendall Hunter weaves through the Bengals defensive line for 7 yards and runs into the endzone for the games first touchdown and the 49ers first lead of the game.
Vernon Davis had a huge catch to take the 49ers down the Bengals 6 yard line. Davis currently has 8 catches for 114 yards today.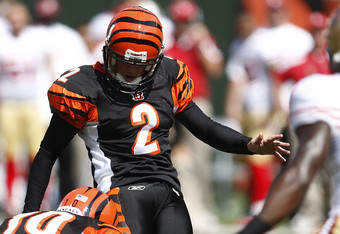 Updated Score: Bengals 6, 49ers 3
The Bengals offense stalls after a couple of decent Benson runs.
Andy Dalton had another awful third down throw that didn't give his receiver any chance at making a play.
Updated Score: Bengals 3, 49ers 3
BALL'S OUT! Frank Gore fumbled on the first play of the drive and the Bengals get the ball at the 49ers 16 yard line.
Huge takeaway for the Bengals defense. In a game that has been so devoid of offense this could be the defining play of the game.
Updated Score: Bengals 3, 49ers 3
The Bengals finally completed a 3rd down conversion, by completing a short pass to Jermaine Gresham.
The drive would ultimately be stopped because of a holding penalty after a nice Cedric Benson run.
Dalton was under pressure every time he stepped back to pass and never had enough time to throw the ball down field.
The 49ers defense looks like it's getting stronger as the game progresses.
Look for a steady dose of Frank Gore on the next possession.
49ers with the ball
Updated Score: Bengals 3, 49ers 3
The 4th quarter is just underway and the 49ers are going to have to punt to the Bengals again. The 49ers took a play out of Cincinnati's playbook by throwing it short on 3rd and 18 after a key Bengals sack.
Bengals take over possession.
Updated Score: Bengals 3, 49ers 3
More bad decisions by Andy Dalton and more conservative play calling by the Bengals staff. The Bengals are playing the game as if they have a three touchdown league.
They called a couple of runs for minimum gains on 1st and 2nd down and then Andy Dalton tried to force a throw across the middle on a double covered receiver. Dalton was lucky the pass wasn't intercepted.
49ers take over possession.
Updated Score: Bengals 3, 49ers 3
Wow, the 49ers and Bengals just put on a clinic of bad football. Each team tried to give the other an advantage and neither team capitalized.
Michael Crabtree caught a TD pass in the back of the endzone, but the officials ruled that he had stepped out of bounds and was the first person to touch the ball, and thus the 49ers were assessed with a penalty.
The Bengals stopped the 49ers, but then Rey Mauluga was assessed with a late hit penalty giving the 49ers a second chance and 4 more downs.
The 49ers couldn't capitalize and Geno Adkins came up with a big 3rd tackle of Alex Smith to stop the drive.
David Akers kicks in the chip shot field goal. Game tied at 3-3.
Both teams are playing very poorly.
Updated Score: Bengals 3, 49ers 0
Big pitch and catch from Alex Smith to Vernon Davis for a 39 yard completion. The 49ers are at the Bengals 6 yard line and are knocking on the door for their first score of the game.
Reggie Nelson defended Davis on the play, but never looked for the ball and Davis went over top of him for the reception.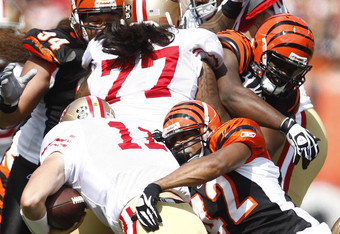 Updated Score: Bengals 3, 49ers 0
The 49ers defense answered the call by stopping the Bengals in their track on this position.
A.J. Green had a huge false start penalty - his second of the game - that forced the Bengals into 3rd and 15.
In typical Bengals fashion they threw the ball about 8 yards and fell far short of the first down.
Typical, conservative Bengals play calling. New offensive coordinator, same result
The 49ers defense is starting to get more pressure on Dalton as it appears the Bengals offensive line is wearing down.
Updated Score: Bengals 3, 49ers 0
We're off and running in the 3rd quarter! The 49ers opened with the ball and started a drive that ultimately stalled because of a dropped pass by Michael Crabtree on a key 3rd down.
The Bengals defense did a good job of stopping Gore on this drive, but they were able to secure a couple of first downs on 3rd and shorts.
Thomas Howard had a big tackle on 2nd down, preventing Gore from finding a cutback lane and ultimately taking a loss.
Bengals also had a key neutral zone infraction that almost gave 49ers the break they would need, until Crabtree dropped the 3rd down pass.
Bengals take over possession at their own 5 yard line.
Updated Score: Bengals 3, 49ers 0 Halftime
Bengals of course decide to go the conservative route and hand the ball off twice to Bernard Scott.
This is the key offensive philosophical difference between the Bengals and a quality team like Pittsburgh or New England. The Bengals had plenty of time to put a drive together but instead decided to just run out the clock and play it safe.
Some key first half statistics below:
Andy Dalton 10-16 for 90 yards 0 td 0 int
Alex Smith 9-17 for 74 yards 0 td 0 int
Cedric Benson 9 carries for 26 yards
Frank Gore 9 carries for 31 yards
Andre Caldwell 5 rec 45 yards
A.J. Green 2 rec 19 yards
Vernon Davis 3 rec 30 yards
Michael Crabtree 2 rec 16 yards
Jonathan Fanene 2 sacks
NaVorro Bowman 6 tackles
Updated Score: Bengals 3, 49ers 0
Bengals with a big stop on 3rd and 2. 49ers tried to run Gore up the middle but Pat Sims blew the play up in the backfield.
Bengals are taking over possession with just over a minute remaining.
Let's see if they open up the playbook and let Dalton throw the ball downfield.
Updated Score: Bengals 3, 49ers 0
Heading into the two minute warning with the 49ers driving. Alex Smith has had a couple of bad throws, and the 49ers had another false start, but Frank Gore and Kendall Hunter are keeping the chains moving.
Updated Score: Bengals 3, 49ers 0
Another possession and another key 49er miscue. The 49ers were driving a bit when a false start penalty and big 3rd down sack by Jonathan Fanene ended the drive.
Alex Smith was on the receiving end of a monster hit from Nate Clements earlier in the drive.
The Bengals took over possession and Dalton was sacked on the first play and they were never able to regain the lost yardage. A 3rd down completion to Gresham was well short of the first down.
49ers take over possession of the ball deep inside their own territory yet again.
Updated Score: Bengals 3, 49ers 0
San Francisco tried to give the Bengals a break with an offsides penalty but the Bengals were unable to convert.
Dalton tried to force a pass into Caldwell on 3rd and 3 that was nearly intercepted. He had plenty of time and just made a bad decision with the ball.
4 punts inside the 20 for Huber today.
San Francisco takes over possession deep in their own territory.
49ers offense just can't get rolling. Vernon Davis dropped a beauty of a throw by Alex Smith that could've gone for a big game and then Smith wildly overthrew a wide receiver on 3rd and 5.
Bengals take over the ball at their 37 yard line.
Bengals need to come out passing the ball just like they did in their first drive of the game. Benson isn't getting running room and these 1st down runs are setting up 3rd and longs that they aren't converting.
Updated Score: Bengals 3, 49ers 0
The first quarter comes to a close with the Bengals leading 3-0. Andy Dalton is 6-10 for 69 yards, Andre Caldwell has 4 receptions for 40 yards, and Cedric Benson has struggled to find running room with just 21 yards on 8 carries.
Before the break AJ Green made a critical false start penalty forcing the Bengals into 3rd and 12.
This article is
What is the duplicate article?
Why is this article offensive?
Where is this article plagiarized from?
Why is this article poorly edited?

Cincinnati Bengals: Like this team?