Dolphins vs. Browns: Live Score, Highlights and Analysis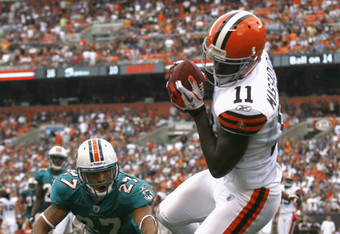 Matt Sullivan/Getty Images
Week 3 in the NFL is usually the first week that terms like "must-win" are thrown around.
Some lip service to the term might be paid going into Week 2, sometimes it might even be mentioned about a season opening game, but it truly has meaning when a team is 0-2 going into Week 3.
For the Cleveland Browns this game isn't anywhere near must-win. Everyone in the AFC North stands at 1-1, and even though every other AFC North team has a game that they should win on their schedule today—Bengals host the 49ers, Baltimore travels to St. Louis and the Steelers take on the weak Manning-less Colts—it wouldn't exactly kill the Browns if they lost to the Dolphins at home.
At 0-2, with both losses coming at home, the Dolphins are in a state of flux. Currently they're the only team in the AFC East to not record a win.
This has lead to rumors that Sparano's job might be in jeopardy. After today's game, the Dolphins will travel to San Diego then after the bye week they have a Monday Night game against the Jets.
I predicted that Sparano would be out of a job come October 18th, the day after the Jets game, but a loss today could make it sooner than that. Not this week, but possibly next week going into the bye week.
For Miami, this is a must-win. Will the Dolphins use it as motivation and step up in the Dogg Pound?
Or will the Browns, looking for their first 2-1 start since 2002, take a possible bite out of the Phins?
Sparano Fist Pump after a field goal follows another failed red zone attempt.
We'll find out this afternoon.
Look here for updates throughout this game, as well as important facts, tidbits and my personal nitpicks.
Be sure to leave a comment or question and I'll try my best to answer them.
Let's get ready for some football!
Cleveland 17, Miami 16, FINAL.
Here's some of the best comments about the game from today.
Let's start with Browns fan John Stebbins:
Clevelander trolling here. I appreciate the discretion with the LeBron reference at the end of the game, but can I simply ask that Chad Henne NOT take his fourth-quarter talents to North East Ohio? He played well. Really. But I'm guessing you probably feel like we felt last year with Jake Delhomme doing the same thing last year.
The 'Phins played well, and honestly. I don't mean to sound back-handed, but they are by far the best 0-3 team out there. You'll win. Don't worry about that.
Great comment John, however about the whole "You'll win. Don't worry about that." That's what worries me, the Phins might win too much. I like Henne at times, but absolutely love Andrew Luck, as a quarterback.
Now here's Thomas Loy:
I am hoping you are wrong and Sparano is fired tomorrow. Nothing is gained by delaying his firing.
You're right, but he won't be fired tomorrow. This team is destined for an 0-5 start, they'll wait until after the Jets game at the latest, next week at the earliest.
Meanwhile Dolphins Facebook Group Phin Addicts was somewhat optimistic about Henne while being realistic:
This team is taking on the same characteristics as last year's with one glaring difference. Henne without Dan Henning as OC seems to be improving by leaps and bounds. That being said, our Red Zone offense is still very inefficient and more significantly ineffective. Our OL continues to struggle making it impossible for whatever RB tandem we have to establish a running game. Winning home games and competing in Road games has not changed a bit. All road victories played last year were close, hard fought victories which could have gone either way, as was this one. We always seem to play to the level of our opponent and never blow them out when able to. There is no sign of an Offensive killer instinct as is normally present in the elite teams of the league. WE WILL ALWAYS SUPPORT THIS TEAM AS WE BLEED AQUA AND ORANGE but we will not allow our devotion to blind our intelligence from the fact that this team may only good enough to compete for mediocrity. The writing is on the wall for those of us who choose to remain blind.
Now we'll go to one of my High School buddies, Gabriel Rodriguez from Facebook:
Dear Miami Dolphins,

Fire Sporano, go 0-16, draft Andrew Luck and don't make me sit through anymore retardation!
As you can see, there is discontent all around Miami. Now we have visions of 2007 dancing in our heads.
Miami lead the game all day, but couldn't close. That's what happens when you rely on field goals and can't convert in the red zone. How many times today did I say it would doom the Dolphins?
I was right, sadly.
Dolphins fans, feel free to join this group on Facebook. I won't name it but it has a lot to do with the current administration and how I know you feel about them.
FINAL SCORE: Cleveland 17, Miami 16.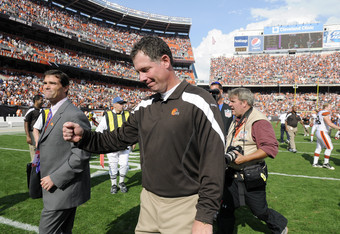 Miami didn't deserve to win this game.
I don't know how else to say it, but if you only score one touchdown in five red zone appearances, you shouldn't leave the stadium with a victory.
Miami's next two games: @San Diego, @NYJ.
Over/Under on Sparano being fired: 10/18.
Daniel Thomas was the Dolphins bright spot today, much like last week.
Thomas rushed for 95 yards on 23 carries for an average of 4.1 yards per carry.
Henne was decent, but I won't criticize him for the interception on the final play that most Dolphins fans saw coming.
I will criticize him for his lack of success in the red zone. Miami's red zone offense is flat out terrible. They seem to forget how to play. That's on the quarterbacks.
And on the coaches.
Change is coming in Miami, and today's game will only grease the skids for the end of the Sparano/Ireland era.
All more the reason to join this group Dolphins fans.
I'll have a full write up of the game later this afternoon.
Your final once again:
Cleveland 17, Miami 16.
Miami gets a break with 0:36 left due to a horse collar tackle.
Cleveland then takes their final time out.
This is definitely a game between two teams who aren't very good.
Funny thing is, one of those teams will be in first place if they come away with a victory.
All Miami needs to do here is just not screw up. Henne back to pass, incomplete to Bess, great defense by Cleveland.
Then on 2nd Down Gates catches a nice pass from Henne, only it was out of bounds.
Now its 3rd and 10, again an incomplete pass. Miami will go for it on fourth down.
Henne throws the interception that loses the game for Miami. I know, I know, typical.
Sadly, this was one of his better games.
More on the game later.
Cleveland 17, Miami 16, FINAL.
Browns come back from the time out. 1st and 10 from the Miami 15, the throw into the end zone is a touchdown pass to Mohammed Masaquoi.
Browns stadium is going so crazy you would think that, no never mind, this doesn't deserve a LeBron-Cleveland joke.
Perfect throw by McCoy, perfect touchdown.
Cleveland then commits a dumb celebration penalty, meaning they'll have to kick off from their 20 yard line.
Could Miami win off of a field goal, giving us the mother of all fist pumps?
We shall see.
Cleveland 17, Miami 16, 0:43 left in the game.
After Hardesty's reception, McCoy throws an incomplete.
2nd and 10 for Cleveland, ball on the 27, and again a questionable non-call this time goes Cleveland's way. Its 3rd and 10 and no yards lost.
Now on 3rd and 10 McCoy drops back, penalty on the play in the backfield. Offsides on Jason Taylor. Stupid penalty by a veteran who should know better.
3rd and 5 now, 0:55 seconds left. McCoy drops back, makes the pass to Evan Moore. Now Cleveland calls a time out.
Miami 16 Cleveland 10 0:48 left in the game.
Jimmy Wilson with a big play. Still too much time left in the game though, 1:50 left, 2nd and 10 for Cleveland at the 43.
McCoy then hits Watson on the drag pattern. Now its 3rd and 4.
Miami needs a sack here.
Not quite a sack, possibly a penalty that was uncalled, especially since Sean Smith didn't look at the ball. Questionable non-call there, but a bad call there swings the game.
Now its 4th and 4, Cleveland needs this.
They get it from Hardesty.
More to come...
Cleveland decides to get inside the two minute warning. Now after that minimal gain, why not call a time out, set up a good play to go into the two minute warning with?
I'd rather have a well set up play that gains 10-15 yards and get into Dolphins territory with one time out left than have two time outs left at midfield. Cleveland would have plenty of time, but instead wasted 11 seconds, all to save a time out. I'll take the extra 11 seconds and extra play but that's just me.
Now the Browns with the ball within three minutes. Its only a six point lead, so why is Miami playing prevent defense already?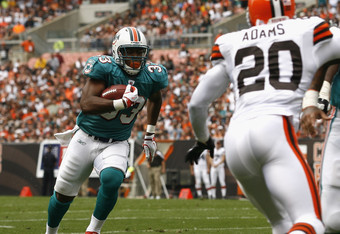 Sparano Fist Pump after a field goal follows another failed red zone attempt.
Cleveland has called a time out with 3:30 left in the game.
Its 3rd and 7 from the 20, Henne back to pass, incomplete.
Carpenter will go into the game, and with the way the Dolphins defense has buckled up in the second half, if Carpenter makes it the game will be put away.
Here's a 37 yard field goal.
Its up...
Through the uprights.
SPARANO FIELD GOAL FIST PUMP!
Miami 16 Cleveland 10 3:23 left in the fourth quarter.
Daniel Thomas should take over this drive.
Already he got a first down for the Dolphins, and he just keeps moving forward.
The clock keeps ticking and we're now within five minutes.
A naked bootleg by Henne leads to a gain of six yards, followed by a 15 yard penalty which gets the Dolphins into fist pump territory.
However Daniel Thomas continues to chew up the field. we're within four minutes now.
Nolan Carroll keeps Cleveland's drive around with an obvious pass interference.
Nolan, usually you'd have to buy Josh Cribbs dinner before getting on top of him like that.
Just disgusting, Miami handed Cleveland a fresh chance. Good thing for the Phins that Cleveland didn't capitalize on first down.
But Cleveland's offense doesn't have to do anything as Miami keeps making stupid penalties.
Seriously Oshanski, McCoy is already on the ground, just jump in the opposite direction.
Cleveland in the end can't capitalize on Miami's mistake and is forced to punt. Bess gets it out to the Miami 41 yard line.
Now Miami has to waste time and score a touchdown. Time is becoming a factor right now.
Miami 13, Cleveland 10: 6:20 left in the fourth quarter.
Miami calls a defensive time out on third and seven from the Browns six yard line.
This might just come back to haunt them, as Miami now has only one time out. They'll have to be more cautious when it comes to challenging plays.
Brandon Fields does it again.
Thanks also in part to the Dolphins' special teams punt coverage unit (first time I've ever said that this season), Fields pins Cleveland at their own two.
Of course the down side of that for Miami is that Cleveland is only down three, and there's more than enough time left.
Miami needs to get a three and out here.
While Cleveland needs at the very least to get the ball to midfield if for no other reason than to switch up the field position battle.
This will be the pivotal series of the game.
On 3rd and 9 Cameron Wake couldn't get a sack, but does force an incomplete pass that I'm wondering why anyone would think was a fumble.
McCoy's arm was moving forward. The ball moved forward. Yes, that was an incomplete pass.
But how I'm sure the Dolphins wish it was a fumble.
Miami with the ball again. More likely than not a touchdown would put the game away from Miami, especially if this drive kills some time.
Miami will start from the 21.
Watson continues to be wide open, yet lucky for the Dolphins he dropped the ball on 2nd and 10 from the Cleveland 14.
Then when it looked like Miami had a stop, Yeremiah Bell hits McCoy's head and is called for the personal foul.
I guess one Miami Bailout deserves a Cleveland bailout. Can Cleveland capitalize like Miami did?
Not if they commit stupid holding penalties like they did a few plays later. And yes, that was a hold by Alex Smith, he hugged him.
But McCoy gains 11, and now its 2nd and 9, McCoy overthrows his receiver to end the third quarter, although I'll admit, Will Allen just got away with pass interference.
Cleveland is driving and it will be 3rd and 9 when the fourth quarter begins.
Miami 13 Cleveland 10, Start of the 4th Quarter.
This is already starting to look like one of those "Story of two halves" games.
First the Browns offense was able to move the ball well down the field.
Now terrible Dolphins special teams (a holding call on the kickoff return) followed by a run for no gain and a sack of Henne have set up 3rd and 12 for the Dolphins from their own four, which forced Henne to call a time out.
This is going to end well.
Wait, I meant that sarcastically, but it really did. Roughing the passer for contact to Henne's head. Miami moves up 15 yards and gets bailed out.
And after that call the fans in Cleveland are booing so loud you would think LeBron James was seen on the Jumbotron.
Meanwhile Daniel Thomas continues to be a workhorse. If you're looking for a Dolphins jersey to buy, I'd go with his. From what I've seen of him the last two games, Daniel Thomas just doesn't give a .
Now with Miami with the ball at midfield, Fasano with a drive killing false start.
Or so we thought, Reggie Bush decides to show up and do something well, running a sweep for 11 yards and pulling off a Madden play and gaining the 11 needed for a first down.
This sets up a Henne-to-Hartline 38 yard reception. The bad part is Hartline couldn't run it into the end zone meaning Miami is stuck in the red zone.
The good news is maybe now is the time to end their red zone woes right?
Right?
Henne lucked out, hit as he threw, I was thinking interception. Instead it falls gently for an incomplete pass.
Now 3rd and goal. Let's see if the red zone woes end here.
Nope. The one time Henne should've passed it instead of running it, he runs right into Phil Taylor.
Now Brandon Marshall just acted like a bonehead with an unnecessary roughness call. Now it could be field goal fist pump time again.
Carpenter from 41 yards, good for Carpenter, fist pump for Tony.
Miami leads 13-10.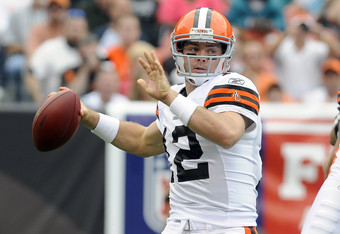 Cleveland's offense looked inept at times during the first half.
But now they're chewing up the field with their West Coast offense, while the Dolphins defense is playing the way they have their first two games.
Now those 17 points Miami left on the board in the first half is really starting to hurt.
By the way, would it hurt Miami to cover the GD tight end Watson? He'll beat them with that crossing pattern all day.
Of course, the Phins D manages to wait until the Browns are in the red zone to play, and of course its their best defensive player, Yeremiah Bell who makes the play.
Cleveland has to settle for the field goal now, which Dawson makes from 30 yards out.
Miami 10, Cleveland 10 10:37 left in the third quarter.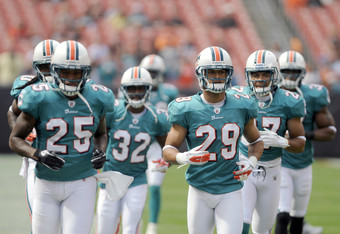 Miami's red zone problems continue.
First came a Joe Haden deflection that is an example of perfect defense.
Then came a good Daniel Thomas run. You would think you'd give it to Thomas again on 3rd and goal, but instead a fade route to Bess that wound up incomplete.
Cue Dan Carpenter making the field goal, followed by the fist pump.
Going into halftime Miami leads 10-7, although it should be 20-7. Miami has left way too many points on the board and it should come back to haunt them.
Despite the red zone problems, Henne has been fantastic going 15 of 19 for 191 yards a touchdown, no interceptions and a quarterback rating of 126.1.
Meanwhile Daniel Thomas continues his excellence on the ground, rushing 12 times for 50 yards. He also has one catch that went for eight yards and a touchdown. If you're starting him on your fantasy team, which I'm sure you are after last week's great performance, you're feeling very good.
Meanwhile Cleveland is only three points back despite the fact that they have numbers suggesting they shouldn't even be in the game.
Colt McCoy has started off going 5 of 14 for 73 yards, a touchdown and an interception. This includes a 33 yard Touchdown pass to Josh Cribbs, who himself has two catches for 37 yards, including the aforementioned touchdown.
Cleveland's defense has made things difficult for Miami, sacking Henne twice and hitting him three times.
As of halftime Miami leads 10-7. Now here's a text my father, who's a Chicago Bears fan, sent me a few minutes ago.
"If they [Miami] lose today, they need to fire Sparano on the spot and bring in [Marlins Manager Jack] McKeon-he will be available after next weekend."
I gotta say I agree with him.
Miami 10 Cleveland 7, Halftime.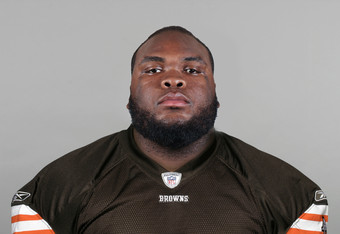 Browns DT Phil Taylor is down on the ground, looks like a problem with his leg, however he should be alright.
Meanwhile also on the injury front, Vernon Carey is questionable to return.
Dolphins in Cleveland territory still tied at 7-7 at the two minute warning.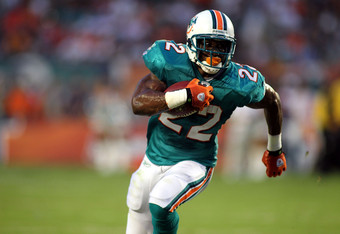 Henne is still being smart out there, however Reggie Bush is killing us.
Between the fumble in the first quarter, followed by this last four yard loss where he almost fumbled it, he's been terrible.
Just keep Daniel Thomas in there.
Miami should be up at least 17-7, but instead we're all tied up.
This will come back to haunt the Dolphins during this game in a bad way.
I thought the Browns ran the West Coast offense, not the option.
McCoy was very Favre-ian with that shuffle pass to Hardesty, which set up the touchdown pass to Josh Cribbs.
Sean Smith with the blown coverage. Should've at least knocked it down.
So now the 10 points Miami left on the board in their last two posessions hurt.
Miami 7 Cleveland 7, 7:16 left in the second quarter.
Nice catch by Ben Watson, that play was dead in the backfield but Watson caught the pass and turned nothing into a first down.
Although I do think the spot was a bit generous. Just sayin'.
Do you know what time it is?
Come on Dolphins Fans...
Fist Pump Time!
Nevermind. Carpenter pulled it too far to the left.
Still Miami 7 Cleveland 0.
Cleveland fails to take advantage of the turnover. McCoy is now 2-of-8 with only 19 yards and an interception. His quarterback rating is at 0.0.
Meanwhile Chad Henne is 9-of-10 with 101 yards and a touchdown and no interceptions with a rating of 142.1.
Dolphins ready to take over at their own 31 after a Brad Maynard punt.
This article is
What is the duplicate article?
Why is this article offensive?
Where is this article plagiarized from?
Why is this article poorly edited?

Miami Dolphins: Like this team?