MLB: Bryce Harper and 15 Top Prospects To Watch for in 2012
Christian Petersen/Getty Images
So you're team is done for the year, eh? Yeah, join the club.
Unless you're a fan of one of the half-dozen teams or so that still have a playoff hope, your excitement around your favorite ball club has probably waned in the past few months. But regardless of where your team finishes, it's always entertaining to look ahead and think about next year.
With MLB's next season will come a fresh batch of MLB prospects looking to make names for themselves at the Major League level.
In 2011, we saw the long and in some cases short-awaited emergence of MLB rookies like Michael Pineda, Freddie Freeman and Eric Hosmer.
For 2012, who can you expect to see gracing Major League baseball diamonds for the first time?
Yonder Alonso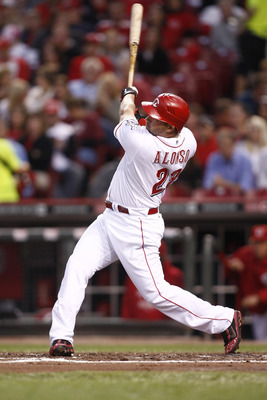 John Grieshop/Getty Images
Offensively, there's not much to dislike about Yonder Alonso. He's a big, strong kid who hits left-handed, powers to all fields, displays great plate discipline and will hit for a high average.
Then, what's the problem? He plays first base.
Yeah, the same first base that reigning NL MVP, Joey Votto, plays and will play for the next 15 years.
While the Cincinnati Reds have experimented with Yonder in left field, he hasn't been very sharp defensively. Also, with veteran incumbents Jay Bruce in right, Drew Stubbs in center and rookie Chris Heisey making a strong case to be the starting left fielder in 2012, there's few places for Alonso to go.
Still, his bat is so good, Dusty Baker will be sure to find him plenty of playing time in 2012.
Greatest Asset: Batting Average/Power
Area for Improvement: Outfield Defense
Manny Banuelos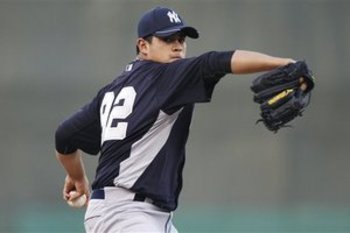 Manny Banuelos' minor league season started off with a bang when he posted a 1.56 ERA in April. He followed that with another good month in May, posting a very respectable 2.59 ERA.
But after an appendectomy sidelined him in June, he has looked decidedly less impressive upon his return.
However, in the world of MLB prospects, he's continuing to garner a lot of notoriety. He is a left-handed starting pitcher with a fastball he can ratchet up into the mid-90s. And although he's been a little too wild and hittable—with a combined 1.55 WHIP in the minors this year—experts are suggesting he may have a very good future as a No. 3-type starter.
In 2012, expect to see him in Yankee pinstripes, but in all likelihood—aside from a few possible spot starts—he'll mostly be working out of the bullpen.
Greatest Asset: Fastball
Area for Improvement: Durability
Bryce Harper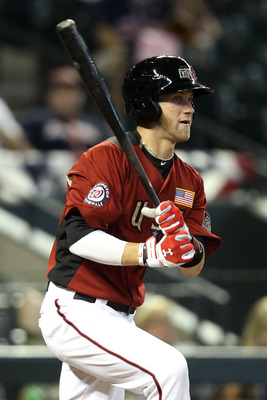 Christian Petersen/Getty Images
If you haven't heard of Bryce Harper: Have you been living under a rock?
The kid is shaping up to be the most powerful hitting prospect since Alex Rodriguez, and is probably the most famous teenage athlete since LeBron James.
Now that's some powerful company.
Although Harper promises to be a true five-tooled star, there's no doubt that Harper's most highly-touted skill is his prodigious power potential.
He has tremendous bat speed due to his quick hands through the zone, and his monstrous power comes from his aggressive weight transfer and lightening-quick hip rotation.
In short, Harper's swing is both beautiful and awesome. Check it out here.
For 2012, how could you not be excited about seeing him in the Major Leagues, going up against the best pitching MLB has to offer? Although experts are saying Harper may not be MLB-ready until 2013, we should see his debut at some point in 2012, and when that happens: Be there.
Greatest Asset: Power
Area for Improvement: Outfield Defense/Experience
Manny Machado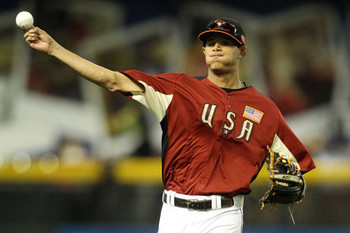 Photo Credit: zimbio.com
Among MLB scouts, the most common comparison for 19-year-old shortstop Manny Machado is Alex Rodriguez.
Granted, nobody is saying Machado has the same sort of power potential as a 19-year-old ARod did, but his long frame, powerful arm and his Florida roots have kept the comparisons going.
Machado's strength is probably his defense. Although he's got a long frame for shortstop, his powerful arm and great range make him more of a SS/3B-type infielder, rather than a SS/2B kind.
In 2011, he has struggled to hit consistently at the plate, compiling a .257 batting average and 11 home runs in 382 minor league at-bats. But as his offensive prowess continues to develop look for him to move through the Baltimore Orioles' system quickly to make a debut some time in 2012.
Greatest Asset: Defense
Area for Improvement: Offensive Maturity
Shelby Miller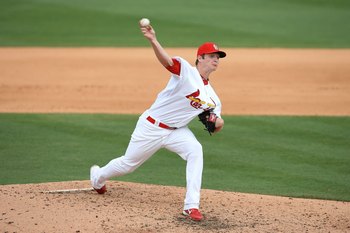 Doug Benc/Getty Images
Shelby Miller is the sort of unrefined, hard-throwing pitcher that fans love. In 2011, he fanned 170 batters in 139.2 innings in the minors, with a WHIP of just 1.18.
Still, aside from his vicious fastball, he needs work on his secondary pitches and probably needs some refinement in terms of his approach to pitching against Major League hitters.
Miller is only 20 years old, but scouts are saying he's got the kind of stuff to make him a front-end rotation kind of pitcher—both in ability and mentality.
While in 2012 he'll probably spend the majority of his time working on his approach in the minors, we should hear his name (and possibly see some innings) before season's end.
Greatest Asset: Strikeout Rate
Area for Improvement: Changeup/Curveball Development
Jesus Montero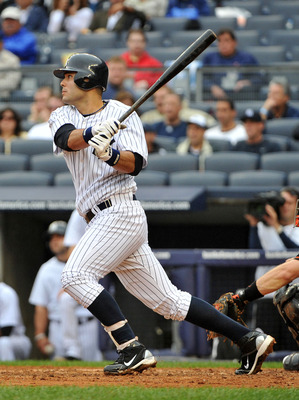 Christopher Pasatieri/Getty Images
Although Jesus Montero's status as a true MLB prospect is debatable, he'll finish the 2011 season with less than 75 MLB at-bats under his belt. And based on the small sample size in the Major Leagues, he must be considered an AL Rookie of Year candidate, going into the beginning of next season.
Jesus Montero's 2011 minor league stats were somewhat underwhelming, but in just 52 at-bats with the New York Yankees this year, he has hit .351 with four home runs and a 1.062 OPS. While those numbers are hardly sustainable over a full year, it goes to show just what kind of offensive potential Montero has.
In 2012, Montero's offensive production will be a huge plus for the Yankees, who don't have many more positions on the field to upgrade, and fans in New York (and across the country) should be excited to see what Montero has to offer on the baseball field.
Greatest Asset: Power/Batting Average
Area for Improvement: Defense
Matt Moore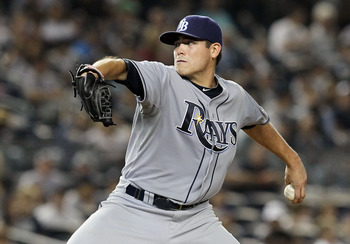 Jim McIsaac/Getty Images
Matt Moore is a future All Star with major league ability at the ready.
In Double and Triple-A this year, he has been dominant, going a combined 12-3 with a 1.92 ERA, 0.95 WHIP and striking out 210 batters in 155 innings.
In short, the guy has been a stud.
Perhaps Moore's one area for improvement is his walk rate, which he improved in 2011, posting a 2.67 BB/9 from a 3.8 clip in 2010. Otherwise, there should be nothing stopping him from entering the Tampa Bay Rays starting rotation next year and also becoming an early favorite for the AL Rookie of the Year.
Greatest Asset: Fastball and Curveball
Area for Improvement: Control
Wil Myers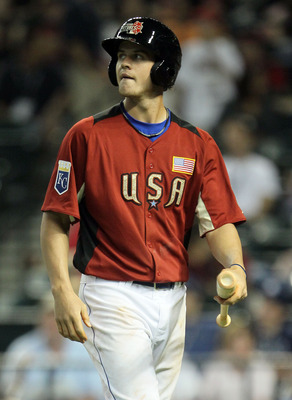 Jeff Gross/Getty Images
Wil Myers is the third major piece in the oft-praised Kansas City Royals farm system, behind Mike Moustakas and Eric Hosmer. While Myers' natural position is catcher, the Royals have been experimenting with him in the outfield in hopes of speeding his path to the Major Leagues.
Right now, he is already MLB-ready offensively. He sports tremendous plate discipline and his very good bat speed suggests that he may develop some significant power as he progresses through his career.
Still, like many other converted-catcher prospects, Myers will have to learn a new position before he can make it to the bigs in a full-time capacity.
Greatest Asset: Plate Discipline
Area for Improvement: Defense
Martin Perez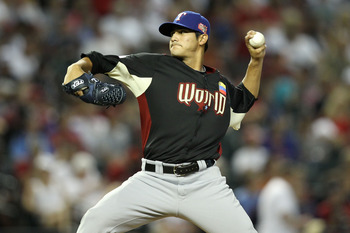 Christian Petersen/Getty Images
The left-handed Venezuelan, Martin Perez, draws obvious comparisons to Johan Santana, but he has more than just biographical similarities to the former Cy Young Award winner.
Like Santana, Perez features a circle-change as his most dominant pitch, and also features a potentially powerful fastball and curveball. While his 2011 minor league stat line has been woefully underwhelming, including a 6.43 ERA and 1.88 WHIP in 10 starts with the Triple-A Round Rock Express, he's still not far off from the Majors.
While he'll probably need the first half of next season to refine his mechanics, expect to hear his name at some point during the summer of 2012 as a possible midseason call-up.
Greatest Asset: Circle-change
Area for Improvement: Command
Drew Pomeranz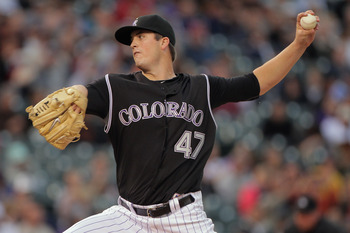 Doug Pensinger/Getty Images
If the name Drew Pomeranz sounds familiar to you, and you're not a MLB-prospect honk), it's probably because he was the PTBNL in the much talked about Ubaldo Jimenez to the Cleveland Indians deal.
Although Pomeranz is predicted to, at best, become a No. 2-type starter in the majors, he is an absolute pest for left-handed hitters.
Featuring a devastating curveball, a healthy fastball and a change, Pomeranz could begin the season as a No. 4 or No. 5 starter in the Colorado Rockies starting rotation.
Although he has been unimpressive in his MLB experience so far, it's only a matter of time until he can translate his very good 1.78 minor-league ERA to major league scenarios.
Greatest Asset: Curveball
Area for Improvement: Command
Anthony Rizzo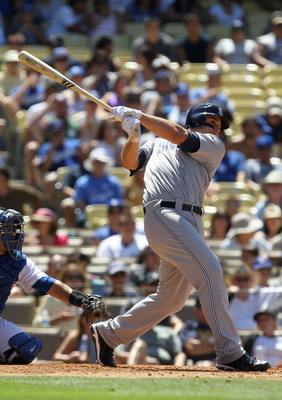 Stephen Dunn/Getty Images
Anthony Rizzo can just barely keep his "MLB Prospect" title as he has compiled 145 plate appearances in 48 games with the San Diego Padres this year.
And in those 145 plate appearances, he hasn't been very impressive.
While Rizzo is only hitting .144 with one home run on the season for the Pads, he was absolutely crushing Pacific Coast League pitching this year.
In the PCL, he sported a .331 average, with 26 home runs and 101 RBIs—oh yeah, and an absolutely brutalizing 1.056 OPS in 356 at-bats.
If Rizzo can figure out MLB pitching any time soon, the Padres will have first base vacuumed, prepped and painted a real pretty white to welcome him. They can't wait.
Greatest Asset: Power
Area for Improvement: MLB Experience
Julio Teheran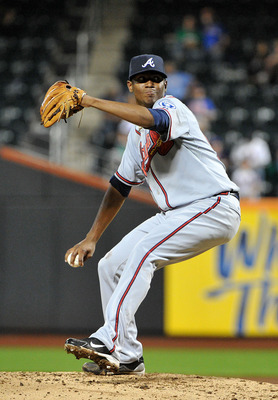 Christopher Pasatieri/Getty Images
Julio Teheran is one of many young Atlanta Braves' pitchers, which will soon be terrorizing NL East hitters.
For now, Teheran is terrorizing the minor-league variety—but that won't be for long. Aside from his pedestrian forays into the majors this summer, in the minors Teheran has been nothing short of amazing.
Teheran features three pitches (fastball, changeup and curveball), over which he exercises great command, and he also has great mound presence. The one potential drawback in his game is his wiry frame, but if he can bulk up and put on some pounds in the weight room, there is nothing stopping him from joining the Atlanta starting rotation very soon.
Greatest Asset: Changeup
Area for Improvement: Durability
Mike Trout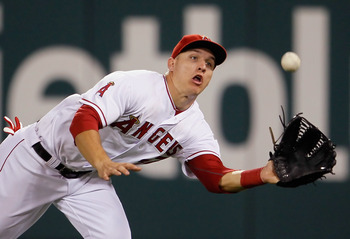 Jeff Gross/Getty Images
The term "five-tool player" is one that is thrown around a lot in MLB circles, but Mike Trout really is a five-tool star in the making. He can hit for average and power, steal bases, play a superb center field, and throw accurately.
Trout figures to be a leadoff hitter that can do it all once he hits maximum potential, and there are very few naysayers out there who claim he won't do it. Although his major league numbers have been unimpressive so far this season, he has shown flashes of brilliance too, including a two-home run game against the Seattle Mariners on August 30.
He may already have the goods to be an opening-day starter for the Los Angeles Angels in left field next season, except that Vernon Wells' monstrous contract may force Mike Scioscia to keep Wells in the lineup, thereby cutting into Trout's potential playing time.
Greatest Asset: Speed/Offensive Prowess
Area for Improvement: MLB Experience
Zack Wheeler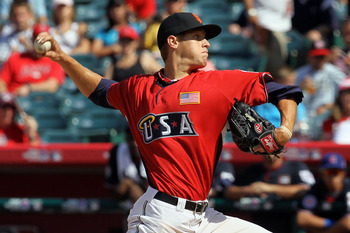 Stephen Dunn/Getty Images
You may know Zack Wheeler as the player who was finally dealt to the New York Mets in order for the San Francisco Giants to acquire Carlos Beltran.
Wheeler is much like the Cardinals' Shelby Miller in that he is an unrefined, right-handed flamethrower that may one day become a front-end rotation ace.
For now, also like Miller, Wheeler is still learning the art of pitching at the major league level. Although his strikeout ratio has been impressive this year in the minors (10.1 K/9), he will have to develop his control over his curveball and changeup before coming up to pitch in the Mets rotation.
Greatest Asset: Fastball
Area for Improvement: Control
Keep Reading