Green Bay Packers vs. Chicago Bears: Live Score, Highlights and Analysis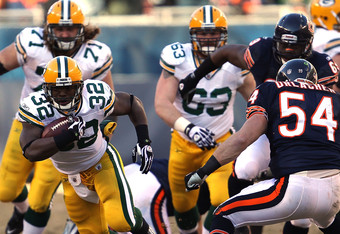 Jonathan Daniel/Getty Images
Updated score: Packers 27, Bears 17
The Chicago Bears/Green Bay Packers rivalry has been a good one. These two teams have been the most consistent in the NFC North over the past six years, and their rendezvous in the NFC championship game last year only served to heighten the intensity of their animosity toward one another.
This game features some great storylines.
Which Bears defense will we get? Will they be the dominant group that shut down the Atlanta Falcons in their season opener or will they be the inept crew that couldn't stop the New Orleans Saints last week?
The Bears offensive line looked especially putrid last week, as Cutler was constantly harassed by the Saints defense. Offensive coordinator Mike Martz never really gave their running game much of a chance to get going, which led to a predictable offensive game plan.
Can the Packers flip the switch on their offense to be even more effective this game? The Packers can't complain with a 2-0 record to start the season, but they haven't been as efficient running the football as they'd like and they struggled to shake free from the sub-par Carolina Panthers last week.
In addition, the Packers pass defense has been wretched. The big-armed Cutler can find open receivers downfield when he's given time. Can the Packers secondary clamp down on Roy Williams, Johnny Knox and Devin Hester today?
GAME DETAILS:
-It looks like the injury report is fairly light, with Bears running back Marion Barber as the biggest name listed.
-The game is at 4:15pm EST on Fox from Soldier Field in Chicago. Joe Buck and Troy Aikman are on the call for the game.
Buckle up for what should be an exciting game!
Kudos for a nicely designed trick play on the punt return for the Bears. A Johnny Knox TD return was negated when a Bears player was called for holding on the play.
Game over. The Bears sit at 1-2 for the season and the Packers are at 3-0.
The Bears need to get much better at running the football and at pass-blocking.
Also, Aaron Rodgers and Jermichael Finley were just too much for them on offense today.
Thanks for reading!
It's a school of hard Knox for the Bears. Their last drive started well with a couple of completions, but then petered out at mid-field. Johnny Knox couldn't pull it in against tight coverage.
Two minute warning now...Packers should win, barring any chuckle-headed plays.
My daughters are getting restless. They seem to sense that the game is almost over and that their daddy is going to be able to play with them soon.
Da Bears have 3:03 to get two scores and stop the Packers when they have the ball.
It doesn't seem likely at this point, but the Packers gave them a glimmer of hope by not running the ball when they had a third and long during their last drive.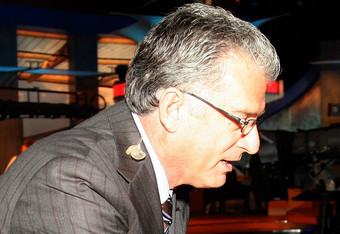 The scroll at the bottom of the screen encourages me to "Ask Mike Pereira" something via text message.
I'd like to ask Mike Pereira where he got those sweet-action spectacles. Nice glasses, former ref!
In the octogon tonight, Sam Shields vs. Devin Hester.
Hester was tagged for throwing the last punch in a scuffle, and the Bears had a third-and-miles and couldn't convert.
The Packers have the ball now and need to hold onto it if they want to salt this game away.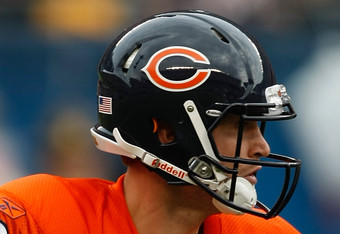 Three INTs for Cutler. But fortunately for the Bears, there was a roughing the passer penalty, so they get to replay the down.
Cutler's seven step drops are high risk/high reward. He seems to either get nice positive yardage passing the football or he misfires and gets picked off.
The Bears get the ball back again off an interception....
Brian Urlacher stretched out like a cat in a sunbeam to grab that pass from Rodgers.
POTENTIAL INJURY ALERT: Packers running back Ryan Grant staggered off the field after being sandwiched by a couple of Bears.
He seems to be ok, but needed a spell and may have gotten the wind knocked out of him.
Also, the show they're pushing on Fox called Terra Nova looks like a train-wreck of deplorable special effects and even worse acting.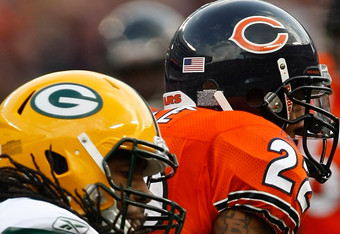 Yowser. That was quick....the Bears get a TD after the fumble recovery call was upheld. A nice catch and run by tight end Kellen Davis.
Now the Bears need to force a three and out or get another turnover to make this interesting.
Packers- 27, Bears- 17
Hey, hey, hey, Jay...intercepted again by the Packers Morgan Burnett.
But then on the first Packers offensive play after the turnover, Bears linebacker Lance Briggs forced a fumble. James Starks lost it after a poor hand-off from Aaron Rodgers.
Packers coach Mike McCarthy is challenging the call.
Tight end Jermichael Finley snags a TD again for the Packers.
I think the Bears are toast now. With 12:49 left in the 4th quarter, the Packers D will be able to pin their ears back against a Bears offense that needs to throw to get quick TDs to try pull themselves back into the game.
Packers- 27, Bears- 10
Chicago's drive was stymied by a horrible series of penalties and a wretched dropped pass by Johnny Knox.
Green Bay has the ball back and could distance themselves and set themselves up for a win if they get a TD during this series.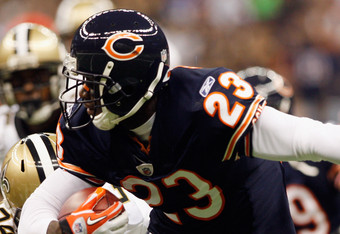 Bears stiffen up and force a Packer punt.
On Chicago's ensuing drive (which began deep in their own territory) Cutler converted a 1st down after chucking the ball what seemed like 70 yards toward Devin Hester. Hester looked like he was held by Chuck Woodson on the play. No flag, though.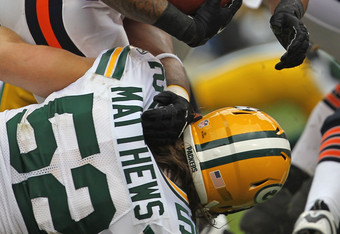 Clay Matthews looks like he has a fossilized weasel pelt under his helmet. Huzzah for the mullet!
Cutler is sacked again and the Bears punt, giving Aaron Rodgers and the Packers offense a short field.
Packers can't punch it in after a nice drive to the red zone, but they do tack on three points.
Packers- 20, Bears- 10, 6:32 left in 3rd quarter
Shocking stats of the game so far-
Bears rushing yards: -1
Packers rushing yards: 96
I'm glad I don't have Matt Forte on either of my fantasy teams.
Both defenses are figuring out how to stop the other team. The Bears go three and out and have to punt it away again.
If I were Lovie Smith, I would take Mike Martz aside right now and beg him to give Matt Forte more touches. Forte is an excellent playmaker who can break tackles nicely.
Airing it out all the time isn't working right now.
Packers- 17, Bears- 10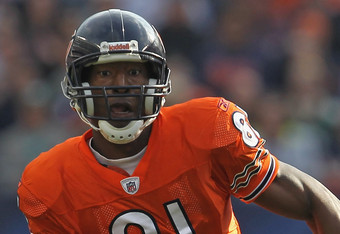 I suppose an "anti-drive" would actually be reverse, wouldn't it?
Green Bay commits a false start again. I think that's the reason why this game has seemed to drag a bit. Well that and the unidentified metal object on the field in the second quarter....
Bears have the ball back and need to get some points to keep pace with the Packers.
First sack of the day on Jay Cutler...I expected one much earlier than the start of the third quarter. That kid has already been sacked 11 times in this young season!
Bears have to punt to Green Bay after heading backwards on that "anti-drive."
It's the end of the first half...good, close game.
Both teams are moving the ball well. I'm guessing that the last team with the ball will win.
Packers- 17, Bears-10, End of 2nd quarter
I think that Clay Matthews is auditioning to be an ultimate fighter...his tripping action on Jay Cutler was quite impressive.
The Bears moved the ball well on that possession, but couldn't get a TD. Three points will help, though....
A good Packers drive stalled out due to some good Bears D and a tough false start penalty. They did get a field goal to add to their lead, though.
Packers- 17, Bears- 7
Metallic stick? Wouldn't that be more aptly called a "nail" Mr. Joe Buck?
Game has stopped due to something on the field. It is called Soldier Field, so maybe it was a dagger that was dropped by a soldier?
The Bears can't stop the Packers intermediate passing game. Rodgers is making completions right, left and mostly center, to all sorts of guys. Announcer (and man who was disgusted when Randy Moss pretended to moon Packers fans) Joe Buck tells me that he's hit seven different receivers so far today.
On a second down running play, Packers RB James Starks was dancing around behind the line and got stacked up. A Bears defender (number 33, I think) jumped on top of him and writhed around for a while, his booty high in the air. Highly entertaining stuff.
This article is
What is the duplicate article?
Why is this article offensive?
Where is this article plagiarized from?
Why is this article poorly edited?

Green Bay Packers: Like this team?