Fantasy Football Week 3 Q & A: Who Is Chris "Beanie" Wells' Handcuff?
September 24, 2011
Rob Carr/Getty Images
All right kids, it's time for another dip into the Bleacher Report Fantasy mailbag/tweetbox. Your questions, my answers, the mysteries of the universe: revealed!
Or at least some of the mysteries of the fantasy universe revealed.
As always, you can ask me questions either on Twitter or at thunderingblurb@gmail.com. You can also leave a comment and I'll hit you up there.
Some questions will be in the column, some will not but all will be answered in as timely a fashion as I can pull off. Of course, I and a big crew of B/R folk will be here dropping news and analysis all Sunday long so, stop by.
I usually like to focus on two or three questions a week and like stuff that allows me to drone on...er...discuss in depth. So if you want to be in the column, give me some tough ones to chew on.
Let's kick this thing off with a subject that could have been asked anytime in the last few seasons: Chris "Beanie" Wells. I actually had a few questions about Wells this week, not shocking with the news that he has a recurring hamstring injury and has been labeled the dreaded 'game time decision.'

So this one goes out to Ted, Jetmaven and JPA all of whom, had variations on the same story. They picked up Wells based on the injury to Ryan Williams and departure of Tim Hightower to Washington and now are stuck potentially filling in for him three weeks in.
Further, all three of the guys above grabbed Wells as a RB2 type pick in the third or fourth rounds of their redrafts.
Jonathan Daniel/Getty Images
Wells could go or he might not, but we won't know until the afternoon games, so each one wanted to know who on the roster would be a useful handcuff for Wells.
First off, this is why I was hesitant to hop on board the Wells-wagon in August despite a huge groundswell of belief that he would be a huge boon to fantasy owners. I had some folks telling me he should be an early second-round pick.
Wells' biggest problem is he can't stay healthy and worse, we're not sure how tough he is. Will he play through an injury? It didn't seem like it in previous years—it really doesn't now.
But hey, water under the bridge. You have Wells, you want to know his backup.
Your choices aren't exactly sterling so if you can grab someone non-Cardinal, do that instead.
If your choices are Green Bay's John Kuhn and Detroit's Jerome Harrison, well, you might have little choice.
Your choices then are journeyman Chester Taylor and third-year back LaRod Stephens-Howling. I've been a big fan of LSH's for a while, but he's undersized and not going to carry the rock as a lead back. Meanwhile, Taylor didn't get much work last year, but when he did, he looked pretty bad.
The deciding factor right now is that Stephens-Howling is battling a quad injury and unlikely to play himself. So if you're looking for a backup this week, you have to go Taylor.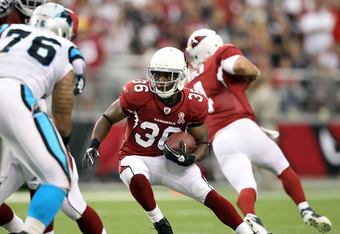 Christian Petersen/Getty Images
However, longer term, if Wells was down I would expect a timeshare. Both backs would have some value, but not much.
Even longer term, let's consider that the Cards were in the market for a lead back—it's why they took Williams.
At the end of the day, I think Wells is not the running back of the future in the Arizona desert. In dynasty, I would move him if he managed to have a big game.
Sell high.
Our next question also wandered in through the email slot and comes from Reaper.
The specter of death writes:
I have Ben Tate and the Foster owner does not. I have decent RB depth but could use help at TE and or WR. Of course the big question is: Could Ben Tate be the Next "Foster" or FF stud???

If just a fill in for a few weeks, I could get Dustin Keller for Tate.  My TE's are Watson, Cook and Kendricks.  

Might be able to get a filler like Greg Little added. Or maybe I should wait and hope he goes off this week and revisit this trade next week...then again, I am 0-2 and need a win.
Here's my take on Foster/Tate and the mess that appears to be Houston's backfield. I think Foster owners need to be concerned. While head coach Gary Kubiak said Foster was pulled because he was gassed, Foster said it was because his hamstring tightened up.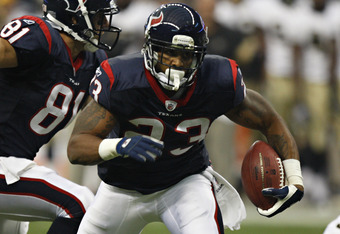 Bob Levey/Getty Images
Worse, Foster has hinted he will rest this week, saying;
"It's going to get healed...it's only Game 2," Foster said. "I want to be out there with my team, but this team is looking to advance further than we have before. I want to make sure I'm healthy for the right stretch."
So clearly, Tate should get lots of work this week. There are two things Reaper will know at this point. First, as I just said, Tate will get lots of work. Therefore he will have value to anyone looking to shore up their RB spot. Second, the Foster owner could be desperate and might cough up Keller this week.
I told Reaper that if his backs were solid without Tate, he should try to get Keller because I believe Keller will continue to be a very good fantasy tight end.
Better to sell now, even if Tate could have more worth next Monday, because you need that tight end now while next week, Foster will be one more week closer to playing and the Foster owner might be willing to wait it out.
So I say strike while the iron is hot. If not, Tate should do okay against the Saints. He should also catch a few balls as well. You can start him in confidence if you can't move him.
Our final question of the day comes from our old buddy Thad on Twitter. Thad wanted to know what I thought of Percy Harvin's value this week and whether he was a worthy start over Santana Moss of the Redskins.
It's a tougher one than it looks. Moss faces a tough matchup against the Dallas Cowboys and hasn't done much this season. Harvin had a bad Week 1, rebounded, but now faces a difficult Detroit Lions defense. Let's also face facts—Donovan McNabb looks awful out there.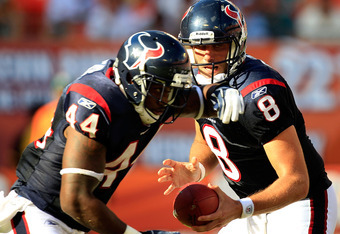 Sam Greenwood/Getty Images
That said, I go Harvin for two reasons. First, the upside. Harvin will run the ball as well as catch it and is a game breaker on any play. If he finds a seam to work, he will put up some good numbers.
While Moss may find himself in a shootout, I just feel as though Harvin has more potential to hit 100 yards and a touchdown. Moss might get one or the other, but I don't think he'll get both.
That's going to do it for this week. Send your emails, tweet your tweets and drop your questions in the comments. And good luck in your matchups.
Andrew Garda is a staff writer at Footballguys.com. Join now and get a money-back guarantee good until Sept. 30!