St. Louis Cardinals: Was Extending Lance Berkman the Best Move?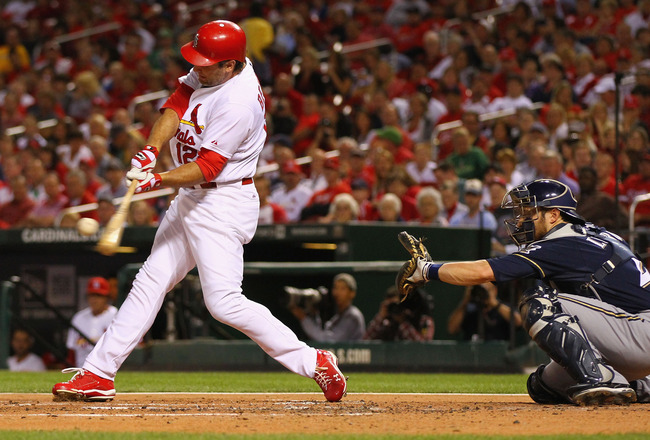 Dilip Vishwanat/Getty Images
Did the St. Louis Cardinals make a mistake by extending Lance Berkman's contract? The slugger re-upped for a reported $12 million in 2012—a $4 million raise from 2011.
The Redbirds need a closer, a second baseman and another top of the line starting pitcher if they want to win it all. So, was paying Berkman, 35, almost half of Matt Holliday's salary their best move?
Lance will be moving to the 36-year-old age range on February 10. Maybe he'll exchange Valentine's Day gifts with the fans and maybe not. But, it's been a heartwarming relationship between Berkman and Cardinal Nation.
Join me for my heartfelt analysis of the reasons why this was the right move and the best move in lieu of the spending Cardinals' next move.
10. Cardinals Have Cash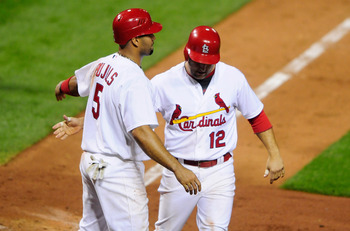 Jeff Curry/Getty Images
The Redbirds have about $62 million committed to players for next year and still have to re-sign Albert Pujols, Rafael Furcal, Yadier Molina and find a true closer. This could bump the Cardinals over the $100 million salary range and show the fans they're serious about winning a World Series.
It's about time, but only time will tell whether management deems that course of action a worthy investment.
9. The Fans Appreciate His Service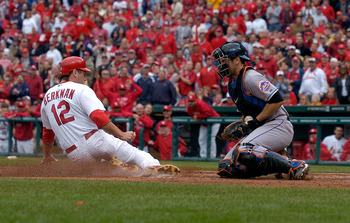 Jeff Curry/Getty Images
It's telling that St. Louis has accepted the Texas native as one of their own. The Gateway to the West is often cited as having the best baseball fans in the Majors.
Outsiders often get it twisted by believing the fans will allow subpar performances to go without being booed. Ask Chris Duncan, Tony LaRussa or the relievers.
Berkman is one of the best switch-hitters ever. The relieved and knowledgeable fans in St. Louis know and love it.
8. His Teammates Love Him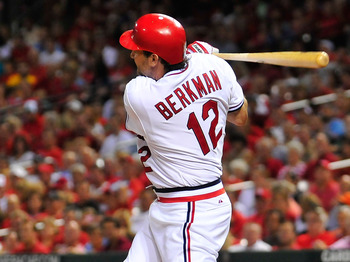 Jeff Curry/Getty Images
Whether it's kudos from the subpar relief crew, Pujols, the coaches or the youngsters, it's known that Berkman is one of the most popular players in the clubhouse.
He's a humble, positive and veteran presence who has been getting it done for a long time in MLB—a key ingredient on almost all winning teams.
7. He Loves St. Louis
Mike Ehrmann/Getty Images
6. He Protects Pujols and Holliday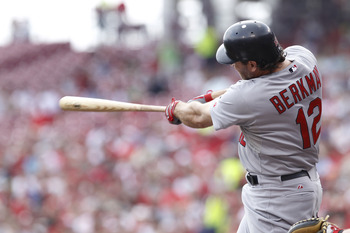 Joe Robbins/Getty Images
Lance is an intelligent batter and a versatile switch-hitter who forces pitchers to give Albert or Matt quality selections to swing at.
He can also play first base in spot relief for Pujols or left field for Holliday. If Pujols isn't re-signed, then Berkman provides relief.
But, Albert had better be re-signed—or else.
5. His Conditioning Has Been Superb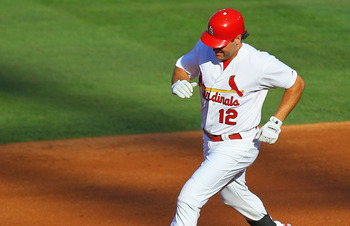 Dilip Vishwanat/Getty Images
What else did you expect? Berkman came to the Cardinals in the best physical shape of his time in the Majors. He had a falling out with Houston and wanted to show his home state that he hasn't lost it.
Advantage: Cardinals and his personal trainer.
4. He's the Missing Link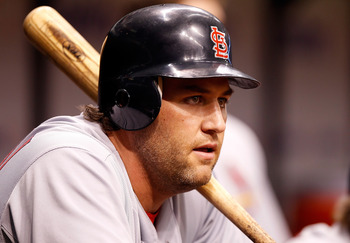 J. Meric/Getty Images
Berkman's trained eye at the dish has been what the Cardinals have needed since Scott Rolen and Jim Edmonds left—another reliable bat to help Pujols (and Holliday).
Lance's splendid home run-hitting power at 35 is still worthy of the bigs. He hasn't been reduced to Texas League-status just yet.
3. He's Heat-Habituated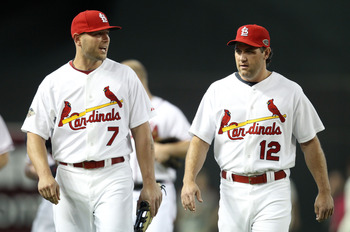 Christian Petersen/Getty Images
As a Texas native, Berkman experiences the St. Louis summer's humidity from April through September some years in the Lone Star State.
He's less likely to wilt due to the heat during the dog days of August than a lot of other players. That's what MVPs are made of.
2. He Posted MVP Numbers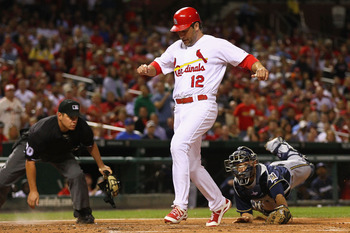 Dilip Vishwanat/Getty Images
Lance's batting average has been over .300 for most of the year.
If it wasn't for the season Berkman had at the plate, then the Cardinals would be in much more dire straits. He helped carry them early this season while Pujols was lukewarm.
He's posted almost 100 RBI, hit over 30 home runs and scored almost 90 on a team that was in first place for a long time and should have made the playoffs with ease if not for the 'pen.
1. It's a 1-Year Deal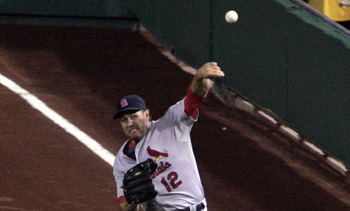 Justin K. Aller/Getty Images
Who knows what will happen in 2012, but penning Lance for one more season was one of the best moves, if not the best, the front office has made. If the Mayans prove to be incorrect, then Berkman could be back for 2013 and beyond.
Far be it beyond you to miss my subsequent articles.
Holler at me next time at Bleacher Report on Lake's Berkman Breakdown. Don't make me ask you again.
Contact Lake Cruise: Lakecruise@att.net.
Keep Reading

St Louis Cardinals: Like this team?