Ozzie Guillen out as White Sox Manager: Might Be the Wrong Guy Leaving Town
September 24, 2011
Jonathan Daniel/Getty Images
As this disappointing White Sox season crawls to a close, it seems that the only thing left to discuss is who will be back next season, and nothing has been discussed more than the future of manager Ozzie Guillen.
Guillen finished up his eighth and final season as the White Sox skipper last night with a win over the Toronto Blue Jays as it was announced that he will not be back next year.
The White Sox had high expectations coming into the season, but have been as inconsistent as any team in baseball and are going to finish below the .500 mark for the third time in Guillen's tenure, including two of the last three seasons.
This will also be the third consecutive season that the White Sox will miss the playoffs.
So it seems logical that he should be out as manager right?  Well, not so fast.
I've heard over and over now that people have grown tired of his act, that he has worn out his welcome, and that it is time for him to move on because he's lost the fire he once had.
First, let's be clear on something: it's not an act...that's Ozzie Guillen, like it or not.  He hasn't changed since he has become White Sox manager in 2004; in fact he hasn't changed since he first put on a White Sox uniform as a rookie in 1985. 
He's always been a talker and that's not ever going to change, no matter where he goes or what he does.  The fact is that Ozzie is going to say a lot of things that he probably shouldn't and will no doubt continue to make people wonder why he just doesn't shut up, but that doesn't mean the guy can't manage.
Sure, he has made some mistakes along the way; show me a manager who hasn't.
He was criticized this season for keeping guys like Adam Dunn and Alex Rios in the lineup for too long, which may be justified, but the fact remains that he isn't the one who brought them to the South side in the first place.
That distinction belongs to Kenny Williams.
Kenny went "all in" this year and gave Ozzie a hand filled with the likes of Adam Dunn, Alex Rios and Jake Peavy.
Gee, thanks.
It may have looked good on paper, but it certainly didn't turn out that way.  To be fair, it's not all Williams' fault because, in the case of Dunn at least, he had no idea things would be this bad. 
However, the bottom line is that he signed all three of those guys to long-term contracts, which can't be undone.
You play the hand you're dealt and Ozzie did.  This year's team was not assembled by Ozzie, it was assembled by Kenny Williams.  Ozzie did not ask for Adam Dunn, nor did he ask for Alex Rios three years ago. 
I've heard several times that this is the team that Ozzie wanted and look what he did with it, but honestly, that couldn't be further from the truth.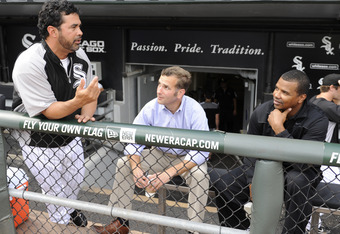 David Banks/Getty Images
The truth is that the Kenny Williams and Ozzie Guillen saga has gone on too long and it certainly may have been time for one of them to go, but I'm just not so sure that it should have been Ozzie.
I certainly understand the frustration of Sox fans after three straight seasons of missing the playoffs, especially when expectations were so high. 
As a fan, it's always a case of what have you done for me lately, but I'm beginning to wonder if anyone remembers the Sox history of actually getting to the playoffs before Ozzie arrived.
In the previous 50 years before Guillen became manager of the White Sox, they had exactly four playoff appearances and no World Series titles...that's four appearances in 50 years.  So once every 12 to 13 years, the Sox would make the playoffs. 
In Guillen's eight seasons as manager, they made the playoffs twice and won a World Series.
I'll let you do the math on that one.
Don't get me wrong, Ozzie hasn't always endeared himself to Sox fans.  He hasn't exactly helped himself in the eyes of many fans recently by demanding a contract extension while the Sox were in still in the hunt, but he certainly didn't quit on the team, as some have suggested.
He lived and breathed White Sox baseball and always wore his heart on his sleeve, which is something you have to admire about the guy and something that will be tough to replace.
It apparently was time for a change on the South side and Ozzie Guillen was the choice, but was it the right choice?
In order to win, you still gotta have the players no matter who is managing, and someone else is in charge of that.
I think the fire is still there.  It just needs to be rekindled.  And it may be, but not in Chicago.
Since this is the end of the road, though, then there is only one thing to say.
Thanks, Oz.  It's been a hell of a ride.