NL MVP Award: Can It Be Anyone but Matt Kemp of the Los Angeles Dodgers?
September 23, 2011
Denis Poroy/Getty Images
With less than a week left to play in the MLB schedule, and many of the divisional races long since decided, attention is turning toward potential award candidates who have distinguished themselves with outstanding play over the course of the long season.
There are compelling arguments to be made for several candidates in the various award categories. However, in the case of the National League MVP award, one man's accomplishments stand above all others.
Matt Kemp of the Los Angeles Dodgers must be the National League's 2011 Most Valuable Player.
That doesn't mean that you can't make a legitimate case for Ryan Braun, Justin Upton, Troy Tulowitzki, Albert Pujols, Jose Reyes or Prince Fielder.
However, what Matt Kemp has accomplished this season in Los Angeles is rather striking.
Of course, the argument can be made that he hasn't played for a contending team, and thus, hasn't played many meaningful games for the majority of the season. After all, the Dodgers were already 10 games out of the NL West race on July 1.
Often, I would agree with such an assessment, as I generally feel that the pressure and strain of a pennant race add an extra dimension to the difficulty of performing at an elevated level. Those who are able to respond to that additional pressure can distinguish themselves from the pack and add luster to an outstanding individual season.
In this specific case however, I simply cannot ignore what the Dodgers center fielder has done all season, providing the lone offensive threat in the L.A. lineup and creating an atmosphere of excitement during an otherwise dreary year at Chavez Ravine.
With the club ownership's well-documented financial woes bogging down the franchise, and the horrific beating of a Giants fan on Opening Day casting a pall over the team's entire season, fans in Los Angeles have needed a reason to be excited about Dodgers baseball in 2011.
Along with left-handed ace Clayton Kershaw, Matt Kemp has performed exceptionally all year, providing a light in the darkness, and reason to hope that this shameful era in Dodgers history is merely a blip, rather than an enduring condition.
As the primary catalyst driving the Dodgers offense, Kemp has surpassed his own career-highs in nearly every category, producing new standards for himself in runs, hits, home runs, RBI, stolen bases, batting average, on-base percentage, slugging, OPS, OPS+ and total bases. To say he has elevated his game to a new level is a significant understatement.
In fact, Kemp has a legitimate chance to win the first Triple Crown in baseball since Carl Yastrzemski led the American League in batting average, home runs and RBI in 1967.
His .326 batting average trails NL-leading Ryan Braun by only four points, and with seven games remaining, he stands a fair chance of overtaking the Milwaukee slugger.
With 36 home runs, he trails only Albert Pujols, who currently leads the league with 37 round-trippers.
Kemp's 118 RBI lead the league, and he is five ahead of Philadelphia's Ryan Howard who stands in second place.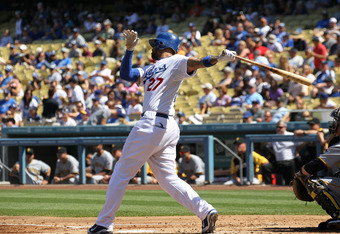 Stephen Dunn/Getty Images
Beyond the Triple Crown categories, Kemp's season is mightily impressive. He also leads the NL with 109 runs scored, five ahead of Braun. Kemp's 130.9 runs created also lead all NL players, and the next closest competitor, Cincinnati's Joey Votto, stands at 125.3.
At .403, Kemp's OBP trails only Votto, Lance Berkman and Fielder. His .582 slugging percentage is only bested by Braun, who sits two points ahead of him at .584.
The combination of those two, represented by OPS, helps illustrate Kemp's outstanding season of on-base proficiency and power production. His .985 OPS leads the NL, and Braun is next with a .977 mark.
OPS+, on-base plus slugging adjusted to the player's specific ballpark, is another critical category in which Kemp leads the league, owning a 171 mark, well ahead of Braun's second-place 163.
The Dodgers center fielder's 335 total bases stand 16 ahead of Braun's 319.
Additionally, Kemp easily leads all National League players in WAR, the sabremetric evaluation of his overall contribution to his team's success throughout the year. Though there are two varying methods of calculating the figure, Fangraphs rates his season as 8.2 "wins above replacement," easily trumping second place Joey Votto and Ryan Braun's marks of 6.9. In Baseball Reference's evaluation, Kemp was worth 9.6 wins above replacement, in comparison to Braun's 7.2.
Not only has the well-rounded athlete excelled with a bat in his hands, but he has also stolen 40 bases for the first time in his career and sits in second place, behind only speedster Michael Bourn.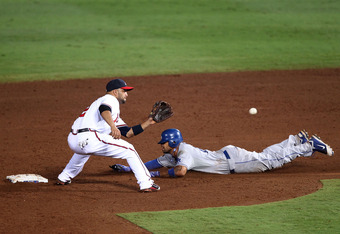 Mike Zarrilli/Getty Images
When you consider the dearth of feared hitters in the Los Angeles lineup, Kemp's offensive production grows increasingly impressive. With such little protection in the order for most of the year, it's a wonder that Kemp was able to produce at such a high level, which stands as a testament to his outstanding season.
The remainder of the potential candidates in the MVP race all possess at least another star performer in their lineup to help ease the burden of production placed on their shoulders. Braun and Fielder are as dynamic a duo as any in baseball. Pujols has Berkman and Matt Holliday, and Tulo' has Carlos Gonzalez. Although Upton may not have another recognized star with him in Arizona, the D-backs lineup still packs a punch with Miguel Montero, Ryan Roberts, Chris Young and earlier Kelly Johnson, producing offense in the desert.  
Though he also lacked proficient table-setters ahead of him, when the top of the order were on base for him, Kemp performed well, providing the production that L.A. desperately needed. With runners in scoring position, he hit .329 with a 1.063 OPS.
In "late and close" situations (plate appearances in which it is the seventh inning or later and the batting team is tied, ahead by one, or the tying run is at least on deck), Kemp hit .289 with a .916 OPS. Furthermore, in 156 plate appearances deemed "high leverage" by Baseball Reference, he hit .328 with a .992 OPS, helping to highlight his clutch performances for the Dodgers all year.
Kemp didn't just accomplish these impressive offensive feats in a weak lineup, devoid of much protection, but he did so in a division that boasts a few of the most prominent stadiums renowned as "pitcher's parks" as well. His own home stadium is consistently one of the toughest parks to produce power in, and San Diego's Petco Park might just be the most pitcher-friendly venue in all of baseball. San Francisco's AT&T park is also notoriously stingy with offensive production, especially considering the lethal pitching staff that resides there.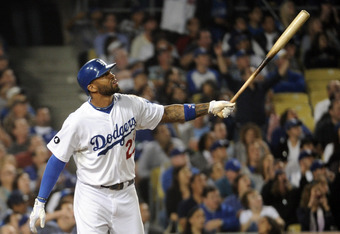 Harry How/Getty Images
Within his pitching-laden division, Kemp was a menace, excelling against his team's divisional foes. Against the bitter rivals in San Francisco, Kemp hit .359 with a robust OPS of 1.118, stellar production against a supremely talented Giants staff. When playing division-leading Arizona, he hit .310 with a .946 OPS. Neither the Padres nor Rockies enjoyed when he strode to the plate, as he hit .340 with a .916 OPS versus San Diego, and .329 with a 1.092 OPS when facing Colorado.
In a division that boasts such a bevy of talented arms, many of whom pitch in offense-stifling stadiums, it is rather impressive that Kemp was able to torment his divisional foes in such a manner.
There will be those who cannot reconcile Kemp's astounding offensive season with his team's third-place standing in the West, and see him as the legitimate contender for the MVP award that he is.
While that perspective is certainly understandable, to ignore such an exceptional performance from Kemp in favor of a perhaps inferior season from another, simply because the Dodger happened to play for a mediocre club this season, would be a travesty.
Considering the elite, well-rounded production that Matt Kemp provided for his team throughout the course of the entire season, I see no other justifiable outcome other than recognizing the Dodgers center fielder with the 2011 National Most Valuable Player award.