SF Giants: Bruce Bochy's Obsession with Experience over Results Doomed Giants
September 23, 2011
Doug Pensinger/Getty Images
I knew it, hours in advance. So did you. 
With his club's playoff hopes barely flickering, Giants manager Bruce Bochy plugged Aubrey Huff into Thursday's lineup against tough Dodgers right-hander Hiroki Kuroda.
Huff, batting 34 points lower against right-handers than left-handers this season, played over rookie Brett Pill.
This, despite the fact that Pill has more RBI (eight, to Huff's five) in half as many September plate appearances (30, to Huff's 60) and despite Pill hitting right-handers far better than left-handers since his September call-up (.455 vs. .263), going 3-for-5 with two RBI a day earlier. 
In Huff's first two plate appearances Thursday, he followed base hits by Pablo Sandoval with weak grounders to second base. In the third, Huff followed a Sandoval homer by flying out to left.
Aubrey Huff: the $10 million Rally Killer.
Wouldn't it have been intriguing to see Pill hit in those spots?
But we knew we'd see Huff. Because Bochy has made moves like this, stubbornly and systematically, all year.
Because to Bochy, a career back-up catcher, it's all about paying your dues. (Or, about righty-lefty matchups no matter what the statistics suggest. And we know statistics are just an excuse to make another baseball movie.)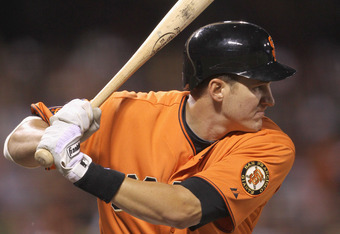 Ezra Shaw/Getty Images
Dues: older veterans who've paid theirs, play. Rookies and younger players who haven't, sit.
Miguel Tejada played until he proved (amply) that he couldn't hit or field, and became so offended by a bunt sign that he publicly pouted.
Then Orlando Cabrera played regularly until simple pop-ups proved too complicated for his fading eyes and aging hands.
All the while, slick-fielding rookie Brandon Crawford was used situationally, demoted, then recalled for a relatively meaningless September. 
Aaron Rowand, Cody Ross and Andres Torres all got playing time over the younger Nate Schierholtz and rookie Brandon Belt.
Rowand played himself off the roster thanks to a slow bat and rotten attitude.
Ross and Torres never found their mojos from 2010. Schierholtz finally—and I mean finally—earned a regular job before breaking a bone in his foot. 
Eli Whiteside played over Chris Stewart until the latter's defensive superiority became so obvious that even Bochy couldn't ignore it.
Injuries made this title-defense season much harder for Bochy. So did a flawed roster supplied by his general manager.
But remember Bochy's season of illogical choices when the Giants are officially eliminated from contention tomorrow, or the next day, or the day after that.
Because his stubborn reliance on guys like Huff, at the expense of promising talents like Pill, doomed this season as much as anything.