12 of MLB's Most Improbable MVP Seasons Ever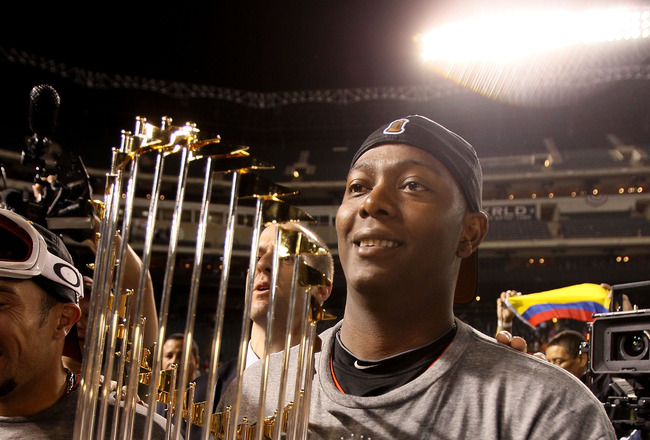 Giants shortstop Edgar Renteria won a World Series MVP in 2010.
Elsa/Getty Images
No matter where teams finish in the standings, every MLB team has a most valuable player. He's the guy the team couldn't live without.
Since its creation in 1931, the MVP award has gone to the player most instrumental in a contending team's success. Although it doesn't always go to a player from a pennant-winning team, it does go to players most deserving of recognition for having extraordinary seasons in keeping their team in pennant chase. Here are some improbable winners of the award and what they did to earn the accolade.
Dustin Pedroia (2008 Red Sox)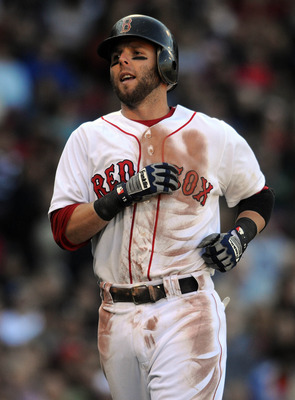 Darren McCollester/Getty Images
Dustin broke into the majors in late August of 2006, and when he began his MVP season, he had just 170 games under his belt. He would rack up a BA of .326, 17 HRs, 83 RBI. Furthermore, he pilfered 20 bases, getting thrown out just once. Throw in a .992 fielding percentage during 157 games, and it's easy to see why he was such a asset.
Justin Morneau (2006 Twins)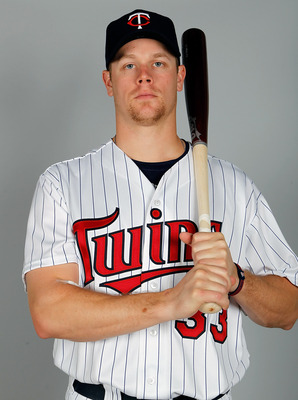 J. Meric/Getty Images
Justin is another player who developed very quickly, winning the award in only his fourth season with the Twins. He hit .321 with 34 HRs and 130 RBI in propelling Minnesota to the AL Central flag. Making this season especially improbable was the fact that Morneau hit a mere .239 the prior year with 22 HRs, and 79 RBI. Oddly enough, in 2005 and 2006, Justin committed eight defensive miscues, a career high.
Ichiro Suzuki (2001 Mariners)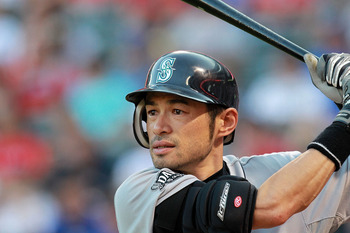 Ronald Martinez/Getty Images
When Suzuki showed up in Seattle, they wouldn't have to worry about right field for the next decade. Even though Suzuki had put up some torrid hitting numbers in Japan, he was somewhat of an unknown commodity here in the US. Many Japanese teams felt that Suzuki was to small and frail to be drafted as a teenager.
Imagine having to endure a different culture, a language barrier and not knowing a soul. All he did was set a rookie record for hits in a season (242), which was the most hits by any MLB player since 1930. He posted a .350 BA, 8 HRs while driving in 69 runs, and stole 56 bases (getting caught just 14 times for an .800 percentage). In the field, he committed just a single error in 152 games. Quite an amazing year under difficult circumstances!
Barry Bonds (1990 Pirates)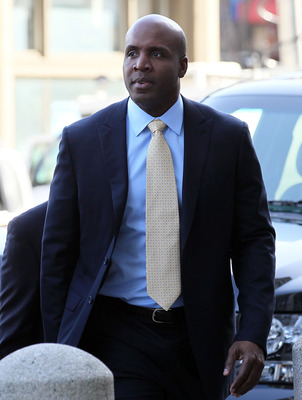 Justin Sullivan/Getty Images
In 1990, Bonds won the first of many MVP awards during his career. He arrived in Pittsburgh amid much hoopla as a rookie four years prior. Big things were expected of him, being the son of Bobby Bonds. When he failed to meet those high expectations, fans were very vocal in their criticism—both at the ballpark and the sports radio call-ins.
In 1990, he put up numbers worthy of his father's legacy, batting a crisp .301, belting 33 HRs, driving in 114 and swiping 52 bases (getting caught just 13 times). The Pirates finished in first in the NL East for the first time since winning the World Series in 1979. Fans quickly forgot about his lackluster season the previous year, when he hit .248, with just 19 HRs, and 58 RBI.
Kevin Mitchell (1989 Giants)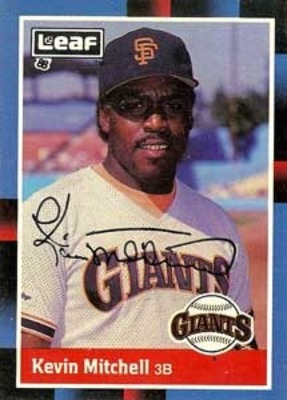 Kevin Mitchell, like Barry Bonds (see previous slide), arrived in the big leagues amid huge expectations. When he didn't meet the lofty goals, he was traded from the Mets to the Padres, then to the Giants. He had a career year in 1989, sporting a .291 average, 47 HRs and drove in 125 runs. It would be the only time in his 13-year career that he topped 40 homers and 100 RBI. He helped the Giants win 92 games that season. Despite hitting 35 and 27 homers respectively over the next two seasons, the Giants wound up trading him away after the '91 campaign.
Willie Hernandez (1984 Tigers)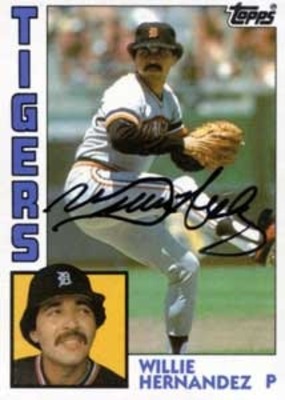 Guillermo "Willie" Hernandez had been a rather unremarkable left-hander in his prior seven seasons in the NL with the Cubs and Phillies. Although he was primarily a reliever, he'd made a few spot starts here and there.
On his way to leading the Tigers to the World Series in 1984, Hernandez became Sparky Anderson's closer, finishing 68 games, good for nine wins against three losses, 32 saves and a 1.92 ERA. He also rang up a career-best 112 strikeouts in 140.1 innings of work.
Willie Stargell (1979 Pirates)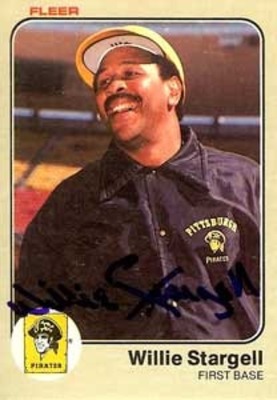 There can be no doubt that Willie "Pops" Stargell enjoyed a true Hall of Fame career. However, what makes this one season quite improbable was his age. At a point when most baseball players are merely hanging on and contemplating retirement, Stargell enjoyed a remarkable resurgence. He hit .281 with 32 HRs and 82 RBI at the age of 39, sharing the MVP that year with Keith Hernandez of the Cardinals. Stargell would also win the Associated Press "Athlete of the Year," "The Babe Ruth," "The Sporting News MLB Player of the Year," "Sports Illustrated Sportsman of the Year," the NLCS MVP and World Series MVP awards.
Denny McLain (1968 Tigers).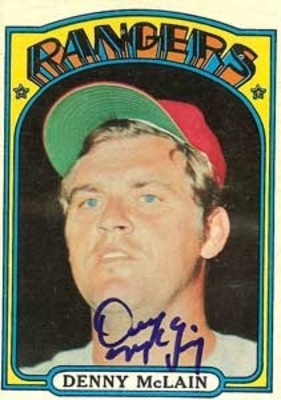 Dennis Dale McLain is the last pitcher to win 30 games in a single season, going 31-6 with a 1.96 ERA in leading the Tigers to an upset of the defending World Champion Cardinals in 1968. Add to that 28 complete games and 280 strikeouts in 336 innings pitched. What makes this especially improbable was that McLain was an unremarkable 17-16, with a 3.79 ERA the previous season.
Bob Gibson (1968 Cardinals)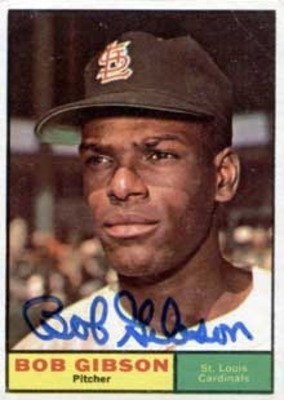 1968 was definitely "the year of the pitcher," thanks to Bob Gibson and Denny McLain (see previous slide). As great as McLain had been, Gibson was even better.
Gibson posted a 22-9 season, but went well beyond stingy in terms of runs allowed, with an absolutely stunning ERA of just 1.12 (allowing 49 runs in 34 starts)! Like McLain, Gibson threw 28 complete games. Gibson also fanned 268 hitters in 304.2 innings of work. What makes this stunning season all the more improbable is that Gibson missed much of the previous season after a scorching Roberto Clemente drive back through the box broke Gibby's leg.
Perhaps most amazing of all, the rules committee decided to lower the MLB pitching mound three inches after that season.
Frank Robinson (1966 Orioles)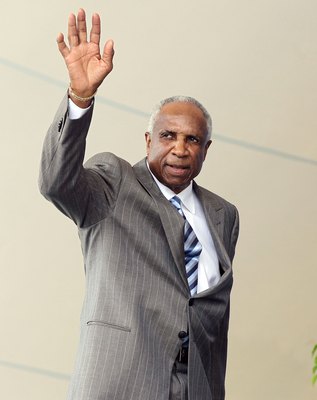 Jim McIsaac/Getty Images
Reds GM Bill DeWitt (Sr.) made a gargantuan blunder in trading away Robinson in December 1965. DeWitt told the media that "Robinson was an old 30." He dispatched his right fielder for some much-needed pitching, getting Milt Pappas (starter for the 1965 All-Star game), reliever Jack Baldschun and spare outfielder Dickie Simpson from the Orioles in return.
All Robinson did was hit .316, 49 HRs (a career-best), drove in 122 runs (netting him the Triple Crown), and for good measure, even stole eight bases in 13 tries. Washed up? Hardly...
Zoilo Versalles (1965 Twins)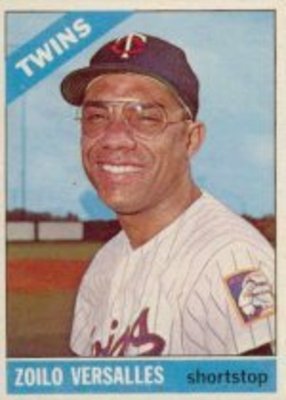 Zoilo Versalles was an acrobatic shortstop with a popgun bat. The man known as "Zoro" was best known for his large aviator-style glasses and painfully slender build (he was 5'10" and 150 lbs). He led the Twins to the World Series that year with a .273 BA, 19 HRs, 77 RBI and stole a career-best 27 bases in 32 attempts. He never approached those kinds of figures again and was out of the major leagues by age 32.
Dick Groat (1960 Pirates)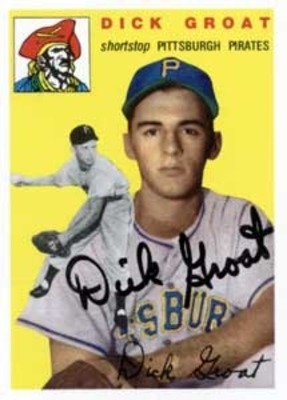 It's hard to imagine the 1960 World Champions without Dick Groat. However, that almost happened. At the 1959 Winter Meetings, GM Joe L. Brown reportedly offered Groat to the Athletics for a then-relatively unknown outfielder by the name of Roger Maris. Manager Danny Murtaugh is said to have talked Brown out of the deal (that was agreed to in principle), not wanting to lose his shortstop.
Groat rewarded Murtaugh by winning the NL batting title in 1960 (he hit a career-best .325, 2 HRs, 50 RBI), also earning the "Lou Gehrig Memorial Award," NL MVP, and TSN's "Player of the Year" award in the process.
Bobby Shantz (1952 A's)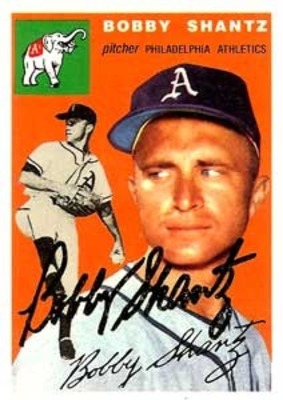 This is arguably the most improbable MVP season, ever. Bobby Shantz was a journeyman left-hander who spent 16 seasons in the majors and played for seven teams. The Athletics weren't even contenders in 1952, finishing 79-75.
Perhaps most remarkably, Shantz didn't even look the part of a major leaguer. He stood a diminutive 5'6" and tipped the scales at 142 lbs. There are scores of players who were bigger than Shantz even before leaving junior high. But, Shantz turned in a remarkable 24-7 mark with a 2.48 ERA, 27 complete games pitched and 152 strikeouts. All are career-bests.
Although he would never apparoach those kinds of stats again, he is also noted for hitting .438 in 18 plate appearances for the 1961 Pirates.
Keep Reading