Fantasy Football: Feast or Famine: Week 3
September 23, 2011
Leon Halip/Getty Images
You're 2-0 but got lucky. Week 1 you played the team with Big Ben and Chris Johnson. Week 2, you played the team with Jamaal Charles.
You're 1-1 but need to exert your power over your competitors, showing that you're not a middle-of-the-tier, irrelevant team.
You could also be 0-2, but hey, it might not be your fault. On paper, a team with Cam Newton, Jahvid Best, Vincent Jackson and Miles Austin seems fairly reasonable, but that's why they play the games, and I don't care which players you assembled, it couldn't have been easy to win that matchup.
Well, erase all of that. Week 3 is a new week, and here are some players to attach yourselves to/avoid to get a crucial victory.
Quarterback
A lot of lesser-known fantasy QBs are suddenly becoming relevant this season. If you're still having doubts or questions about guys like Rex Grossman, Kevin Kolb and Ryan Fitzpatrick, settle those vendettas immediately. Sure, it's been only two weeks, and yes, they haven't been that good, but these are consistent guys who have the potential to throw for a lot of yards, a solid amount of touchdowns and not too many interceptions. These three QBs, not just this week but for the whole season, are more effective than guys like Joe Flacco or Eli Manning, and in the case of Ryan Fitzpatrick, he's even better.
If your starting QB is Grossman or Kolb, you are not in quarterback trouble. If your starting quarterback is Fitzpatrick or Matt Stafford, you're actually in pretty good shape. And with a matchup against Minnesota's ailing secondary, you can count on Stafford to tear them apart. Stafford is almost approaching the level where he can be mentioned in the same breath as the standard, tier-one QBs (Brady, Rodgers, Rivers, etc).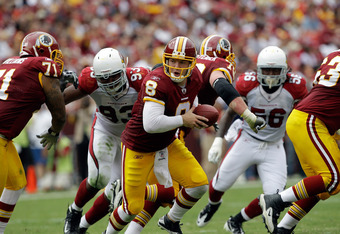 Rob Carr/Getty Images
I'm also getting tired of people asking me, "Where has Michael Vick been all season?" He's put up 35 points in the first two games and, with three less fumbles, it could have been 41. Does he have a concussion? Yes. But when is Michael Vick fully healthy anyway? He was cleared to play (so he probably will), and should still be not only starting in any standard league, but still counted on to be a top-notch guy throughout the season. Don't worry too much about his concussion.
Running Back
Adrian Peterson's performance is no surprise. Most people expected him to be this good. While guys like Chris Johnson and Maurice Jones-Drew can still put up numbers, a lot of the younger running backs are emerging as fantasy X-factors.
If you have, say, Ray Rice, and someone offers you a trade involving Adrian Peterson, do not think the gap is that large between the two. In fact, I'm going to go ahead and call Ray Rice the No. 1 fantasy running back of 2011. Watch it happen. This week, against St. Louis, he could be the overall top fantasy scorer.
The other three most-notable young faces are Matt Forte, LeSean McCoy and Darren McFadden. McCoy's matchup against the Giants this week isn't as hard as it sounds, especially considering how involved he can get in the passing game. McFadden is a fantasy stud, and everyone should get that through their heads. Will the Jets contain him better than other teams? Yes, but that doesn't mean he's not a guaranteed start every week. And then there's Matt Forte, whose numbers speak for themselves. Temper your expectations against a Green Bay defense that is as hungry and ready as ever, but he's still a workhorse, whether it's rushes or screen passes.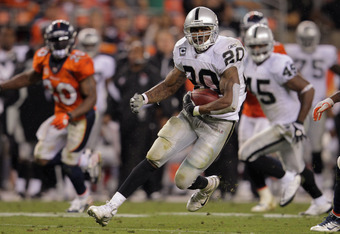 Doug Pensinger/Getty Images
If Mike Tolbert is ruled inactive this week, look for Ryan Matthews to have a good game against the so-far worst defense of 2011, that of the Kansas City Chiefs. Fred Jackson torched them for 112 yards in Week 1, and in Week 2 McFadden ran for 72 yards and punched in a score. Matthews should fare pretty well against this defense.
On the other side of the ball, we all know by now that Jamaal Charles has been placed on the Injured Reserve list for the season. This makes Thomas Jones and Dexter McCluster the next guys up to carry the load for this offense. Now just because he is now the starter, that doesn't necessarily mean TJ is going to put up beastly numbers. He is aging after all. Use him, but proceed with caution. Don't be that guy to sell Thomas Jones as the next big thing this year, because that's a bit of an over sell. Also, don't be too high on McCluster either. Again, he may break out later in the season, but in Week 3 he won't be too much of a factor.
Wide Receiver
Brandon Marshall and Vincent Jackson put up 42 fantasy points on the Patriots D this year, and they're coming to Buffalo this Sunday to take on the red-hot Stevie Johnson. People always seem to doubt him, even after a huge season last year. You don't want to be that guy to sleep on him again—look for a big week.
Tampa Bay wide receiver Mike Williams had one reception for negative four yards last week, and I don't blame you if all of your impulses are telling you to stay away from him, but I'd still advise you to hold off on trying to get rid of him on your roster. We all know what he can do, and he's just gotten a lot of defensive attention already this season. This makes him similar to Broncos wideout Brandon Lloyd. This guy was the No. 1 receiver in all of fantasy last season, and a two-week injury suddenly sends him back under the radar. Lloyd is still a very viable fantasy starter. Look what his backup Eric Decker did last week. Lloyd overpowers Decker in physical stature, skill and trust from Kyle Orton. He will become good again soon. Be patient.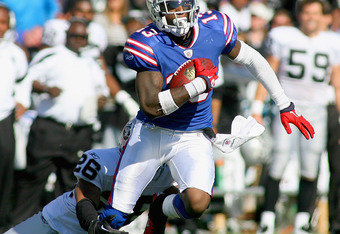 Rick Stewart/Getty Images
A.J. Green, the star of the Bengals passing attack, seems to be molding pretty well with rookie quarterback Andy Dalton. Look for Green to have a very similar season to Mike Williams last year with QB Josh Freeman. All of the odds are in Green's favor; the 49ers have allowed the most points to opposing wide receivers so far this season. But don't you think San Fransisco knows that? They'll do a good job of bottling up Cedric Benson, which leaves all the focus on the receivers (Green, Green and Green). I'm not calling Green the bust of the week, but don't count on him to repeat last week's performance, and don't count on a touchdown.
For my gut call of the week, I'm going to say that Saints wide receiver Devery Henderson will be an epic disappointment, coming off back-to-back 100-yard, touchdown games. He's a hit-or-miss, and I think Houston will be aware of his recent streak enough to make him a miss.
Tight End
Chargers tight end Antonio Gates needs to be discussed. I can't tell you how many people have said to me that Gates is done, that he's getting old, that he doesn't have the stealth or the swagger that he used to. I don't even reply to any of that. So he had two bad weeks in a row. Now he's playing the Chiefs defense, who we know hasn't had a great time with wide receivers this season already, and Gates basically is a wide receiver. Other than swerving his routes around linebacker Tamba Hali, Gates could return to stardom on Sunday.