Toronto Blue Jays: Is Adam Dunn a Good Fit for This Team?
September 22, 2011
Brian Kersey/Getty Images
Many Blue Jays fans are clamouring for a big bat. To compete in the tough A.L East, you need to have some big bats able to put up some big numbers in a hurry. I personally don't think Edwin Encarnacion is the best solution for the Blue Jays at DH.
There has been lots of hope about the possibility of bringing in Prince Fielder or even Joey Votto. Although those two would be excellent, with the Jays having a slight advantage in acquiring both, (Fielder: ties with Prince's father, Cecil; Votto: obviously being Canadian) I still don't think that it will happen. The organization would have to pay loads in free agency or loads in a trade.
Personally, I think the Jays would be best going in another direction, just to keep the farm system intact. Now where does that other direction take us? How about Adam Dunn.
Everyone knows about Adam Dunn's struggles this season in Chicago. Dunn currently sits at .166 with 11 home runs, 42 RBI and 35 runs. Yes Dunn's year has been historically bad. But prior to this season, Dunn was probably the most consistent player in all of baseball.
From 2004 to 2010, Adam Dunn averaged 40 HRs, 101 RBI and 107 walks.
Moreover, his lowest yearly totals during that stretch were 38 HR (2009 and 2010), 92 RBI (2006) and 77 walks (2010). He also hit exactly 40 HR for four consecutive seasons.
That type of consistency is not only impressive but easy to set your watch to. That is what makes Dunn's 2011 so out of the ordinary and the exception, not the rule.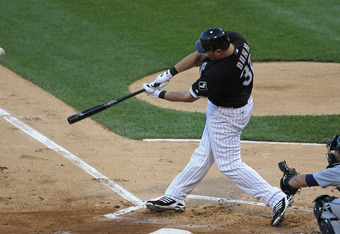 Jonathan Daniel/Getty Images
Remember everyone in Chicago was rejoicing at the fact that they attracted Adam Dunn. How fast your feelings can change in one season...
Dunn signed a four-year, $56 million dollar contract with the White Sox. It is a steep price tag for a soon-to-be 32-year-old slugger. That means he is under contract for roughly $14 million a season for three more years.
I think he could do wonders playing DH and 1B for the Jays. Moreover, playing many games with the short porch in left field at Yankee stadium would help him out dramatically.
You needn't worry about his body wearing down as a DH or 1B or his power being sapped. Have you seen the guy? He is a monster of a man.
Former Blue Jays GM J.P. Ricciardi also had some famous comments about Adam Dunn's lack of motivation, willingness to improve and love for baseball. However, after such a disappointing 2011 campaign, I think he would be motivated to show he had one poor year and that he can return to the 40-100-100 player he has always been.
I think the White Sox (whom the Jays already fleeced in a deal earlier this season) would be very willing to part with Dunn's salary and thus the Jays could get him for cheap.
I think he would be the perfect addition for this squad and would give the Jays another solid left-handed bat. Think of this lineup:
Escobar
Rasmus
Bautista
Dunn
Lawrie
Lind
K. Johnson
Arencibia
Thames/Snider/Davis
Every one of those players is able to hit 20 home runs and the lefties are broken up perfectly.
Let us not forget about the fact that having Dunn hit behind Bautista would make more teams pitch to him.
Is 40 HR, 100 RBI and 100 walks worth $14 million a season? Absolutely.