NFL Fantasy Football Week 3 Jamaal Charles, Arian Foster, and Mike Vick Injuries
September 22, 2011
Dave Reginek/Getty Images
The injury bug is biting all over the NFL. It has taken one fantasy first-rounder out for the year in Jamaal Charles, hampered another in Arian Foster for the first two weeks and likely longer, and placed uncertainty on Mike Vick's status in Week 3. 
With many owners scrambling for replacements on the waiver wire, it'll be tough to pick up the right hot commodity who will be reliable for more than a couple weeks.
Typically, the key is to target the actual replacement players. Thomas Jones, Le'Ron McClain and Dexter McCluster are the backups behind Jamaal Charles, but I advise caution on jumping on any of those players. 
Before Charles' injury, he was struggling to get yards against average run defenses. Kansas City is just not the team they were last season. On IR they have TE Tony Moeaki who was an instrumental receiving target and key run blocker, and SS Eric Berry who helped get KC's defense off the field more often. 
Moeaki's loss limits the run-heavy packages the Chiefs can use. Berry's loss allows opposing offenses to stay on the field, score lots of points, and force Kansas City into a one-dimensional passing attack to catch up. 
The Chiefs will end up as a pass-heavy team until their defense can become more reliable. Jones and McClain are likely to struggle just as Charles did. McCluster is more of a facet in the receiving game, but would be up and down week to week. You'd be better off with an actual WR.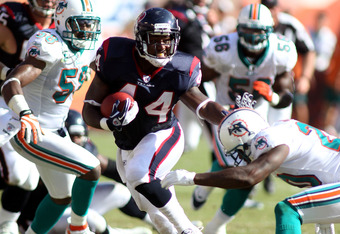 Marc Serota/Getty Images
If you drafted Arian Foster, then hopefully you were smart enough to handcuff him with Ben Tate who has been phenomenal, but who wouldn't be, running behind Houston's offensive line? 
Remember when Ron Dayne resurrected his career a few short years ago before Steve Slaton exploded. Oh yeah, Slaton is still on Houston's roster as their fourth back.
The difference between Dayne/Slaton and Foster/Tate is that Foster and Tate are much more talented runners. Better field vision, speed, and agility. They can run the whole playbook and have potential for 100-yard performances against the best defenses.
If you didn't handcuff Foster, then you are unlucky or stupid. Either way, traditional strategy would suggest you have to have a running back or two who you have been starting in your flex. 
Statistically this season, starting three running backs over three wide receivers has been complete utter failure. Wide receivers are generating tons of points compared to running backs this season. Move that flex running back to your starter and find a third wide receiver to put in your flex. Same goes if you are a Charles owner. 
As for Mike Vick, if he doesn't start, then I have to assume that you drafted someone to replace him once the inevitable injury struck him.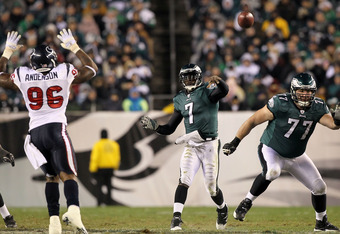 Jim McIsaac/Getty Images
Cam Newton is easily the best waiver wire replacement, but he is likely gone, and the guy who gobbled him up probably left Josh Freeman or Kyle Orton in his place.
Besides those two letdowns, there are a number of worthy QBs this season. Even Chad Henne is a worthy option in the right matchup. 
The pigskin is flying around because confused secondaries are blowing coverages, subpar run blocking due to out of shape linemen is resulting in long yards to gain, and poor tackling is getting receivers more yards after the catch.
All thanks to a short offseason. 
Any week, any QB could put up 300 yards and a couple touchdowns until the defensive and running play improves.
So, don't fret Vick owners. Pick a QB with a good matchup and plug him in. He'll do fine until Vick is back. I just wouldn't recommend going out and getting Mike Kafka, yet.
He was good when he replaced Vick in an away night game, but he is very inexperienced. And unless Vick is expected to miss multiple weeks, then he won't hold much value throughout the season.