The Tale of the Tape: Landry Jones vs. Matt Barkley
September 22, 2011
Ronald Martinez/Getty Images
Everyone in the country knows that Stanford quarterback Andrew Luck is not only the No. 1 player at his position, but the No. 1 player in the entire country. But who's No. 2 at quarterback?
There's a competition playing out each week as USC's Matt Barkley and Oklahoma's Landry Jones trade punches to see who will have the honor of being the No. 2 quarterback in the 2012 NFL draft class. While that may sound like a green-ribbon consolation prize, the No. 2 quarterback could easily be drafted second overall when the April draft rolls around.
How do Barkley and Jones compare, and which player looks better? We'll go to the film room and break down the game of each signal caller in this week's Tale of the Tape.
*Special thanks to TMBDraft and DraftBreakdown for video footage
Grading Scale Requirements
All college players who are scouted during the regular season are graded on a fixed scale. Players must hit requirements before I write a scouting report—minimum three games viewed live or on film, at least a redshirt sophomore and they must be in my top 200 players. Each player is graded overall and per the traits that make up his position. For example, wide receivers are graded on hands, speed, route-running, size, etc.
The Grading Scale
| Grade     |  Draft Profile          |  Description                             |
| --- | --- | --- |
| 10 | No. 1 Overall Pick | Elite, once-in-a-decade player |
| 9.5-9.9 | Top 5 Pick | Exceptional, difference-maker early |
| 9.0-9.4 | Top 10 Pick | Excellent, rookie starter |
| 8.5-8.9 | Top 25 Pick | Special, rookie starter |
| 8.0-8.4 | Top 32 Pick | First-rate, rookie starter/contributor |
| 7.5-7.9 | Top 50 Pick | Very good, rookie starter/contributor |
| 7.0-7.4 | Top 64 Pick | Very good, rookie starter/contributor |
| 6.5-6.9 | Top 75 Pick | Good |
| 6.0-6.4 | Top 100 Pick | Average |
| 5.5-5.9 | Top 125 Pick | Average with issues |
| 5.0-5.4 | Top 175 Pick | Average with issues |
| 4.5-4.9 | Top 250 Pick | Borderline NFL talent |
| 4.0-4.4 | Priority Undrafted FA | Below average |
| 3.5-3.9 | Street Free Agent | Marginal |
| 3.0-3.4 | Camp Body | Marginal |
| 2.5-2.9 | AFL/UFL/CFL | Inferior |
| 2.4 < | Reject | Unworthy |
Accuracy
Barkley: 8.9 | Jones: 9.3
One negative on the Matt Barkley scouting report has to be his accuracy. Playing in a pro system that allows him a receiver at every level on the majority of plays, Barkley has a career completion percentage of 61 percent—and that's against Pac-12 defenses. Barkley is much better throwing short to intermediate routes. It is not an issue of arm strength, but a problem of deep accuracy. He does not have the same ability as other top quarterbacks to drop the ball into his receiver's hands when pushing the ball up field.
The 2010 Oregon game saw Barkley avoid star cornerback Cliff Harris through much of the game, as Barkley had one completion charted to Harris' man and threw a costly interception in another attempt at Harris. In the one matchup that would have featured Barkley versus a true NFL-caliber corner, USC backed down.
Landry Jones does a great job throwing the ball to where it's catchable for his receivers. The best attribute I've seen from Jones in the two years and change watching him has been his accuracy. It's top notch to all levels of the field. I was particularly impressed with Jones' accuracy when throwing the deep fade. He puts the ball up against the sideline without throwing out of bounds. This, more than any other throw, shows off his ability to put the ball where he wants on a consistent basis. One negative here: Jones has a tendency to throw too high when going to crossing routes over the middle. That will get receivers destroyed in the NFL.
Arm Strength
Barkley: 9.1 | Jones: 9.1
Both Barkley and Jones have the arm strength to succeed in the NFL, but neither will ever be confused with John Elway.
Barkley initially impressed me with excellent velocity and presence when throwing to the outside and underneath. If used in a West Coast or spread system, Barkley's arm strength will be top-notch. One red flag I charted for Barkley was his arm strength throwing deep-center. Against Oregon last season, Barkley tried to challenge projected first-round pick Cliff Harris deep. As you see here, the ball didn't get there and Harris easily ran under for the interception. 
Comparisons between Jones and former Oklahoma quarterback Sam Bradford should be immediately thrown out based on this criterion alone. Where Bradford had a weaker arm, somewhat due to injuries, Jones has a pro-caliber arm.
In viewing multiple games this week in preparation for the article, one concern I began to have was Jones' confidence in the deep ball. He looks to the checkdown far too often and way too soon. Jones' inability to challenge the defense deep is a red flag on my scouting report. Whether by design or preference, he only throws deep when the receiver is running free. There's nearly zero footage of him threading the needle into tight coverage. You can't put that all on his receivers, either. Jones is simply afraid to take deep shots.
In this video, on a scoring drive, you will see four throws from Landry Jones. Three are checkdowns and one is to a wide open Ryan Broyles.
Delivery/Release
Barkley: 9.2 | Jones: 9.5
Barkley looks good throwing a football at first glance. After an in-depth scouting of four games (Cal, Oregon, UCLA, Minnesota), I have concerns.
Barkley tends to throw "down" at his receivers. He has a very high release point, which is great considering he's only 6'2", but the ball travels at a downward trajectory when he's throwing underneath (see video). Another issue I have is that Barkley leaves his feet far too often when throwing the ball. This limits his follow through, which affects both arm strength and accuracy.
One knock on Jones is the time it takes him from receiving the snap to having the ball ready to throw. He'll move the ball around too much once he catches the snap. This is a bad habit that NFL teams will break. Jones also gets in a rhythm of dropping the ball before he throws, which is a tell that NFL safeties will feed on. He has to be more consistent in keeping the ball up throughout his reads and progressions.
Field Vision
Barkley: 8.4 | Jones: 9.3
Barkley does a great job of taking the snap under center and making his reads while dropping in the pocket. You would be hard-pressed to find another college quarterback being asked to make the reads that USC puts on Barkley's shoulders. The downside to that is Barkley throws a good number of interceptions. He's been asked to read the field, but his decision-making is not always great.
The Oklahoma offense gets the ball out of Jones' hand very fast, which doesn't allow for much time to see the field or breakdown the defense. The read is quick, most likely a check to see where the cornerback is on his No. 1 read and then a check down to the back flaring out. Jones benefits from a spread offense built on the checkdown. At the snap, Jones takes one look downfield and will then look to a back or wide receiver hitting a zone route. This is great for Jones' accuracy numbers and comparable to an NFL system that utilizes spread sets and checkdowns to the running backs. This makes Jones a great fit for the Colts, Chiefs or Seahawks.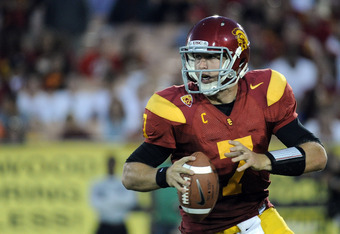 Harry How/Getty Images
Injury
Barkley: 9.7 | Jones: 10
There were no injuries found in a background check on Jones. Barkley has been banged up a few times in his career, notably an ankle sprain in 2010 that caused him to miss one game. This is definitely not an injury that would limit him in the future, though high ankle sprains can be consistent problems. Barkley also suffered a bruised shoulder in 2009.
Play-action
Barkley: 9.5 | Jones: 9.8
Barkley's play-action skills are on par with NFL quarterbacks three to four years in to a system. He does an excellent job extending the ball away from his body to sell the fake, and is able to quickly adjust and locate receivers after the mesh. A favorite play for USC is to play-action off a stretch run fake to either the right or left, which allows Barkley to move slightly outside the pocket and fire away.
Oklahoma likes to run play-action and boot Jones to his left or right—something he does very well. The play-action fakes shown by Jones are NFL quality.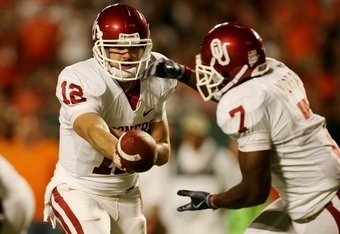 Pocket Presence
Barkley: 8.5 | Jones: 9.6
Both players see a lot of shotgun sets, but in the four games I viewed for this article, I rarely saw Landry Jones under center—the only charted plays I have under center were on 3rd-and-1 or inside the red zone. Barkley ran a ton of under-center sets last season against Cal and Oregon. USC runs a pro-style offense, thanks to Lane Kiffin's influence.
A red flag that jumps off the film at you is the amount of sacks Barkley takes. In 2010 he played behind a top 10 right tackle and a projected top 10 left tackle, but was still getting beaten up in the backfield.
Poise
Barkley: 9.3 | Jones: 9.7
Poise is one of those almost unscoutable qualities, like heart or work ethic. It's even harder to grade when scouting two players who have rarely trailed in a college game.
Jones showed excellent poise and leadership in the Sooners' win over Florida State during the 2011 season. Facing a deficit, and a tough defense, Jones rose to the occasion and led his team. That's what NFL scouts are looking for. Matt Ryan's comeback win against Miami (FL) in 2007 generated the type of buzz among scouts that helped put Ryan on the map. The FSU game was equally as important for Jones.
Barkley, on the other hand, hasn't seen a tough game in a hostile environment with NFL talent breathing down his neck since his freshman season at Ohio State. While that was a big game, it's buried deep in the minds of scouts.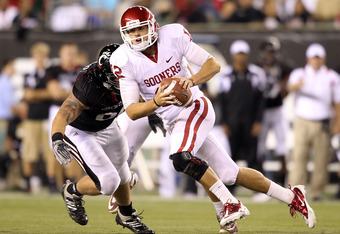 Andy Lyons/Getty Images
Running Ability
Barkley: 8.0 | Jones: 7.5
Barkley is an excellent athlete who is used in many ways by the USC offense. He's not a Michael Vick-style athlete, but good enough that any team considering him for the next level will be comfortable with his ability to move around in and out of the pocket.
Jones does a nice job booting off play-action, something the Sooners did a lot of in 2010. Jones has the speed to pick up a first down outside the pocket. He's not a shifty runner, just a long strider with good quickness.  Might be worth adding an NFL comparison here.
Size
Barkley: 8.0 | Jones: 9.9
Much will be said about Barkley's lack of height, and it is a concern. In the clip you will see Barkley read the defense pre-snap, take his drop and again read the defense. You can see here that he's struggling to see over the linemen, and in trying to look downfield he doesn't see the backside pressure coming from his right (throwing) side. Barkley has to be used in a moving pocket that will create natural passing lanes for him to see through.
Jones looks like a movie-star quarterback. He's tall with broad shoulders and big hands. There's nothing to question here.
Touch
Barkley: 9.5 | Jones: 9.8
One of the most underrated traits a successful quarterback must have is touch. NFL quarterbacks must be able to throw a pass that is catchable. It doesn't matter how hard you can throw a ball if the receiver can't catch it.
Both Jones and Barkley have excellent touch when throwing short to intermediate routes. The ball is placed in an area where the receiver can easily grab it and continue running. As both are set up in offenses that rely on short passes and yards after catch, they have been taught well to deliver the ball with the correct amount of velocity.
I favor Jones here, as he shows better touch when throwing deep. That ability to drop the ball over the receiver's shoulder while hugging the sideline is a thing of beauty.
Overall
Barkley: 8.2 | Jones: 9.0
A popular draft comparison to these two players is the quarterback-heavy class of 2011. If Jones and Barkley were in the 2011 class, I would have ranked them at No. 1 (Jones) and No. 5 (Barkley)—with Blaine Gabbert, Cam Newton and Andy Dalton between them.
The film never lies, and the players I saw when breaking down the film for this article were not on the level of what a top 10 pick should be. It's absolutely possible that an NFL team will fall in love with one of these players and draft them higher, or that the need for quarterbacks will prevail over value. My recommendation would be that Landry Jones is drafted in the 10-15 range, while Matt Barkley is selected in the 25-32 area.