NFL Predictions Week 3: 4 Teams That Will Get Their 1st Win of 2011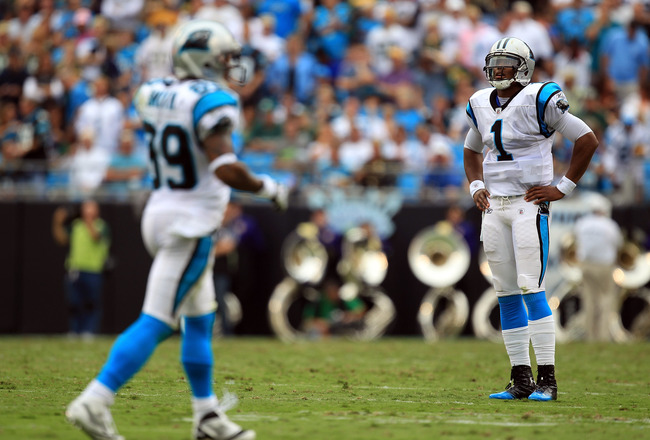 Streeter Lecka/Getty Images
As we enter Week 3 in the NFL, seven teams remain winless. These teams are: Carolina Panthers, Indianapolis Colts, Kansas City Chiefs, Miami Dolphins, Minnesota Vikings, Seattle Seahawks and St. Louis Rams.
After analyzing each team's Week 3 matchup, I believe that four of the seven teams have a chance of picking up their first victory.
I'll give you a hint, one is not the Kansas City Chiefs. Poor Chiefs; they'll be lucky to win one game all year.
Here are my top four candidates to win their first game of the season.
4: Minnesota Vikings
Hannah Foslien/Getty Images
Opponent: Home, Detroit Lions
Predicted Final Score: 27-24, Minnesota
The Minnesota Vikings have had a more than disappointing opening two weeks of the season.
In Week 1, the Vikings went on the road to face the San Diego Chargers. Despite a terrible debut from quarterback Donovan McNabb, the Vikings still led most of the game due to a combination of good defense and lousy play from opposing QB Philip Rivers.
Leading 17-14 going into the fourth quarter, the Vikings gave up the lead and eventually the game, losing 24-17.
This loss was expected, though. The Chargers were supposed to be the better team, so the fact that the Vikings were able to almost pull off a road victory despite a lack of offense was a great sign.
That brings us to Week 2, where the Vikings looked to be in control yet again. McNabb was playing well, Adrian Peterson was being his normal, scary self, and the Vikings held a 17-10 lead going into the fourth quarter.
For the second week in a row, the Vikings gave up a fourth quarter lead, this time on a 4-yard touchdown run by Tampa Bay Buccaneers RB LeGarrette Blount with 30 seconds remaining in the game.
So after two major fourth quarter let downs, the Vikings have to feel drained and embarrassed. This week, they face their toughest challenge yet in the Detroit Lions.
The Lions have looked tremendous so far this season behind the strong play of QB Matthew Stafford and their young, relentless defense. They look in line to post their first winning season since 2000.
Even though the Lions are a 3.5-point favorite on the road, I feel like this game has a great chance to be a toss-up. The Vikings have looked good, they just need to finish games.
Maybe this is the week that the Lions slip up and fall victim to old mistakes.
3: Seattle Seahawks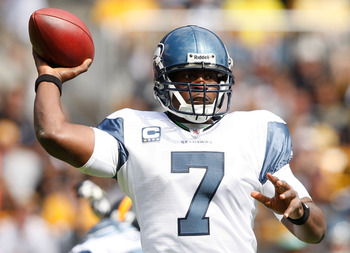 Jared Wickerham/Getty Images
Opponent: Home, Arizona Cardinals
Predicted Final Score: 31-28, Seattle
I'm very aware that the Seattle Seahawks have looked atrocious so far this season. I'm also aware that they have only scored 17 points to their opponents' 58.
So why do I like their chances to get a Week 3 victory? The Arizona Cardinals aren't very good, either.
The Cardinals, who won their Week 1 matchup against the Carolina Panthers, are searching for their second win of the season to jump ahead of San Francisco in the NFC West. Seattle, though, needs this win in order to stay in the NFC West race at all.
WR Sidney Rice has been a full participant in practice this week, and it appears that he will be making his season debut this weekend. This would be a huge help to the struggling Seahawks' offense, and possibility a lifesaver for QB Tarvaris Jackson.
Jackson hasn't played terrible this season. He has completed over 62 percent of his passes, but he just doesn't have many other stats to show. This is because Seattle's running game has been completely non-existent, making the Seahawks prone to many three-and-outs.
The Cardinals are a three point favorite on the road this weekend, but every team has to have that one week where they play out of their minds, right? This week is Seattle's turn.
This will be a closer game than most will imagine, and Seattle will kick a field goal to win with little time on the clock left.
2: Miami Dolphins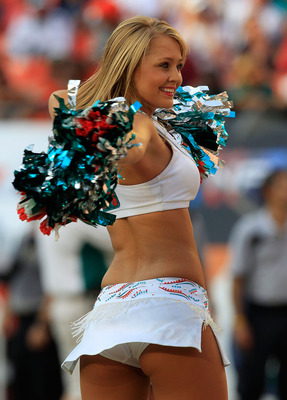 Sam Greenwood/Getty Images
Opponent: Away, Cleveland Browns
Predicted Final Score: 30-21, Miami
Miami's offense has looked a lot better than I ever expected them to look so far this season, and getting rookie RB Daniel Thomas back in the lineup last week was an even bigger boost.
Alas, the Dolphins have started off their season 0-2 following matchups against the New England Patriots and Houston Texans, two good teams that are playoff bound.
This week, the Dolphins travel on the road for the first time this season to take on the Cleveland Browns. The Browns, led by second-year QB Colt McCoy, are really a year or two (and a few skill players) away from making any noise in the NFL.
They are, however, coming off a good Week 2 victory, even if it was against a depleted Indianapolis Colts team.
The Browns have the second-best pass defense (statistically) in the NFL through two weeks. This is likely due to facing the Cincinnati Bengals and the Colts, but it will be interesting to see what the Browns will do to shut down Chad Henne and the Dolphins passing attack.
Dolphins WR Brandon Marshall is likely the most underrated talent at his position in the league, and he has been waiting for this matchup against Browns CB Joe Haden for months.
On paper, this game doesn't seem too exciting, but it's bound to be one of the most competitive games in Week 3.
The Dolphins should be able to edge out the Browns on the road, behind a strong ground attack from Thomas.
1: Carolina Panthers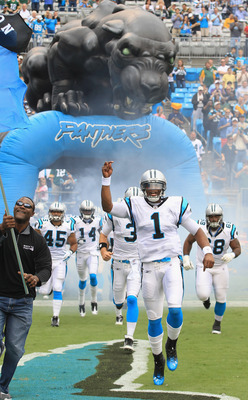 Streeter Lecka/Getty Images
Opponent: Home, Jacksonville Jaguars
Predicted Final Score: 34-20, Carolina
Cam Newton has been killing his competition for Rookie of the Year. Granted, we're only through two weeks of the season, but Newton has already thrown for 854 yards.
If it weren't for Tom Brady, Newton would be leading the league in passing. Can you guess who's leading the league in receiving?
Steve. Smith. He has accounted for 334 yards of Newton's 854.
Can you imagine how he must feel? The guy was virtually irrelevant last season after having so many stellar years in the NFL, and now, finally, he has a quarterback who can throw the ball. Only two games into the season, and Smith only needs 222 more yards to match his total from last season.
Newton has really turned the Panthers offense around. Unfortunately, they don't have a win to show for it. They are certainly better than the two-win squad they were last season, though, and this will be the week they get win number one.
The Jaguars will also be starting a rookie quarterback this week in Blaine Gabbert. This is the right move for them. Gabbert gives them the best opportunity to win, and it will also be a solid learning experience.
Carolina is a 3.5-point favorite in this game, but I think they're going to at least win by two scores. Newton will have his team fired up and ready, and they'll be playing in front of their home crowd.
Star RB Maurice Jones-Drew will have to be the force that guides the Jaguars if they want to pull off a difficult victory on the road. The Panthers defense didn't look half bad against the Packers last week, but they're still not as strong as they'd like.
Keep Reading