Seattle Mariners: Predicting the 2012 Opening Day Lineup.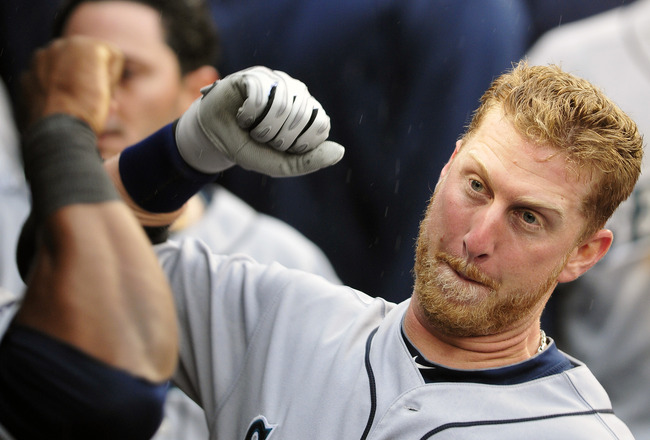 Jason Miller/Getty Images
Other than Alex Liddi's first major league home run and Mike Carp's late-season power burst, there's not much left to get excited about for 2011. It's been nice to see the cycle of young players through the starting lineup, but since there's so much shifting, the team hasn't really come together.
However, after a potentially busy offseason and a hopefully efficient spring training, we will see a solid, powerful unit emerge to lead the Mariners through the 2012 campaign. What will it take next year for a winning record? Whether it's a 20-win season from Michael Pineda or a 30-home run season from Mike Carp, the Mariners have the stuff to do it.
1. Ichiro Suzuki RF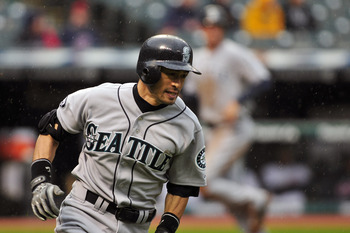 Jason Miller/Getty Images
It'll take more than one mediocre season out of Ichiro to bump him from the leadoff spot—but not a lot more. It looks like he'll finish this year with around a .275 average, 40 stolen bases and just under 200 hits (for the first time ever).
The fact that he's almost certainly going to miss the 200-hit mark is unsettling to some. However, in that stretch, he had as few as 206 hits once, just about 20 hits away from where he'll probably finish this year. His highest total was 262 in 2004, which is 56 away from the 206 he hit the year after in 2005. What I'm saying is that it's not unlikely he'll bounce back over 200 in 2012.
With that being said, if he doesn't resume typical production rates, he may find himself out of the leadoff spot by midseason. It's hard to imagine replacing the greatest leadoff hitter of his time while he's still playing, but it may be the logical choice if the team is still contending (or even if the team isn't contending).
Ichiro will also start the year in RF, but he could lose that spot to one of the eager, young outfielders in the Mariners' system if he loses the extra step we've come to love.
2. Dustin Ackley 2B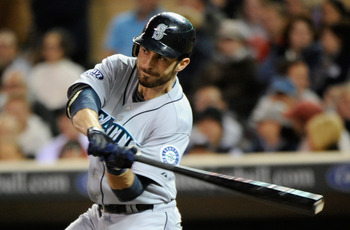 Hannah Foslien/Getty Images
Dustin Ackley was the Mariners' top prospect coming into 2011. Since his midseason call-up, he's proven that he's ready for the bigs, putting up solid numbers that have rescued the M's from an embarrassing late-season collapse.
Ackley should only get better going into his first full season, as he sees more pitchers and acclimates to the elevated level of play. Ackley has a noticeable power upside, but he can also keep his average up, which makes him an excellent candidate for the number two spot behind Ichiro.
3. Mike Carp DH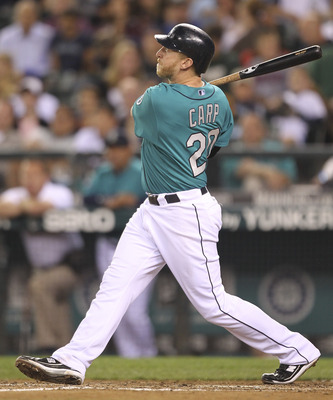 Otto Greule Jr/Getty Images
Mike Carp has been a delightful surprise in the last two months of a forgettable 2011 season for Seattle. Carp has shown his ability to play in left field, but the Mariners' plethora of outfielders keeps him at the DH spot for the most part. Unless GM Jack Zduriencik acquires some huge hitter in the offseason though, Carp is the best candidate for the DH spot.
It's a little unusual for him to be up in the three spot, but with the return of Justin Smoak, it's where he fits. If Ackley and Carp can pick up where they left off next season, they'll form a formidable top of the order with Ichiro.
We all hope Carp can put up at least 20 home runs next year, since we all know that they won't be coming from many other places; the three spot would be an excellent place to do that, with the most dangerous leadoff hitter in the game (yes, he still is) and the up and coming Ackley preceding Carp.
4. Justin Smoak 1B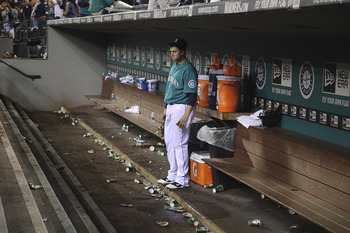 Otto Greule Jr/Getty Images
This year was supposed to be Justin Smoak's big breakout year. Bereavement and injury have hindered Smoak's ability to get into a rhythm this year, but that means next year will be his big breakout year. Smoak has shown talent both at the plate and manning first base, and there's also some force of obligation since Smoak was Jack Z's biggest acquisition in the Cliff Lee deal, at least to give him a fair shot.
Smoak should be comfortable in the clean-up spot as that's where he's spent nearly all of his time. He completes a powerful top of the order for the Mariners that will hopefully generate some run support for the desperate pitching staff that has been suffering over the past few years.
Along with Carp, Smoak is one of the only serious power assets on the team, so he'll need to step up and perform.
5. Miguel Olivo C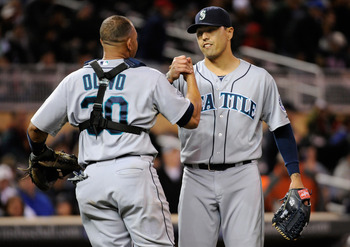 Hannah Foslien/Getty Images
Miguel Olivo is much more valuable to the Mariners than many people credit him to be. He has been the main offensive contributor thus far in 2011 and is even more valuable as a catcher. Olivo plays decent backstop, but his relationships with the pitching staff in Seattle are a real benefit.
Adam Moore should be back to playing form by the start of the season (after a long stint on the DL), but Manager Eric Wedge won't start someone as inexperienced as Moore on opening day as long as Olivo is available and healthy.
Olivo has hit well in the fifth spot this year; there's no reason to bump him down, but there's also not a lot of room to bump him up.
I feel comfortable with Olivo catching for the Mariners for the entirety of the 2012 season and even into a playoff run (it's not that unlikely).
6. Brendan Ryan SS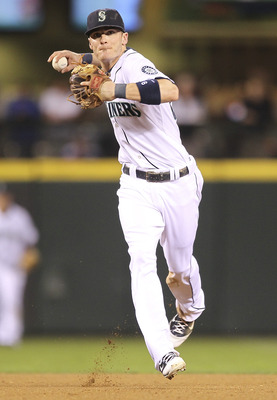 Otto Greule Jr/Getty Images
Along with Olivo, Brendan Ryan has been a reliable go-to player for the M's this year. He isn't the most dangerous hitter, but he's competent enough to occupy the sixth spot in the batting order. In comparison to the rest of the remaining hitters who will likely start, Ryan is the safest choice. His position in the order may fluctuate as the season progresses, but heading into the season, he's the best choice for hitting sixth.
As for his spot at shortstop, there isn't a lot of notable competition. Luis Rodriguez has seen time there this season but has cultivated an abysmal average and shown nothing special defensively. Adam Kennedy, the ultimate utility, could probably cover at short, but Ryan has played there for the M's for the majority of this season.
7. Franklin Gutierrez CF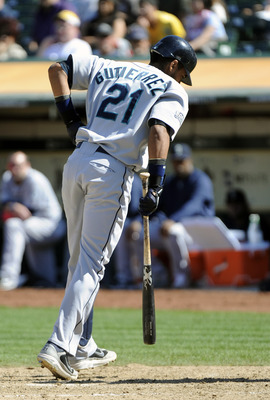 Thearon W. Henderson/Getty Images
After struggling at the beginning of the season with a stomach ailment, poor Guti severely strained his oblique in the beginning of September, rendering him disabled for the remainder of the season. Hopefully that injury will heal by Spring Training 2012, and Guti can make another attempt at getting back into things, just like Justin Smoak.
The reason Guti will start so low in the order is mostly a matter of security and uncertainty. If he heats up, Eric Wedge won't hesitate to elevate him in the order, but there's a decent chance he falls prey to another injury or isn't fully recovered, in which case it's better not to disturb a consistent top of the order.
Defense-wise, Guti should take his usual spot in center field, since, through all his troubles, Guti has upheld his notorious nickname—"Death to flying things."
8. Casper Wells LF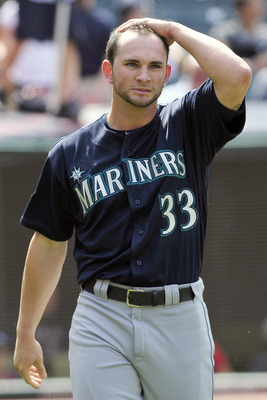 Jason Miller/Getty Images
That's right. I'm awarding Casper Wells the victory in this year's saga of position battles: left field edition. Wells was stricken by the misfortune of a nasty wild pitch that rubbed him the wrong way a few weeks ago, but he's back now and will be ready for 2012.
Wells has distinguished himself above the other leftfielders (Trayvon Robinson, Michael Saunders, Greg Halman, Carlos Pegeuro, etc.) both at the plate and in the field. Wells together with Death to flying things and Ichiro make up a defensively outstanding outfield, which has always seemed to be a concern of the Mariners (maybe more in the Bavasi Era), but they all also offer offensive support, even if two come in the bottom third of the order.
9. Kyle Seager 3B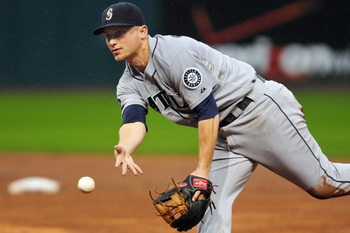 Jason Miller/Getty Images
Sure, it would be nice to have Alex Liddi start at third, but he isn't ready. And we're all hoping Chone Figgins will be gone by the time April rolls around next year. With those two eliminated from the picture, Kyle Seager is the best-suited candidate for the starting job at third. Seager has gotten some valuable playing time in at the close of this season that's prepared him for next season.
Even though Seager has earned a spot on the major league roster, he hasn't distinguished himself as a particularly great hitter—that's what has him down hitting ninth.
SP- Felix Hernandez
Jeff Gross/Getty Images
Yes, Felix will always be number one in Seattle. Eric Wedge and the rest of the crew will be thrilled to send the King out on Opening Day once more. Felix is constructing a web of consistency that soon might rival Ichiro's. While there are certainly other threats in the Mariners rotation like Michael Pineda and Danny Hultzen, Felix is the clear champion of the group.
If, on the off chance Felix doesn't toss a perfect game and relief is required, we may see Tom Wilhelmsen, Jamey Wright, Dan Cortes, Chance Ruffin or Brandon League. That amounts to a very different look from the 2011 bullpen, but there's lots of potential stored and lots of talent to be exposed.
Note: The Mariners may start the 2012 season off with a two-game set against the Oakland Athletics in Japan.
Keep Reading

Seattle Mariners: Like this team?