NFL Week 3 Predictions: 5 Bold Predictions Heading into the Weekend's Games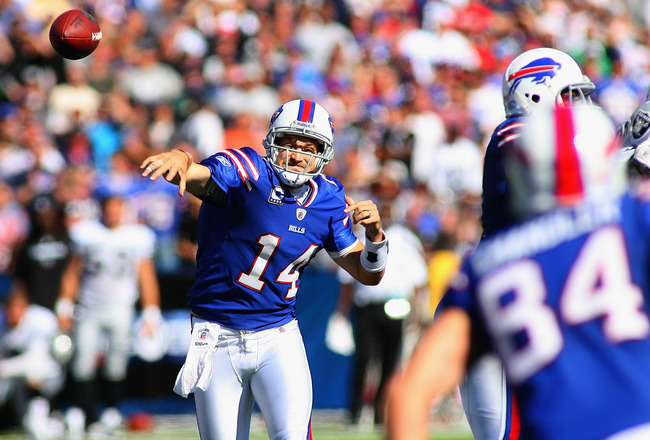 Rick Stewart/Getty Images
NFL Week 3 is edging closer and closer. Two weeks are in the bag, which means that irrational panic has set in for some fanbases and irrational confidence has set in for others.
Don't worry for those that are panicking. Two weeks isn't enough to truly gauge how a team will look the rest of the way. The NFL is made out to be a sprint, but it is more like a marathon. There may not be as many games as baseball, but it doesn't matter.
Injuries happen, teams go through cold spells and unexpected things happen over the course of a year. The NFL season is not just about winning ball games early in the season, it's also about surviving. Rarely does a team that suffers a high amount of injuries win the Super Bowl.
Relax fans of teams that are currently 0-2 or are 1-1 and coming off an atrocious loss; it's not the end of the world. There are still 14 more games to be played and a lot of football to take place.
With that being said, here are five bold predictions heading into the third week of the NFL season.
Michael Vick Won't Play Against New York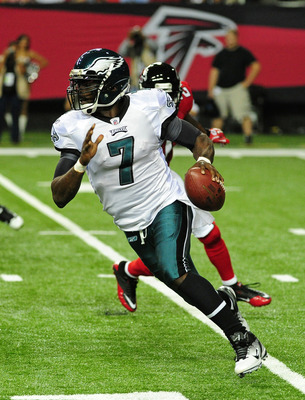 Scott Cunningham/Getty Images
We are in an era where we are just learning the long-term impacts concussions can have on a person. Michael Vick suffered a concussion last week when he crashed into his own lineman. There have been reports that Vick is good to go and has a solid shot of playing this weekend.
I believe this is a ploy by Philadelphia to force the Giants to prepare for Vick and Mike Kafka, who has taken all of the first-team reps in practice. Vince Young would get the start if he was healthy, but that doesn't appear to be the case.
This is a big game for the "Dream Team" as they look to move to 2-1 on the season. It's also early in the season and isn't worth further injury to Vick to put him out there after he just suffered a concussion.
Let's hope that, if Vick does play, he is truly healthy. But I'm speculating that we won't see No. 7 this week.
Buffalo Will Upset New England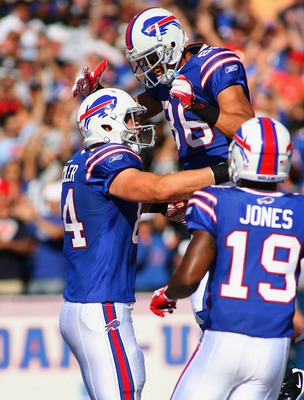 Rick Stewart/Getty Images
The Buffalo Bills and New England Patriots both carry 2-0 records into this division battle. Tom Brady is on pace to throw for a record amount of yards this season and shatter Dan Marino's record. Meanwhile, Ryan Fitzpatrick has flown under-the-radar in his first two games despite throwing seven touchdowns and just one interception.
The impressive play of Fitzpatrick is starting to make me wonder if he could be the quarterback of the Bills beyond this year. Many view Fitzpatrick as a stop-gap quarterback, but if he keeps up his play, he will earn the starting job going forward.
This game fits the model of an upset. The Patriots have looked unstoppable through two games and look like they'll roll through the entire season. But they have a tough road game in Buffalo, where the team and fans will be extra hyped to try to take down the Pats.
Whoever wants it more usually wins the game, is how the saying goes. New England knows it could lose this game and still make the playoffs. On the other hand, this is a huge opportunity for Buffalo to make a statement that it belongs.
Carolina Will Blow out Jacksonville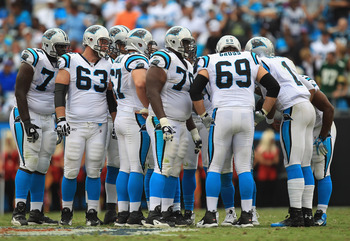 Streeter Lecka/Getty Images
Cam Newton's Panthers will be up against Blaine Gabbert's Jaguars this weekend. The media will be all over this match up pitting the two of them against each other all week.
This game is going to go to Carolina fairly easy, though. The Panthers have taken on Arizona and Green Bay already, and in each game, they had chances to tie the game late. Green Bay is going to be a playoff team this year and Arizona has a very good chance to make it.
That means Carolina's first two losses came at the hands of two teams that very well could be playing when the playoffs roll around. The Panthers are a much better team than their record indicates, and it will show against the Jaguars.
Gabbert won't look nearly as promising as Newton has, which is to be expected. He doesn't have the receiving weapons that Newton has at his disposal. And his best one, Marcedes Lewis, is battling a calf injury that may limit him on Sunday.
This game is also being played in Carolina. Newton and Co. will get their first win of the season and show off that they are going to be a load to handle each and every week the rest of the way.
Detroit Will Come Back to Earth Against Minnesota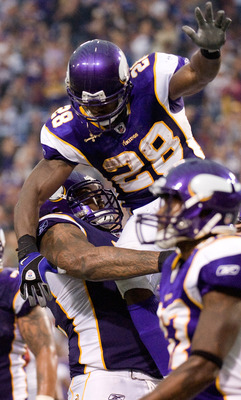 Hannah Foslien/Getty Images
Fact: The Minnesota Vikings own the Detroit Lions, especially at home.
I understand that the Lions are the better team, but the Vikings played San Diego competitively and should have beaten Tampa Bay last week. This isn't a team that is getting rolled over week-in and week-out.
Adrian Peterson is still the best running back in the NFL, and Donovan McNabb is due for a performance where he reminds us he isn't awful. I'm not expecting him to tear apart the Lions defense, just for him to do enough to get the win.
The Vikings' fans will be rocking, and the youth of the Lions is going to show. Matthew Stafford has played at a high level through two games, but he hasn't had to deal with any significant adversity.
This is a divisional battle in which the home team will hold serve.
Arian Foster Will Miss Sunday's Game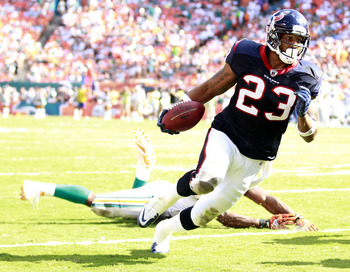 Marc Serota/Getty Images
Arian Foster re-aggrivated his hamstring in Houston's win over the Miami Dolphins. It sure seems like Foster rushed back too soon to try to get back on the field. I'm not trying to play doctor, but that looks like the case.
That's too bad. The Texans need Foster's running ability to help ease the pressure off of Matt Schaub. I know Ben Tate has looked good thus far, but he isn't as good of a runner or receiver as Foster is.
A hamstring injury is a tricky thing. It lingers and can stick with a player for an entire season. Houston would be wise to shut down Foster for a couple of weeks and see how he feels after. There's no sense in rushing him back to play when the Texans are in a very winnable division.
The only legitimate threat to take Houston down is Tennessee—a team that has its own running back problems right now with Chris Johnson being ineffective. Having a limited Foster play isn't worth it. It's important the Texans are smart with the way they handle this situation
Losing a stud like Foster for the year would give the Titans a fighting chance at the division crown.
Keep Reading