Toronto Blue Jays and Alex Anthopolous in the Final Analysis
September 21, 2011
"It's that Hansel, he is so hot right now."
                              —Mugato from Zoolander
Zoolander is a guilty pleasures for me. It was funnier than it should have been and the above quote represents a common theme running through it. The idea is that some people are beyond further examination. Of course, sabermetricians would never be accused of such behavior, but here we are with Toronto Blue Jays' GM Alex Anthopolous.
Anthopolous could trade Jose Bautista for a half-eaten box of fried rice and someone in the sabermetric community would be telling you why it was a good deal for the Blue Jays. Here's an analysis of the Blue Jays' roster and payroll:
Key Statistics
Team Payroll: 62.6 million (23rd)
Lineup: 21.0
Rotation: 26.4
Bullpen: 16.5
Composite: 21.3
Analysis Score: +1.7
Lineup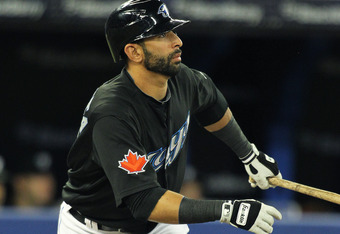 Claus Andersen/Getty Images
The myth of Anthopolous' brilliance begins and ends with the Vernon Wells trade. Essentially, he wrapped up a flaming pile of junk, put a pretty bow on it, and traded it to the Angels for Mike Napoli and Juan Rivera. It is harsh to call Wells junk, but his contract is junk. To imagine that there was some talk of exercising his player option to opt out of it is absurd. He'd have to be a real piece of Samsonite to do that.
Yet, after doing the GM equivalent of climbing Mt. Everest in his boxer shorts, he turned around and traded Mike Napoli to the Rangers for Frank Francisco. All Napoli has done is post a 1000+ OPS in Texas while Francisco has been solid, but unspectacular. No matter, it was still a great exchange overall.
The lineup overall is flawed, but there are some nice pieces in place. J.P. Arencibia is a good looking young catcher, Adam Lind and Yunel Escobar have been quietly effective in the infield and Jose Bautista was the same monster this year that he was last year. Unfortunately, the rest are either unproven or simply ineffective.
Anthopolous is convinced that Colby Rasmus and Kelly Johnson will be productive again in center field and second base, respectively. Paint me skeptical on those two. However, Brett Lawrie (one of the players from the Shaun Marcum trade) looks like the real deal at third base. Stay tuned as this lineup develops.
Rotation
Ultimately, a good portion of Anthopolous' reputation will rest on how the prospects from the Roy Halladay trade do. Halladay could win his second consecutive Cy Young award this year and seems to be on his way to a Hall of Fame career. Kyle Drabek was a bust this year, but is still only 23 years old. Michael Taylor and Travis D' Arnaud were the other two prospects.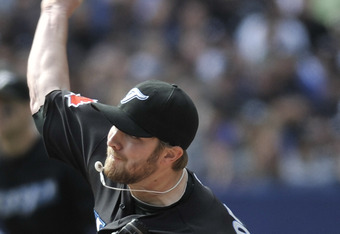 Brad White/Getty Images
D' Arnaud could be a monster (rated no. 36 prospect in baseball before the season). Michael Taylor was flipped to the Athletics in a deal that netted them Brett Wallace. Wallace in turn netted them Anthony Gose. Confused yet? Drabek will be the key to the deal. The Blue Jays have a very thin rotation and his development could do wonders in making it look more substantial.
At the moment, Ricky Romero is the only pitcher you would call good. Brandon Morrow has been durable and Brett Cecil has been okay, but this is a very thin rotation. Fortunately, Anthopolous has cut enough payroll where he may be able to do something about it this winter.
Bullpen
The bullpen is ultimately the same story as the rotation. There are a few good arms there, but it is very thin at the moment. Jon Rauch and Frank Francisco have shared the closer duties. Jason Frasor and Octavio Dotel were the setup men for most of the year, but they are both gone via trade. This leaves Shawn Camp and a pidge podge left to pick up the slack.
Response to Crisis
Alex Anthopolous was in an enviable position this year. There was no crisis and there never was going to be one. Everyone knew the Jays weren't going to compete, but they did compete. Still, he managed to use other team's needs to wrangle a few more pieces for the future. Additionally, he has high hopes for Kelly Johnson and Colby Rasmus. Even if they don't pan out, he has pared the payroll down to the point where they can be players at the Winter Meetings again.
Analysis Score: +1.7 (11th)
The Final Analysis
Alex Anthopolous will get a higher grade than this when everything is said and done. His job was two-fold. First, he needed to rid the team of some terrible contracts. That was the most difficult part and he did it with minimal damage to the future. His second part of the job is to build the thing back up.
He got some nice pieces in those deals, but this will be an ongoing process. Before we throw the genius tag at him, we need to see how he does when actually building the roster. That will take time. Everyone needs to cool their jets in the meantime.