New York Giants: With Domenik Hixon's Injury, Should They Look into Randy Moss?
September 21, 2011
Jeff Gross/Getty Images
Another season-ending injury.
Sounds like a common theme for the Giants in 2011.
On Wednesday, Ralph Vacchiano of the New York Daily News reported that Giants wide receiver Domenik Hixon will miss the rest of the 2011 season with a torn ACL in his right knee.
This is the second time in two years that Hixon has torn his ACL, as he has the same injury just one year ago in training camp, which forced him to miss the entire 2010 season.
Hixon tore it while catching the circus-like 22-yard touchdown catch in the first half of the game on Monday night against the St. Louis Rams.
To go along with Hixon's injury, Mario Manningham also has a concussion and could miss the Week 3 game against the Philadelphia Eagles.
So that leaves Hakeem Nicks, who has had knee trouble early on, the newly-signed Brandon Stokely, Victor Cruz and Devin Thomas as the Giants wide receivers.
Cruz and Thomas are no sure things, which means the Giants are very thin at wide receiver now.
With the injuries to the Giants receiving depth, should the Giants take a chance on Randy Moss, who is still on the open market.
Moss announced his retirement from the NFL on August 1, ending his 13-year stint in the league.
In 2010, he was with the Patriots, Vikings and Titans, but had one of his worst seasons in his career with 28 catches, 393 yards and five touchdowns.
There was some speculation as whether Moss would want to come back and play with the Patriots, but in a recent interview, he said he wasn't interested in playing for New England.
Moss wanted out of New England in the beginning of 2010 after the Patriots declined to offer him an extension, which lead to the Patriots trading him to Minnesota.
Moss didn't get along with former Vikings coach Brad Childress and even went to Minnesota owner Zygi Wilff and said Childress should be fired.
Moss was placed on waivers the next day and picked up by Tennessee, where he was barely a factor in the offense.
We all know Moss is a gigantic pain in the butt. He causes a lot of controversy and drives coaches nuts.
But, when Moss is on his game, defensive backs can not cover him.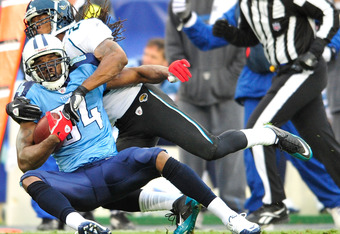 Grant Halverson/Getty Images
Back in 2009, when Moss was on his best behavior, he caught 83 balls for 1,265 yards and 13 touchdowns for the Patriots.
But in 2010, Moss didn't play like the Randy Moss we all know. Was it him pouting to the finish line, or was he simply not the Pro Bowl receiver he once was?
With the Giants options at wide receiver running very low, would GM Jerry Reese even think about taking a chance on luring Moss out of retirement?
Would Giants head coach Tom Coughlin even want Moss on his team, given his track record and baggage?
Coughlin had a hard enough time as it is with former wide receiver Plaxico Burress right up until he shot himself in November of 2008.
The worst case could be that Moss says no thank you and the Giants move on.
But, if Moss still really does have interest in playing, would it benefit the Giants to try and get Moss?
Because what happens if Mario Manningham's concussion lingers and Hakeem Nicks' knee gets re-injured again?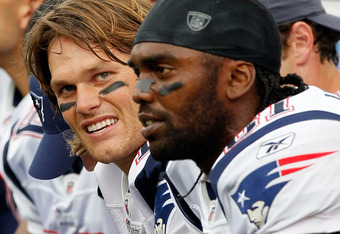 Jim Rogash/Getty Images
Who does Eli Manning throw the ball to if both Manningham and Nicks weren't available with injuries? Coughlin?
Losing Hixon is another tough injury because not only does their receiving depth take a hit, the Giants have to figure out who their punt and kick returner will now be for the rest of the season.
The lack of depth for passing targets can still go back to losses of Steve Smith and Kevin Boss in free agency during the summer because the Giants still have yet to fill their voids.
I know a lot of people are probably 100 percent against Moss ever coming to the Giants, which I could understand.
But what's out there in the market at Week 3 of the season? Terrell Owens? He had surgery in the offseason to repair a torn ACL, so even his status for 2011 is unknown.
The Giants brought in Stokely after Week 1, but even he is not enough for this Giants offense.
They need to give Eli some help.
If he were interested, could Moss help the Giants?
Or would just be another problem for the Giants to deal with?
God only knows they have had enough problems and injuries to deal with in 2011.