Fantasy Football Waiver Wire Pickups for Week 3
September 21, 2011
Al Messerschmidt/Getty Images
Week 3 Waiver Wire Pickups
There have been some real earth shattering injuries going around in the NFL and it has surely changed the landscape of your fantasy football league. In the first week it seemed too soon to panic about certain players dropping the ball, literally and figuratively. Now we are truly starting to understand where our team needs help, so it's time to hit the waiver wire. Here are a list of guys worth picking up in your leagues and some you should be wary of.
Quarterbacks
Ryan Fitzpatrick, Buffalo Bills (81% ESPN, 67% Yahoo)
Fitzpatrick has really grown in to a strong fantasy option. We have him rated as the sixth best quarterback going right now and with good reason. Fitzpatrick has looked extremely comfortable in the Bills system, and his second under Chan Gailey. The Bills have lit up the scoreboard in each of their first two games this season and will likely continue that trend for the remainder of the season. Fitzpatrick is no longer just a decent QB2; he should be a starter in your league.
Running Backs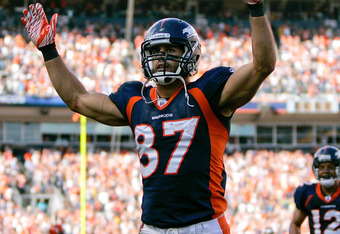 Justin Edmonds/Getty Images
Ben Tate, Houston Texans (82% ESPN, 64% Yahoo)
Tate is becoming a scarcer commodity in fantasy football leagues because he continues to impress while Arian Foster continues to let down. If you didn't pick him up last week, and he is available now you need to go after him. This should be a no brainer move if you already own Foster, but even if you don't Tate could be a very strong starting RB for your team.
Darren Sproles, New Orleans Saints (94% ESPN, 74% Yahoo)
In a PPR league Sproles is a bonafide starter. We have to admit we were a bit skeptical of Sproles in the beginning, but now it appears he is a major part of the Saints offense. Being the primary receiving back for another team wouldn't amount to much fantasy success but Sproles is playing for the high flying Saints so he may be the best RB the team has to offer in fantasy. Only Matt Forte has been targeted as a receiver more than Sproles.
Wide Receivers
Eric Decker, Denver Broncos (34% ESPN, 25% Yahoo)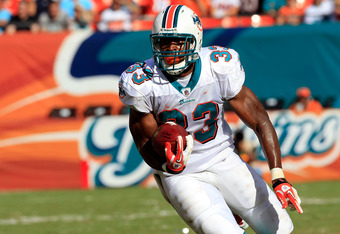 Sam Greenwood/Getty Images
Decker saw an increase in production largely thanks to the fact that Brandon Lloyd was injured in week two. Now Eddie Royal is injured and should miss a few weeks making Decker the guaranteed week three starter opposite of Brandon Lloyd. While splitting time with Eddie Royal in certain packages in week one, Decker accounted for five targets to Royals' 6. In week two when Decker took the field all game and with Royal ailed with injury, he saw his targets jump to 9. We like the trust Orton showed in the second year receiver, and think that Decker definitely deserves to be picked up on your squad.
Deion Branch, New England Patriots (96% ESPN, 67% Yahoo)
It's more than likely you won't have a chance at Branch in your league, but if you can pick him up, DO IT! The Patriots are obviously going to be pass heavy since Tom Brady is looking incredibly strong so far this season. He is definitely the team's second receiver since Chad Ochocinco has yet to show much value in the Patriots' offense.
Nate Burleson, Detroit Lions (47% ESPN, 58% Yahoo)
The Lions offense isn't getting great production form the run game, but that doesn't seem to bother them all that much since Matthew Stafford has been living up to his #1 overall draft pick status. When teams have been double teaming Calvin Johnson, Stafford has looked to Burleson and he hasn't been let down. In their week two matchup against the Chiefs, Burleson led the team in receptions, targets and receiving targets. The Lions are going to continue to be pass heavy, so Burleson could end up being a decent starter for your squad.
David Nelson, Buffalo Bills (7% ESPN, 12% Yahoo)
Steve Johnson is the top receiver in Buffalo, but has been hobbled and slowed by some minor injuries so far this season. We like Nelson's upside, especially now that Roscoe Parrish has been lost for the season. Nelson should be the Bills' top slot option and is playing for a potent fantasy offense. Pick him up now and even consider giving him a chance to start this week against the WR-friendly Patriots.
Tight Ends
Fred Davis, Washington Redskins (30% ESPN, 27% Yahoo)
We called him as being a Sleeper candidate this season (Don't believe it? Check it out.) Davis is taking a bigger role in the Skins' offensive, partly because of the fall of Chris Cooley but also because the Shannahans are using him as a receiver when spreading out opposing defenses. This is the second week in a row that Davis has come up big for the Redskins' offense so expect his stock to rise even higher as the season progresses.
Wait and See
Daniel Thomas, RB, Miami Dolphins (93% ESPN, 56% Yahoo)
Thomas came close to doubling Reggie Bush's rushing totals in only one game and surpassed him in carries as well. It looks like the "70-30" split for Bush to Thomas was thrown out when the Dolphins coaching staff woke up Sunday morning. Thomas did lose a fumble, something he allowed to happen far too often in college and training camp. We're still not sure about him, but if you own Reggie Bush, Thomas is a worthwhile waiver wire addition.
Roy Helu, RB, Washington Redskins (17% ESPN, 25% Yahoo)
Tim Hightower got tired? Yea right, Shannahan. We're thinking the Redskins' backfield is headed for a back-by-committee approach this season. Hightower ran the ball twenty times in the Skins' week two matchup, and Helu picked up 11 carries near the end of the game. Helu has a ton of talent and could be the main back somewhere down the line. For now, expecting more than about 15 carries per game would be crazy talk. That being said, with only 1o carries last week he averaged 7.4 yards and has better receiving stats than Hightower. If you have room on the bench go ahead and stash Helu, but for now we're playing wait-and-see.
Buyer Beware
Scott Chandler, Buffalo Bills (34% ESPN, 33%)
Sure he has had a touchdown in back-to-back games, but Chandler rarely sees the field in the Bills' spread out offense. Don't be fooled by the nice little stat lines he has posted these past few weeks, Chandler should fall back to normal Bills' TE production soon.
The Sports Cannon is a fantasy football advice website that offers free rankings, cheat sheets and more to help you dominate your league. You can check the weekly Waiver Wire Pickups page and even the Weekly Player Ranker to see who is for real and who isn't. Be sure to follow TSC on Facebook and Twitter.