MLB Playoff Predictions: How the Brewers Match Up with the Phillies
Jonathan Daniel/Getty Images
Although the Milwaukee Brewers slumped a bit to start September, they seem to have found their groove again, and their magic number to clinch the NL Central is down to three.
The starting pitching is once again getting deep into games, lightening the load on the bullpen. The offense also seems to have broken out of their month-long slump in which scoring even four runs a game seemed like an impossibility.
Everyone knows the Philadelphia Phillies are the premiere team in the league, perhaps in all of baseball, and if the Brewers have any hope of reaching their first World Series since 1982, they'll very likely have to get through Philly to do so. Here is a position-by-position breakdown of how the Brewers match up with the NL East champions.
Right Field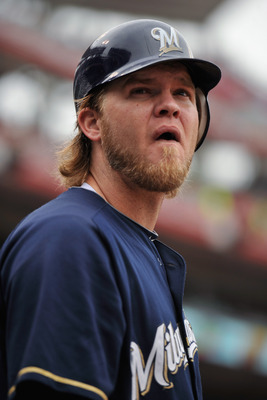 Jamie Sabau/Getty Images
2011 has been a year of transition for Corey Hart. He's been moved around in the batting order several times before being placed as the Brewers' leadoff hitter once Rickie Weeks went down with an ankle injury. Because of his top-of-the-order placement, his RBI total is down significantly from last year.
However, anyone that watches the Brewers on a consistent basis realizes Hart is progressing into a complete all-around player. He is also a good defensive right fielder with an above-average throwing arm.
Corey Hart: .284 AVG, 25 HR, 56 RBI, 74 Runs.
Hunter Pence: .311 AVG, 20 HR, 90 RBI, 78 Runs.
Although each player is asked to do something a bit different for their respective lineup, one cannot discount the importance of Pence to the Phillies since being sent to Philly from Houston in July.
Slight edge to Pence and the Phillies.
Center Field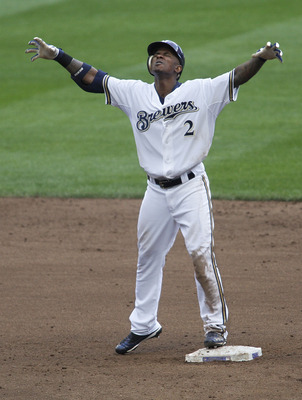 Mark Hirsch/Getty Images
Although the Brewers have mostly used a platoon of Nyjer Morgan and Carlos Gomez in center field this year, it has been Morgan who has seen most of the playing time in the second half, especially since Gomez broke his collarbone in July.
Morgan has become a vocal leader and gives the team an attitude they haven't had for a couple of seasons. His swagger sometimes can serve as a distraction though, like the near brawl he almost caused in St. Louis a couple of weeks ago after being struck out in the ninth inning of a Cardinals victory.
Nyjer Morgan: .304 AVG, 4 HR, 36 RBI, 57 Runs
Shane Victorino: .288 AVG, 17 HR, 61 RBI, 91 Runs
Big edge to the Phillies and Victorino, especially given the Gold Glove defensive threat Victorino has become.
Left Field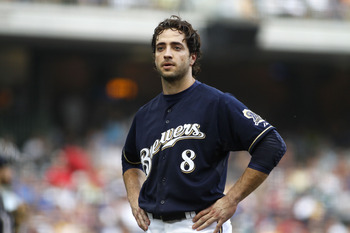 Mark Hirsch/Getty Images
Left field is the first position in which the Brewers have an edge over the Phillies. It's a significant edge at that.
Ryan Braun has established himself as the clear favorite for the NL MVP award this season, despite the great seasons by Matt Kemp and teammate Prince Fielder. Braun was already an elite-level player heading into the 2011 season, but he'll now be able to add MVP to his long list of accomplishments.
The big stage of the playoffs shouldn't have too much of an effect on him since few players relish the attention of the spotlight more than he does.
Ryan Braun: .333 AVG, 31 HR, 103 RBI, 103 Runs, 31 SB
Raul Ibanez: .242 AVG, 19 HR, 77 RBI, 61 Runs
Huge edge to Braun and the Brewers.
Third Base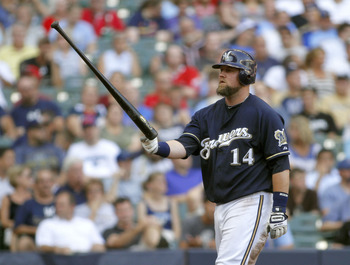 Mark Hirsch/Getty Images
Beginning with third base, the left side of the infield is where the Phillies will really distance themselves from the Brewers.
After two consecutive very nice seasons, Casey McGehee has struggled all season long for the Brewers in 2011. His batting average has dropped almost 60 points, and his power numbers have also seen a dramatic dropoff. Couple that with his below-average play at third base, and the Brewers may be looking to upgrade the position in 2012.
Casey McGehee: .229 AVG, 13 HR, 67 RBI, 46 Runs
Placido Polanco: .281 AVG, 5 HR, 47 RBI, 46 Runs
Although those numbers don't scream a huge advantage for the Phillies, given McGehee's struggles defensively, the Brewers will struggle to have the all-around success at third that the Phillies will have in a short series.
Shortstop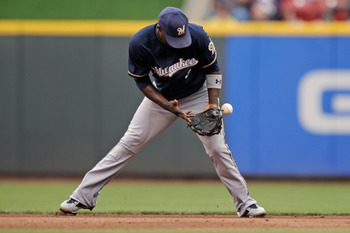 Jamie Sabau/Getty Images
The photo of Yuniesky Betancourt pretty much describes his play defensively. Jimmy Rollins is a former multiple-time Gold Glove winner, while it sometimes looks as if Betancourt is playing shortstop with a golden glove.
Betancourt came over to the Brewers from the Royals as part of the Zack Greinke trade in the offseason. Any way you look at it, this is a mismatch for the Brewers.
Yuniesky Betancourt: .250 AVG, 12 HR, 62 RBI, 48 Runs
Jimmy Rollins: .268 AVG, 14 HR, 59 RBI, 82 Runs
Another huge edge to the Phillies, especially defensively.
Second Base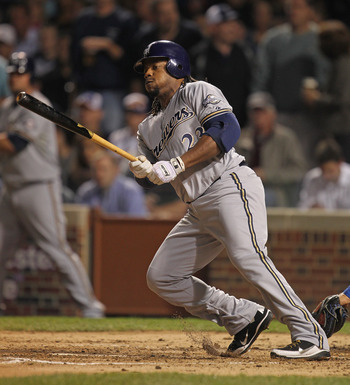 Jonathan Daniel/Getty Images
Second base is a battle of talented but injury-prone players. Chase Utley is a five-time All-Star while Rickie Weeks made his first All-Star team this year.
Although both players have missed significant time due to injury this season, Weeks seems to still be improving as a player, but Utley looks like he may be starting his decline. A four-year age difference may have something to do with that.
The versatility Weeks can give the Brewers and their lineup is key here. For the first half of the season he was a great leadoff man for the team, but he has transitioned to the five-hole, better utilizing his power at the plate to drive in runs.
Rickie Weeks: .270 AVG, 19 HR, 45 RBI, 72 Runs
Chase Utley: .262 AVG, 10 HR, 41 RBI, 51 Runs
Even with the extensive playoff experience Utley has here, I give Weeks and the Brewers a big edge at second.
First Base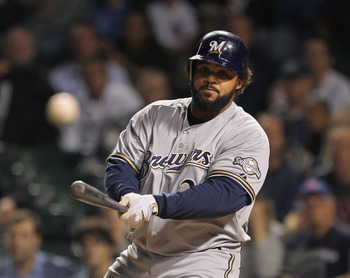 Jonathan Daniel/Getty Images
First base is the premiere matchup of positional players between the teams. Ryan Howard versus Prince Fielder. Two of the best power hitters in all of baseball and they continually prove why year after year.
Their teams can count on 30-plus home runs and well over 100 RBI every single year. Unfortunately for the Brewers, this is likely the last year they can depend on Fielder for that production. His impending free agency has already come up, and some fans seem more concerned with that than they do the success the Brewers are having right now.
Prince Fielder: .296 AVG, 34 HR, 112 RBI, 89 Runs
Ryan Howard: .249 AVG, 33 HR, 113 RBI, 80 Runs
Although it may not be a popular choice, at least for this year, I give Fielder and the Brewers an edge at first base.
Catcher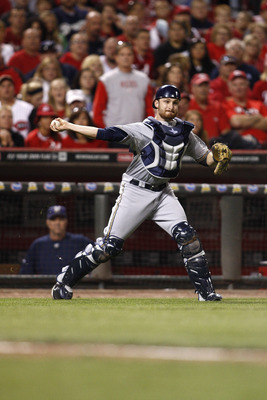 John Grieshop/Getty Images
Catcher may be the least glorious position on the diamond, but this is a very good matchup of two under-rated backstops.
Two years ago, Jonathan Lucroy was the second-best catching prospect in the Brewers' organization. Now, he appears to be the team's catcher for the next decade. His improvement, both at the plate and defensively, cannot be overstated enough.
Carlos Ruiz is equally as valuable for the Phillies. He had a great postseason for the team last year, and no one would be surprised to see him get a clutch hit for them again this year.
Jonathan Lucroy: .263 AVG, 11 HR, 58 RBI, 41 Runs
Carlos Ruiz: .280 AVG, 6 HR, 36 RBI, 47 Runs
The offensive stats are very close, as is their importance to their teams defensively. I give the tiniest of edges to Lucroy and the Brewers because of his durability.
Starting Pitching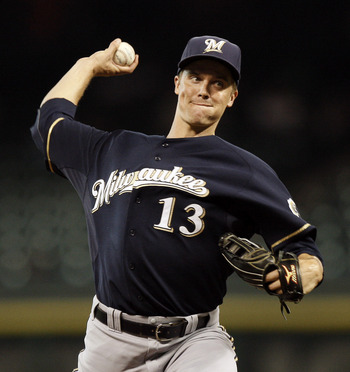 Bob Levey/Getty Images
Entering the 2011 season, the major concern for the Brewers was improving an awful starting rotation. Doug Melvin did that by acquiring Zack Greinke and Shaun Marcum, although he gave up most of his top prospects to do so.
Greinke and Marcum have delivered on their potential, Yovani Gallardo has established himself as a legitimate top-of-the-rotation pitcher, and Randy Wolf and Chris Narveson round out a rotation that has five 10-plus game winners.
Marcum is a great road pitcher, while Zack Greinke is almost unbeatable at Miller Park. Manager Ron Roenicke needs to utilize those pitchers in the proper spots to ensure the team's best chance at beating the Phillies.
With all that being said, all that needs to be said for the Phillies is the following: Roy Halladay, Cliff Lee, Cole Hamels and Roy Oswalt.
The Brewers may have one of the best rotations in all of baseball, but they don't come close to being the dominant group that the Phillies are. Large advantage to the Phillies.
Bullpen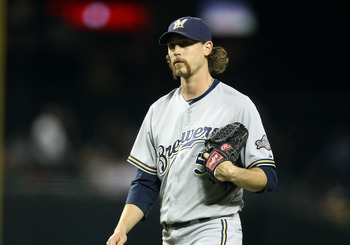 Christian Petersen/Getty Images
Ryan Madson has stepped up and become a very good closer for the Phillies. He's saved 31 games and has a 2.54 ERA in 58 games.
As good as those numbers are, they don't compare to John Axford. The second-year closer has saved 43 games and has a 2.07 ERA in 70 games. He hasn't blown a save since April.
The Brewers strengthened their bullpen by trading for Francisco Rodriguez the night of the All-Star game and are as good as any duo found outside of Atlanta this year.
It will be hard for the Brewers to get a lead against the Phillies' dominant starting staff, but if they can, K-Rod and Axford should be able to secure the win for them.
Edge to Axford and the Brewers.
Manager and Intangibles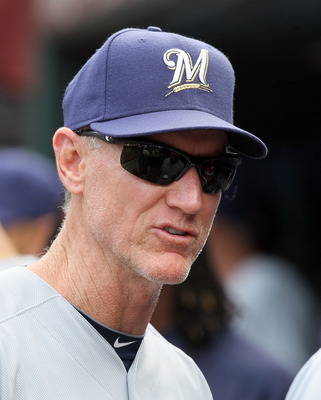 Jim McIsaac/Getty Images
Ron Roenicke has had a very good rookie campaign managing the Brewers. He should garner some votes for NL Manager of the Year.
However, it's hard to argue against Charlie Manuel, his five straight division titles, two World Series appearances and one World Championship. The edge will clearly have to go with the Phillies here.
Those five straight playoff appearances give a big edge to the Phillies. The Brewers' only playoff appearance since the early 80's came in 2008 when the Phillies beat them in four games.
Playoff experience and the ability to handle the pressure situations that come up in October give another clear edge to the Phillies.
Final Results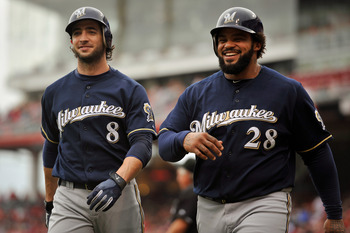 Jamie Sabau/Getty Images
Despite the Brewers having the best one-two punch in the game and a very good rotation and bullpen, the Phillies are clearly better than Milwaukee. It seems that the Phillies, like the Yankees, can field an All-Star at every position, while the Brewers have clear holes in their lineup and in the field.
Does that mean the Phillies will dominate the Brewers if they meet in October? Not necessarily. Most fans thought the Phillies would easily dismiss the Giants last October, yet it was San Francisco not Philadelphia hosting a World Series party last fall.
While the Phillies should beat the Brewers in a short series, if Braun and Fielder can jump start the offense, an upset is definitely possible. They are currently slated to possibly face each other in the NLCS, in which I would take the Phillies to win it in six games.
Keep Reading

Milwaukee Brewers: Like this team?