NFL Power Rankings Week 3: Which Undefeated Teams Are for Real?
September 22, 2011
Streeter Lecka/Getty Images
Another wild week in the NFL is over and now records are as unpredictable as ever. 18 teams are 1-1, meaning that their seasons have a good degree of uncertainty. Some of these 1-1 teams like the Bears and Eagles still seem like upper-echelon teams while others like the Browns and the Broncos seem lucky to have gotten their first wins so early.
Of course there are also seven undefeated teams left, all of them deservedly excited about how their season has gone. The Packers, Patriots, Jets and Texans all were expected to be here and look like they could possibly stay unbeaten for several weeks. The Bills, Lions and Redskins were not expected to be here and are in unusual territory for their tortured franchises. 
Then there are the league's bottom feeders, seven teams without wins. And from what we've seen these two weeks they all seem pretty awful. They are also extremely desperate this week because since 1990, only three teams have started 0-3 and still made the playoffs. 
Here's my opinion on how every NFL team ranks heading into week 3. 
1. Green Bay Packers (2-0)
Last week: 1
Although they retain the top spot on my rankings for the second week, the Packers have to be a little worried that the Panthers came so close to beating them. Also, they can now officially be worried about their pass defense. With an average of 400 yards given up per game, the Packers currently have the worst pass defense in the NFL. They remain at the top mostly due to their explosive offense, which can keep them in any game and should give them a decided advantage over the hated Bears this week.
2. New York Jets (2-0)
Last week: 2 
The Jets remain at No. 2 thanks to a great defensive performance in their dominant 32-3 win over the Jaguars. Their concerns mostly surround the running game, which has been surprisingly weak so far. This week against the Raiders, both the running game and the defense will be needed in a battle between two physical teams.
3. New England Patriots (2-0)
Last week: 3
Tom Brady is off to an electrifying start, currently on pace for a record-shattering 7,500-yard season. A lot of his help comes from young tight ends Rob Gronkowski and Aaron Hernandez, two young stars in the making. Still the defense needs some work, and this week we could see the Patriots getting into a shootout with the Bills with the division lead on the line.
4. New Orleans Saints (1-1)
Last week: 7
Before Sunday's 30-13 win over the Bears, Drew Brees had been 0-3 against the Bears with many of the losses not even close. In Week 2, he more than made up for his mistakes throwing for 270 yards and three touchdowns against a defense thought to be one of the NFL's best. For all the talk around the offense, the defense should also be commended for stepping up and only allowing one touchdown after getting torched for six by the Packers the week before.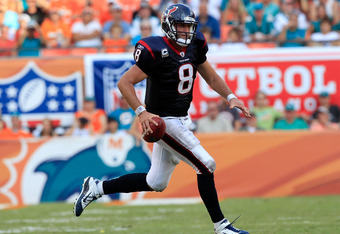 Sam Greenwood/Getty Images
5. Houston Texans (2-0)
Last week: 8
So far the Texans seem to be taking their opportunity and running with it in a suddenly weak AFC South. Still both last year and in 2007, the Texans started 2-0 but did not make the playoffs. After beating two bad teams, the Texans take on the Saints in a game that should tell us if they are for real—and could also shake up the top five spots in these power rankings.
6. Philadelphia Eagles (1-1)
Last week: 5
Sunday night against the Falcons was an instant classic, but it's hard not to wonder what would have happened had Michael Vick not gotten hurt. Just another reminder of how the Eagles have put so much of their hopes on one player who is very injury prone. It should be interesting to see if Mike Kafka or Vince Young can do well enough in Vick's absence to defeat the Giants on Sunday.
7. Baltimore Ravens (1-1)
Last week: 6
The Ravens really laid an egg in that awful loss to the Titans. For now I'm going with their track record and assuming this was just a fluke. Should they lose to the winless Rams this week, it will be much harder to defend this team's high ranking.
8. Washington Redskins (2-0)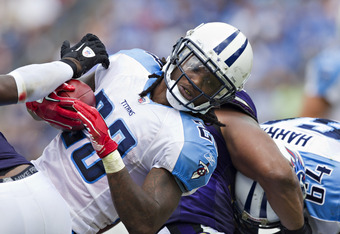 Wesley Hitt/Getty Images
Last week: 11
The Redskins may yet be 2011's biggest surprise team. Rex Grossman has, for the most part, stayed good Rex while their defense continues to make good stops. It's great for football to have a Cowboys-Redskins Monday night game that means something, even with this game taking place in September.
9. San Diego Chargers (1-1)
Last week: 10
To be fair the Patriots seem a lot better than most teams now. And the Chargers do tend to make dumb mistakes like Mike Tolbert's fumble early in the season. But they could really do without the annual slow start, especially in a year where the AFC West looks pretty uncompetitive. 
10. Atlanta Falcons: (1-1)
Last week: 16
Winning against the Eagles on Sunday night was huge for a young Falcons team coming off of two demoralizing losses. Playing the Buccaneers this week could be a crucial game in deciding the NFC South champion. The Falcons need to start playing better defense against the Buccaneers and all their future opponents if they are to get back to the playoffs. 
11. Detroit Lions (2-0)
Last week: 12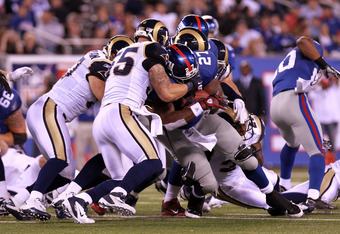 Nick Laham/Getty Images
The Lions are showing us that with Matthew Stafford at quarterback, they are a very good team. Finally years of drafting at the top seems to be yielding good results everywhere. Keeping Stafford healthy is vital for a playoff run and maybe even a division title.
12. Pittsburgh Steelers (1-1)
Last week: 9 
Yeah, I know they won 24-0 this week, but I'm still going to drop them three spots. The win was against the hapless Seahawks who might be the NFL's worst team, and it was at Heinz Field a week after a terrible game that they could only improve from. This team is not as good as past Steelers teams. However, they have an easy schedule that should help them stay in contention, starting with a game against the Colts this week that they should win easily.
13. Buffalo Bills (2-0)
Last week: 27
The Bills storm up the power rankings this week with a 14-spot improvement. This improvement comes after an entertaining game against the Raiders that ended with a wild Bills comeback. Past Bills teams simply did not win these kind of games and now that they are riding an incredible wave of momentum, they might actually be able to get their first win against the division bully Patriots since 2003.
14. Tennessee Titans (1-1)
Last week: 20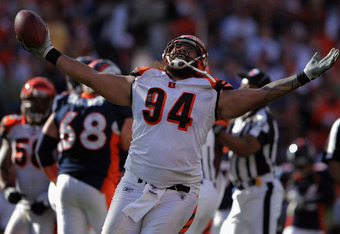 Doug Pensinger/Getty Images
What has been most surprising about the Titans this year is how little Chris Johnson has had to do with their success so far. Even after his huge contract signed a few weeks ago, Johnson has only 77 rushing yards in two games and zero touchdowns. Maybe Matt Hasselback does have more good quarterback play left than everyone thought. 
15. New York Giants (1-1)
Last week: 13
Even with the Giants getting their first win this week, there still seems to be more questions than answers with this team. Injuries are still piling up at a ridiculous rate and their secondary has looked pretty suspect so far. They have to hope Michael Vick doesn't play for the Eagles because they need any advantage they can get over a team that has beaten them six straight times.
16. Chicago Bears (1-1)
Last week: 4
When it's good with the Bears it's really good, but when it's bad, it's really bad. They were every bit as bad in Week 2 as they were good in Week 1 with the only real constant being Jay Cutler taking way too many hits, having been sacked 11 times in two games. Something has to change with the offensive line or Cutler may not make it through the season at this rate.
17. St. Louis Rams (0-2)
Last week: 17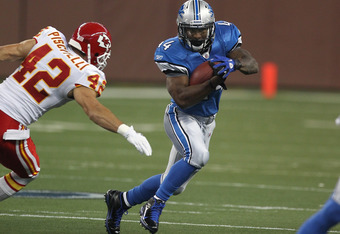 Dave Reginek/Getty Images
Even a 0-2 start doesn't necessarily have to worry a team in the NFC West. The Rams have been greatly affected by injuries but when healthy they might be the best team in the NFC West. Still that first win really needs to come soon and a hard schedule that has the Ravens, Redskins and Packers over the next three games certainly casts a shadow over their season.
18. Oakland Raiders (1-1)
Last week: 14
There are clearly some discipline issues with this young Raiders team. Their dumb penalties could end up costing them some games. On the bright side Jason Campbell has been solid at quarterback so far and Denarius Moore may have played himself into a starting receiver role after 146 yards and a touchdown against the Bills.
19. Dallas Cowboys (1-1)
Last week: 15
Their drop in the rankings is due mostly to the frightening amount of injuries they are sustaining. Although Tony Romo may still play despite his broken rib, offensive playmakers Miles Austin and Felix Jones may be out for some time. The Jones injury in particular does not bode well for a running game that has been almost non-existent the first two weeks. 
20. Tampa Bay Buccaneers (1-1)
Last week: 18 
I know. I'm dropping another winning team. But Week 2 is a confusing time and the Buccaneers are a confusing team. Josh Freeman seems able to orchestrate comebacks very masterfully but their defense is still iffy at best and downright horrible at worst.
21. San Francisco 49ers (1-1)
Last week: 24
Again a weak division helps to move a losing team up the rankings. Although their secondary was toasted and they choked away a 14-point lead against the Cowboys, the 49ers have, for the most part, been playing safe mistake-free football. Their easy schedule continues with a game against the Bengals in Week 3. 
22. Arizona Cardinals (1-1)
Last week: 21
Kevin Kolb has adjusted well to the Cardinals offense and as a result their offense is considerably better than last year's unit. But their defense has been terrible, having allowed 932 yards in two games. If that doesn't stop this week when they play the low-scoring Seahawks, their defense may very well be the worst in the league. 
23. Cleveland Browns (1-1)
Last week: 31
The Browns' commitment to running the ball helped them defeat the Colts in Week 2. It seems that the Browns just need to accept the identity of a running team if they want to have any success this year. Still, that weak passing game may yet get a lift against the Dolphins and their very beatable secondary.
24. Cincinnati Bengals (1-1)
Last week: 29
Yes, I know the Bengals just defeated the Browns. But my reasoning is that they are still further behind in the rebuilding process (a younger quarterback, younger receivers) and they just lost to one of the league's worst teams, the Broncos. Still, it's hard to complain about a five-spot increase after a loss and the Bengals could improve more should they beat a 49ers team coming off of a hard loss.
25. Carolina Panthers (0-2)
Last week: 30 
The Panthers continue the trend of losing teams climbing up the rankings, thanks to their ability to look good in losing. What Cam Newton has done in two games is incredible. This pass offense was by far the league's worst last year, but under Newton they are currently the league's second best, a change that is jaw-dropping.
26. Denver Broncos (1-1)
Last week: 32
The Broncos' improvement on the list is mostly due to several other teams making definite claims for the bottom spot in Week 2. Still, there was some things to like in Week 2, such as Willis McGahee helping the Broncos to rediscover their running game and Kyle Orton continuing to play well despite all the criticism from the Denver fan base. Although they should be underdogs against the Titans, the Broncos definitely seem capable of giving them a good fight.
27. Miami Dolphins (0-2)
Last week: 22
Losing to the Texans at home continued the Dolphins' string of failure at Sun Life Stadium. Thankfully they now play three of four on the road, starting with a trip to Cleveland. The fact that every other AFC East team is undefeated now makes it look like it could be a very long season for the Dolphins.
28. Minnesota Vikings (0-2)
Last week: 26
Although Josh Freeman was largely responsible for the Buccaneers' comeback win, the Vikings deserve just as much credit for choking away the game. Donovan McNabb seriously has to be a game or two from being benched, although for whom would be a little unclear. Still at least they've been competitive every game and one of these days, they're going to have to win a close one. 
29. Indianapolis Colts (0-2)
Last week: 23
The bleeding just will not stop in Indianapolis. The loss to the Browns proves that without Peyton Manning, this is in fact one of the worst teams in the NFL. At least they kept it close against the Browns, something they'll be hard pressed to do against the Steelers this week.
30. Jacksonville Jaguars (1-1)
Last week: 19
Looks like the Blaine Gabbert era has begun in Jacksonville. It's time for a quarterback change after Luke McCown played horribly in a blowout loss to the Jets. Even with Gabbert there's not much hope for a team with so few playmakers on offense. 
31. Kansas City Chiefs (0-2)
Last week: 28 
Despite their strong push for the bottom spot, the Chiefs manage to stay away from it this week. Getting outscored 89-10 in their first two games and losing offensive superstar Jamaal Charles for the entire season has ended all playoff talk in Kansas City. Now the talk consists of if or when they win their first game, something that seems highly unlikely against the Chargers. 
32. Seattle Seahawks (0-2)
Last week: 25 
It's fitting that in a league where offense is so important, the worst team would be so bad at it. Tarvaris Jackson is not showing improvement as a starter and really should be on the bench by now. It's hard to think that even the 12th man, arguably Seattle's best player, will have much of an impact against the Cardinals.