2012 MLB Free Agency: Predicting the Biggest Steal at Each Position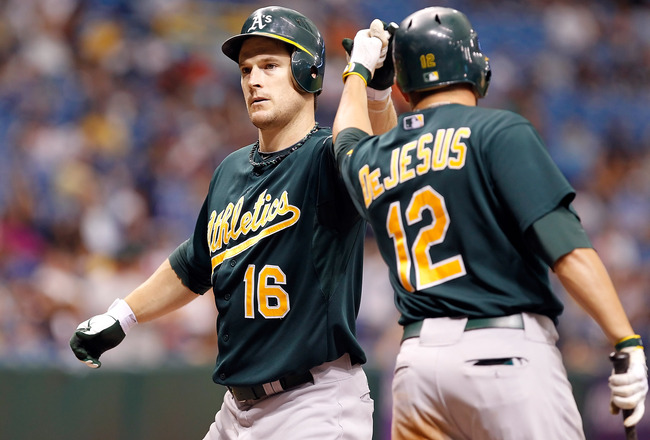 J. Meric/Getty Images
By the very nature of this title, "biggest steal at each position," you won't find Albert Pujols, Prince Fielder or Jose Reyes listed here anywhere.
These are the players who may be coming off either a down year or seeking to reestablish themselves for another huge payday down the road. They be considered "second-tier" players who are poised for a breakout season with a change of scenery (and/or league).
Maybe they've even had a great season that would otherwise garner them a new deal worthy of taking them out of the "steal" range, but their age is on the wrong side of 30 and thus their deals will be more team-friendly.
For whatever the reason, these players likely won't be commanding top-dollar in their upcoming deals, but there is plenty of reason to expect that they still have a career-year left in them for their new club (or current if they reach agreement on an extension).
These players are the ones who, in my opinion, will be the biggest steals at their positions. Think I overlooked someone? Another player who will be a bargain and has more upside? Let me know in the comments.
Thanks for the read.
Catcher: Ramon Hernandez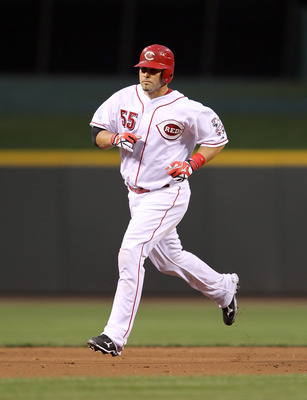 Andy Lyons/Getty Images
At 36 years old next May, and having not played an entire season since 2008, Ramon Hernandez won't be viewed as a top-tier, everyday catcher when he reaches free agency this offseason.
He has managed to hit a very respectable .283/.342/.451 with 12 homers and 36 RBI in just 293 at-bats (89 games), though.
The right platoon situation would suit Hernandez well, as he clearly has some hits and pop left in his bat. His .998 fielding percentage and 37 percent caught-stealing rate still make him very effective behind the dish as well.
First Base: Lance Berkman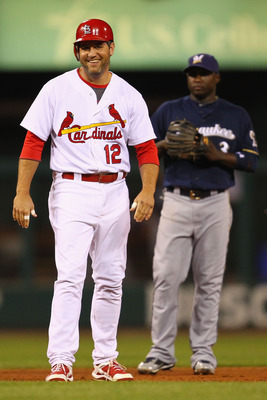 Dilip Vishwanat/Getty Images
Yeah, I know Lance Berkman has played the majority of the season in the outfield for the St. Louis Cardinals this season. He has played primarily first base 715 times during his career though, spending the majority of the 2005-2010 seasons at the position.
Berkman signed a one-year deal this past offseason in hopes of rebuilding his value to reenter free agency this offseason.
He may still re-sign with the Cardinals, especially if Albert Pujols departs, but he should definitely have suitors as he has hit 31 homers and driven in 89 RBI while batting .299 for St. Louis this season.
He'll be 36 years old to begin the season next year, so a long-term deal is not really in the cards for him, but he should live up to the terms of a two-year deal and provide plenty of return for whoever is lucky enough to ink him to a new deal.
Second Base: Mark Ellis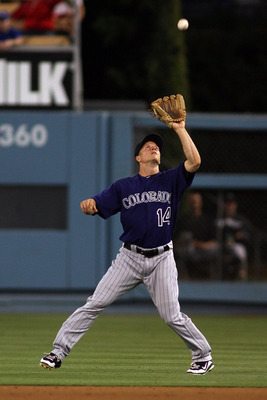 Jeff Golden/Getty Images
Despite getting off to a rough start with the Oakland Athletics, Mark Ellis proved he is still a quality Major League hitter and Gold Glove-caliber defender after his trade to the Colorado Rockies.
He's batting .279/.320/.412 with six homers and 13 doubles in 62 games for Colorado.
Ellis will turn 35 next season, but if he sticks in the National League, he should still have another three or four seasons left in him.
His defense alone makes him worth a new contract.
The Rockies, or a new club, will love having his glove on the field and his production offensively will be a bonus.
Third Base: Aramis Ramirez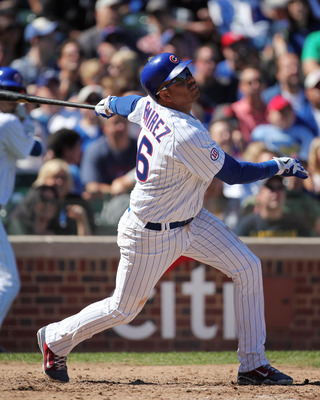 Tasos Katopodis/Getty Images
Aramis Ramirez is actually the top third baseman on the market, so that makes this a little bit of a questionable pick as a true "steal."
The 33-year-old will turn 34 next June, is batting .308 this season with 25 homers and 92 RBI.
His defense is not great, but hardly horrible either.
I am calling him a steal because I think he has another season or two with comparable statistics to this year left in his bat and I don't expect his salary to come anywhere near the $14.6 million he is earning this season.
Three years and $30 million sounds about right to me. If he continues to put up mid-20s homer totals and close to 100 RBI, that will make him a steal in the new offensively challenged state of the game.
Shortstop: Jamey Carrol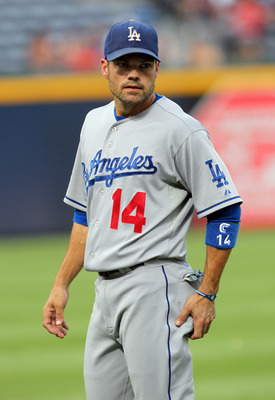 Joe Murphy/Getty Images
Jamey Carroll is not going to sign and instantly start knocking runs in for your team. That's not his game.
He is a consistent hitter, though, with a very respectable .286 batting average this season and .291 average in 2010.
Carroll is also an above average defender at shortstop, having made just four errors all season for the Dodgers this year.
He won't earn much more than his current $1.8 million contract (perhaps even less), and for the runs he will save you on defense while at least consistently getting on base offensively, he will be worth more than whatever your team is paying for his services.
The definition of a steal, if you ask me.
Left Field: Josh Willingham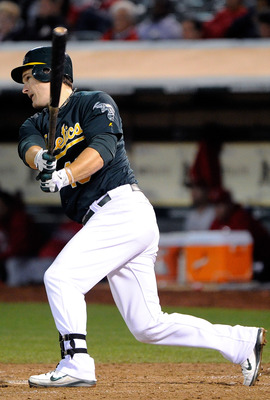 Thearon W. Henderson/Getty Images
Josh Willingham is one of the top bats that will be available this offseason, and yet he will come at a fraction of the cost of Albert Pujols, Prince Fielder and Jose Reyes.
His injury history has certainly cost him the benefit of doubt when it comes to signing a long-term deal, and his ability to stay on the field may limit his market for a long-term deal to the American League where he could serve as a designated hitter.
Still, Willingham is having a career year in Oakland. He has a career-high in homers (27) and RBI (92) despite spending time on the disabled list and batting in the pitching-friendly Oakland Coliseum.
I've previously stated that re-signing Willingham should be Oakland's top priority this offseason.
Center Field: Grady Sizemore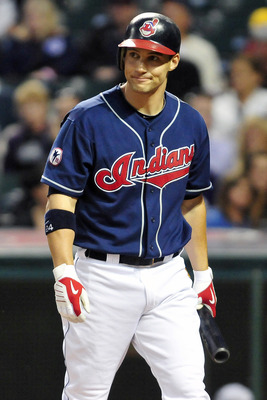 Jason Miller/Getty Images
It's certainly not a lock that the Cleveland Indians will decline the $8.5 million option they hold on Grady Sizemore and allow him to test free agency.
My reasoning for including Sizemore is that his proneness to injuries the past few seasons may make the Indians decide to decline the option and try to renegotiate a cheaper "make-good" deal with Sizemore before either allowing him to test the market again the following season with increased value, or locking him up to a long-term deal if he proves healthy.
If he hits the open market, he figures to be a hot commodity, but still shouldn't command a huge payday because of the aforementioned injury history. He'll want a short one-year deal to prove his health and reestablish value for another run at free agency and a bigger payday the following the year.
The lucky team that gets him should see a huge return, thus making him a steal.
Right Field: David DeJesus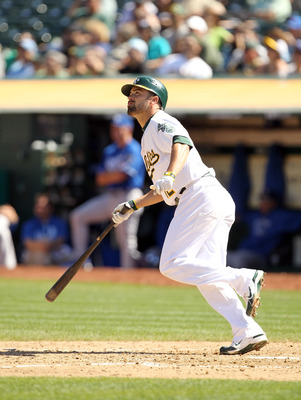 Ezra Shaw/Getty Images
David DeJesus has had a disappointing season, there is no getting around that fact.
Just one season ago, though, he was considered one of the top midseason trade targets available while playing for the Kansas City Royals.
DeJesus, 33 to start next season, will likely need to take a one-year deal to reestablish his value and try again.
Personally, I think David just needs a change of scenery to get his career back on track.
If he can rebound and get his average back to the .285-.300 range he had hit in before coming to Oakland, he will certainly have value to any club that takes a chance on him.
He is still a solid defender in the outfield, capable of playing all three positions.
Designated Hitter: Johnny Damon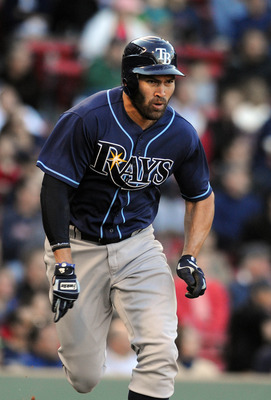 Darren McCollester/Getty Images
Johnny Damon has quietly had a pretty impressive season for the Tampa Bay Rays in 2011.
At 37 years old (38 to begin next season), Damon has 143 hits, 28 doubles, seven triples, 14 homers and 18 stolen bases. Not too bad for what baseball considers an "old man."
I'd expect the Rays to bring Damon back for 2012, although he will likely test the free agent market and try to sign a two-to-three-year deal.
I think he'll stick around to get hit number 3,000 though, which should take him about two more seasons. He definitely still knows how to hit, and won't command a high salary.
He'd be a solid addition to a team in need of a consistent hitter who is still a threat on the base paths.
Starting Pitcher: Brandon Webb
Norm Hall/Getty Images
I know this will be a controversial pick, but I am going to go out on a limb and say that 2012 is the season Brandon Webb gets healthy and returns to the mound.
When healthy, there are few better pitchers in the game than Brandon Webb.
So while the 2011 signing by the Texas Rangers did not pay off at all, I am going to go ahead and call him the starting pitching steal of the offseason for 2012 for whichever team takes a chance on him in 2012.
At least I didn't pick Mark Prior...
Relief Pitcher: Matt Capps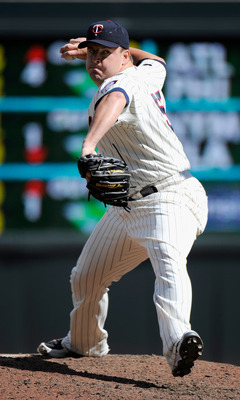 Hannah Foslien/Getty Images
He's certainly not as big of a name as Heath Bell, Jonathan Papelbon or even Jonathan Broxton, but Matt Capps is certainly a capable Major League closer.
He has 124 career saves to his credit and was an All-Star just last season.
Capps likely wouldn't be opposed to spending time as a setup man, although he is also more than qualified to step in and close out games for your club if you need him to as well.
His current $7 million contract is probably in the right range, perhaps a bit higher, but will still be a bargain compared to the other trio of closers I listed just above.
Keep Reading

Oakland Athletics: Like this team?