Chicago Bears: Passing Attack in Trouble Without Earl Bennett, Roy Williams
September 20, 2011
Jonathan Daniel/Getty Images
The Chicago Bears have recently suffered from the injury bug, with key players like safety Major Wright and right tackle Gabe Carimi getting injured in Sunday's 30-13 loss to the New Orleans Saints. 
The biggest injuries, however, are wide receivers Earl Bennett and Roy Williams.
Williams was ruled out of Sunday's contest for a strained groin he sustained against the Atlanta Falcons. Bennett received a helmet to the chest and left the game with a bruised chest. Currently, both players might or might not suit up for the Green Bay Packers showdown at Soldier Field. 
When both Williams and Bennett were out, New Orleans' defense dominated the Bears' passing attack. The only receiver who made damage was running back Matt Forte, who had 10 catches for 117 yards. However, some of those stats are misleading, as most of Forte's catches were as a check-down receiver. 
This is a big indicator that all is not well with Chicago's receiving corps, as a running back should not lead receivers for two consecutive weeks. 
Devin Hester had one catch for 17 yards in the fourth quarter when the Bears trailed by 17. Dane Sanzenbacker did have a touchdown, but he is a small slot receiver who had three catches for 33 yards. Johnny Knox had two grabs for 45 yards, but he could not create consistent separation, failing to establish himself as a go-to target against the Saints. 
Both Williams and Bennett are the Bears' top receivers and are vital for quarterback Jay Cutler to have any success in the passing game.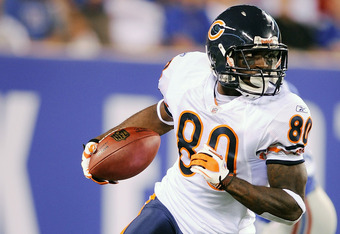 Patrick McDermott/Getty Images
Williams is a strong possession receiver who had four catches (three for first downs) for 55 yards against the Falcons. He is a good route-runner and provides dependable blocking, whether upfield or on crack plays. 
Bennett is an overall fundamentally sound player who didn't drop a pass all last season. Wide receivers coach Darryl Drake said that even though Bennett had two catches for 11 yards in the opening week, he provided opportunities to his teammates by running crisp routes and blocking defensive backs downfield.  
Their teammates are not so hot. 
Hester is overrated by Chicago's coaching staff, who think he is still a starting receiver when he would rank No. 4 at best on any other team. Hester can make plays on screen plays occasionally, like the 53-yard catch in Week 1, but he is not a good-route runner and is known for dropping balls. 
Knox can make the big play, yet he is prone to allowing defenders to gain good position on him, resulting in intercepted passes. 
Sanzenbacker is a decent slot receiver; however, he will not be a huge threat. 
And trading Greg Olsen and having the inconsistent Kellen Davis start at tight end handcuffs Cutler with his offensive options even further. 
Hopefully, Williams and Bennett's injuries are not too severe, or Cutler and the Bears' passing attack will not be effective. 
Bob Bajek is a freelance reporter and can be followed at Patch.com and Twitter.