San Francisco Giants and Brian Sabean in the Final Analysis
September 20, 2011
Ezra Shaw/Getty Images
Brian Sabean is the luckiest man in sports. Colin Powell once said of George H.W. Bush that "he was born on third base and thinks he hit a triple." The same could be said of Sabean.
There is nothing worse than someone coasting by on the fumes of providence that thinks they are making it by on genius. Brian Sabean spent the first decade of his GM career coasting on the coattails of Barry Bonds. Last year, his team went on a magical run to win the World Series.
Hidden behind all of that is a roster full of holes.
Yet, you will not find many GMs more outspoken than Sabean. A more self-aware man would find a way to sink into the background.
The Giants' amazing pitching this season has been wasted by an offense that ranks dead last in baseball. That is saying something, considering the crap that San Diego and Seattle throw out there every night.
Key Statistics
Team Payroll: 118.2 (8th)
Lineup: 19.2
Rotation: 6.0
Bullpen: 8.3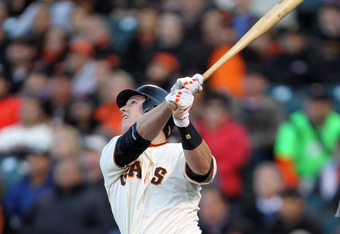 Ezra Shaw/Getty Images
Composite: 11.2
Analysis Score: -3.2
Lineup
The Giants did suffer a tough break when they lost Buster Posey for the season, but this has always been a flawed attack from the beginning. Freddy Sanchez is a legend in his spare time (spending most of it on the DL). Plus, Sabean tried to rekindle the past by bringing in Miguel Tejada to play shortstop.
Sabean and Tejada are the only two people left that think Tejada can still play and Sebean just pulled the plug.
Then, he spent the deadline acquiring just about every spare part he could find to fill the infield.
Bill Hall was signed earlier and failed. Jeff Keppinger came from Houston and finished the season in the lineup, but he is all batting average. Orlando Cabrera was acquired and he went into witness protection. Brandon Crawford held down the fort defensively at short, but he can't hit a lick.
The measure of Sabean the GM must include all of the dead money.
Mark DeRosa is on life support as a player, but he is getting paid a pretty penny. Aaron Rowand got huge money to hold down center field, but up until recently (when he was released) he was holding down the bench. Take away Carlos Beltran's contract and more money is being paid to players out of the lineup than players in the lineup.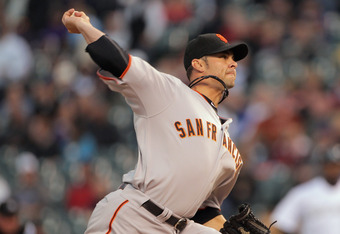 Doug Pensinger/Getty Images
Rotation
If the Giants don't have the best rotation in baseball, they have the second best.
We have to remember that we base rankings on analysis and not on performance. Ryan Vogelsong wasn't even on the radar at the beginning of the season. His development has been a breath of fresh air, but has also caused another problem for Sabean.
What is he supposed to do with Barry Zito?
On most teams, his contract (signed through 2013) would present a problem, but on the Giants it is a huge issue. Even if he were pitching like he did last year, he still wouldn't have a spot. No one is going to take him in a trade and simply cutting him would be a huge expense.
Still, that is not the worst problem in the world to have.
Ryan Vogelsong is still the fourth best pitcher on this year's team. That's remarkable, but with Tim Lincecum, Matt Cain and Madison Bumgarner, you can believe it. Plus, Jonathan Sanchez isn't exactly chopped liver. 
Bullpen
The Giants have the deepest bullpen in baseball and they've needed every inch of that depth this season.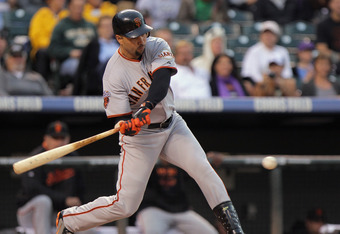 Doug Pensinger/Getty Images
In August, Brian Wilson went down with an injury he is still recovering from. However, the Giants were still strong enough to go on a late-season run that has them sniffing at the division and the Wild Card.
Guillermo Mota has the highest ERA of any pitcher with 40 or more games—that ERA is a 3.86. Since he leads the bullpen in innings (with less than 50 games pitched), you can surmise that he is being used in long relief anyway.
The rest of the pen has been nails and the one thing keeping this team in the hunt.
Response to Crisis
Most of the discussion has centered on how Sabean flung around wildly at the middle infield market to find something he could hang his hat on.
However, he did bring in Carlos Beltran for the stretch drive and that move has paid some dividends.
Beltran cannot be offered arbitration, so he will likely be somewhere else in 2012, but he has been good enough to keep the Giants in it this season.
Analysis Score: -3.2 (20th)
The Final Analysis
In an example of providence, the Giants have scored 541 runs and surrendered 533 runs this season. This means they should be a little better than .500. That would have left them in the dust a long time ago, but they have played over their heads and won some close games.
Nothing like riding on lady luck.