Pride and Prejudice: Why the Suck for Luck Campaign Has to Stop
September 20, 2011
Dave Reginek/Getty Images
For the past 36 hours, I've tried to imagine how Todd Haley is feeling. Following a wildly successful 2010 season, he's now being asked about job security the Monday after Game 2 of 2011... my, how things change.
Even after a somewhat questionable preseason, the fan base was wholly behind this team. There was talk of another division crown, the first repeat for the franchise in its history. Yet here we stand, in the wee hours of Tuesday, Sept. 20, and I've just wasted the better part of three hours reviewing my favorite radio show's inane drivel about rooting for losses in hopes of landing Stanford's whiz-kid QB Andrew Luck.

It almost feels worthless preaching to a fan base that has seemingly lost all hope after two miserable weeks.

Again, I'm reminded of Todd Haley.

For all his faults, the Chiefs' Head Coach is still highly regarded. Even Yahoo's Mike Silver, who yesterday wrote about the tension between Scott Pioli and Todd Haley as "the worst kept secret in NFL circles," went on to praise Haley as "a very good coach" and rebutted all talk of Charlie Weis' brilliance soon after.

During football season, Monday is a very special day for me. Following a Chiefs win, something I enjoyed quite often last season, I might crack a beer 20 minutes after I wake up (at noon) in congratulations on a job well done.
After a loss, I usually crack that beer in anger... but I still watch the game again on DVR and listen to every second of Chiefs coverage my local radio station can muster.
Today was different: I did not crack a beer; I did not watch the tape. As previously mentioned, I listened to the radio... but nothing about today was special.

See, as a Chiefs fan, I live and die with this franchise. Call it unrealistic, unhealthy, unbecoming or what have you. Frankly, your opinion doesn't matter. No, I'm not ashamed of my love for the Kansas City Chiefs. Even today, after a second straight embarrassing loss to an average NFL team, I was not ashamed. I was not angry.

Today, I was heartbroken.

I want to tell you that winning cures all. I want to tell you this team will rally and surprise us a few times this season. I want to tell you that all hope is not lost... but at this juncture, you don't want to hear that.
You want to hear about Andrew Luck. You want to hear about Seattle, Miami and Indianapolis' chances of being worse than we are. You want to hear whether Todd Haley will make it through this season. You want to hear about Bill Cowher, Jon Gruden and God knows what other re-treads as possible replacements for him.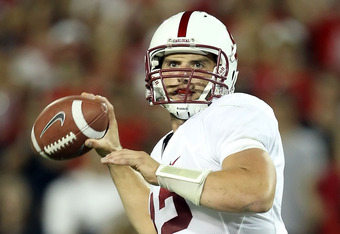 Christian Petersen/Getty Images

While the team is in a historically sad state of affairs to begin this season (and I do mean begin, as we've only played two games) the fans are in remarkably worse shape.

Where is your sense of pride? Would you really rather see this team lose the rest of their games this season (that's 14 more, just as a reminder) so that we can draft a quarterback none of us really knows much about? Would you really prefer complete instability just one season after winning the AFC West for the first time since 2003?

Perhaps more importantly: how many of you can honestly say you've seen Andrew Luck play more than one or two college games?

Fact is, franchise quarterbacks don't grow on trees; that's simple enough to understand. It's also plain to see that the NFL is trending toward a game that is almost exclusively won and lost by the signal-caller. Clearly, the importance of having a great player running your offense is at an all-time high.

Something many of you seem to be disregarding, however, is that the success-rate for quarterbacks in the NFL is staggeringly low, regardless of where they are selected. It's an even playing field as soon as they become professionals.
There isn't a single person on planet earth that can convince me that Andrew Luck is any different from other top-rated kids like USC's Matt Barkley and Oklahoma's Landry Jones.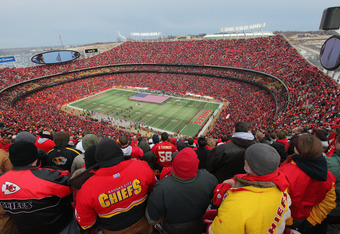 Doug Pensinger/Getty Images

After what I heard/read today, the majority of the Chiefs' fan base should be ashamed of themselves. You heard me: ashamed. How dare you root for this team to lose, even if, as you say, it's to win...eventually.

Forget about the devastating injuries to Tony Moeaki, Eric Berry and Jamaal Charles. Forget about the difficult opponents that lie ahead on what promises to be a very brutal schedule. Forget about Matt Cassel's apparent inability to throw the ball more than five yards without winding up like a little-league outfielder. Even forget (if you can) the nightmarish 89-10 result of our first two games.

Todd Haley and the Kansas City Chiefs have a long, hard road ahead. Whether you want them to, they're going to do whatever they can to win as many games as possible. I can assure you that from top to bottom, not a single member of this franchise is thinking about Andrew Luck; they're thinking about their next opponent.
After all we've suffered through only two weeks, there's no sense in making this season more disappointing by rooting for the team to fail.