10 Things MLB's Next Commissioner Should Do
September 20, 2011
Jim McIsaac/Getty Images
Allan Huber "Bud" Selig is stepping down as commissioner once his current contract expires after the 2012 season. Few fans and writers have been ambivalent as far as Selig has been concerned. He's had his share of enthusiastic supporters as well as rabid detractors.
The late Jerome Holtzman once opined that Selig was baseball's greatest commissioner ever. Fay Vincent (Selig's predecessor) once accused Selig and White Sox owner Jerry Reinsdorf of collusion to rig the signing of free agents.
While that charge was never proven, some might argue that Selig, being owner of the Milwaukee Brewers, was engaging in a conflict of interest by succeeding Vincent as commissioner. Former Chicago Sun-Times sportswriter Jay Mariotti called Selig "the Steroids Commissioner," pointing to Selig's ineffectual handling of the hot potato issue.
One thing that is certain: Baseball's last legal mind occupying the commissioner's office was Bowie Kuhn, who was a licensed attorney. Selig definitely hasn't been a neutral party when it comes to laying down the law in baseball. He has acted in whatever manner benefited the owners above all else.
Selig's successor will have quite a bit of work to do, mainly cleaning up a lot of the messes instituted during his tenure. Here, then, are just a few suggestions to help restore the grandeur to America's national pastime.
Eliminate the Wild Card
Granted, with three divisions in each league, the wild card helps to "balance out" the playoff picture. The bad thing is it stretches the postseason into cold weather for much of the northernmost cities. While Boston and New York never seem to have any problem attracting fans even in cold weather, baseball was meant to be a warm-weather game.
Subjecting fans to potential frostbite does nothing to enhance the magnitude of the postseason experience. Besides, having an "also-ran" team in the playoff picture lessens the importance of the pennant race.
Yes, another tier of playoffs means more money for baseball's coffers, but it drags out the season a la the NHL and NBA. Once upon a time, the World Series was over at least two weeks before Halloween.
Eliminate Interleague Play
The bet here is if one would take a poll among managers, players and broadcasters, they would find little real support for continuing interleague series each season. It was instituted purely for the benefit of fans to see players not ordinarily seen during a normal season.
That was the reasoning behind the establishment of the All-Star game in 1933. Interleague play diminishes some of the nobility of the All-Star game.
Reinstate Doubleheaders
This is one that the MLB Players Association will pitch a fit about. However, what's better than spending a warm summer afternoon at the ballpark with the family? Of course, it's rough on the players, but doubleheaders were always popular with fans. After all, isn't that why baseball is played...to attract fans?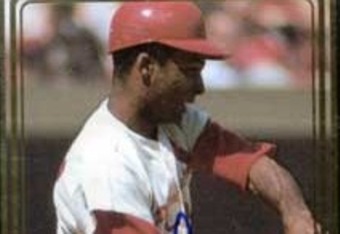 Eliminate the DH
From Little League to PONY/Babe Ruth League to high school and American Legion, the best athletes usually are the guys who pitch. In countless leagues across America, you'll find amateur pitchers batting cleanup. It makes no sense to take the bat out of their hands when they turn pro.
Baseball was never meant to be a two-platoon game, like football has become. Not every pitcher can learn to hit like Carlos Zambrano. However, every pitcher should be able to help himself with a bunt, a flare or even a Texas Leaguer. Rick Ankiel was once an MLB pitcher, and look where his bat-handling skills have taken him.
Another plus is that AL managers will need to use their bench more often, meaning more opportunity for young players to shine in key situations.
Reinstate the Reserve Clause
Until the 1970s, the Reserve Clause tied a player to the team that drafted him (or signed him as an amateur in the days before the draft came to be). Granted, this would be a legal fight of immense proportion, but having free agency has done nothing to improve parity among franchises.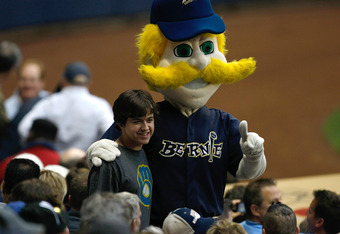 Scott Boehm/Getty Images
Broadcasting has a "non-compete" clause in place in the top 200 broadcasting markets. While the non-comp clause is a little different in terms of the details, it works on a similar principle.
Forbid Teams from "Salary-Dumping"
Nothing destroys the competitive balance in baseball faster or more completely than when an MLB team is dismantled during the season. Bowie Kuhn once stopped Charlie Finley (then owner of the A's) from selling off three of his best players in the middle of a pennant race. Kuhn's reasoning was it would ruin the game. He was right.
Sadly, it's become commonplace in baseball today. It's frustrating for fans to watch, and there's no telling how many have been angered to the point that they won't attend games any longer. This practice needs to stop.
Reinstate Separate Umpiring Crews for Each League
While they're at it, reinstate separate league administrations. Hopefully this will restore tighter control on umpires and application of rules. More and more, fans are treated to the "automatic out" call at second base when a fielder blatantly misses the bag on a double play.
You will hear announcers say that the fielder was "in the vicinity of the bag." A runner is out when the fielder touches the bag on a force play with possession of the ball. Period!
That's only the tip of the iceberg on bad umpiring. Space doesn't permit extensive verbiage on this topic. Suffice it to say that this writer witnessed some really atrocious officiating at the major-league level this past season.
Restore Milwaukee to the AL
The Brewers are the old Seattle Pilots, an American League club. Selig moved them to the NL (he owned them and was also commissioner) to assuage decades-old anger that he experienced when the Braves left Milwaukee for Atlanta following the 1965 season. This will give each league 15 teams.
Dump Instant Replay
Baseball is a game that has lived and died by spur-of-the-moment, judgment calls. Sometimes they are right, and sometimes they are wrong. Having instant replay used only in certain situations is silly. Either use it all the time or get rid of it altogether.
Move the World Baseball Classic
Instead of disrupting spring training (when players are still searching for the strike zone or their batting eye), play it right after the All-Star game and give teams a full seven days off. Players are in peak shape at that point, and games should draw more fan interest.