Detroit Lions Week 2: Living a Dream Come True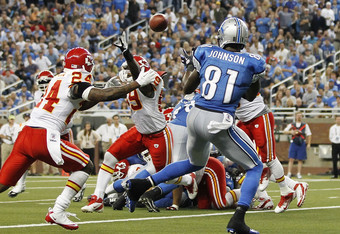 Leon Halip/Getty Images
Was it some phantasmagorical dream, or did I really live a dream come true?
Monday morning I awoke still hoarse from screaming like some crazed banshee for over three hours. My hands hurt from loudly applauding every 6.5 seconds. My ears are still ringing.
No, it couldn't have possibly been a dream. I'd been to the Lions home opener.
I met with 25 kindred spirits from Mlive Telway Raiders for our annual Lions group weekend. Coming into Detroit from all over the nation and Canada, we partied all day Saturday and well into the evening.
On Sunday morning, I went to the tailgate with Slippy Thumbs, no handle Mike, LionsWayne and Tuff Lynx. And what a tailgate it was!

The Surreal Tailgate—A Day at the Opera
Normally, I wouldn't mention a tailgate. Friends, food, adult beverages, footballs flying through the air and music. Kindred spirits both known and new. Yadda, yadda, yadda. All of the usual elements, right?
This tailgate would prove to be anything but usual. It was held at the old Detroit Opera House (DOH). The DOH had been closed and abandoned since the '80s. A new edifice had been built a few blocks away.
An enterprising entrepreneur decided to take the existing first floor parking structure and expand it to three floors. He gutted the theatre and built concrete ramps to accommodate two additional floors of parking.
We parked (only 15 bucks), and took the old, ornate elevator to the third floor. When we stepped out into the high vaulted third floor parking deck, we uttered a collective WOW!
We were slack-jawed at the tableau that we beheld. A huge, cavernous room that had once been the theatre, the room conjured visions of what a London theatre must have looked like during the Blitz of 1940.
The two-story vaulted plaster ceiling was still mostly intact, and the filigreed Victorian detail was eye-catching. The chandeliers had long since been salvaged, and many of the decorative escutcheons had been damaged. Everything was covered with the patina of age and neglect.
There were signs of on-going renovation everywhere. The plaster walls and ersatz plaster columns had been eaten away by construction workers, but that ceiling was still resisting the wrecking bars and sledgehammers as a defiant reminder of a distant, glorious past.
We gazed down into the old lobby, which was mostly intact. Other tailgaters were busy there doing what tailgaters do.
The unmistakable aroma of barbecue was everywhere.
What a surreal, dream-like scene! I have to give a shout out to Anthony K., who invited us to this wonderful setting. Thanks, Anthony, for an unforgettable experience!
There were some familiar names to Bleacher Report readers in attendance—Brenda Summers and John Wesley "HaMMeR" Farrier—kindred spirits living the dream.
Pregame Dreamscape
Replete from the victuals consumed at the tailgate, we took our "roadies" with us on the 20 minute walk to Ford Field. Masses of Lions fans merged from every side street to form a torrent as we made our way through Grand Circus Park.
The street musicians along the perimeter of Comerica Park serenaded us as we were swept along in the tidal surge of fans. The "Mardi Gras" atmosphere of the Lions street party continued unabated to the stadium entrance.
A beautiful, dreamlike flood of Lions love.
We were courteously patted down by security when we entered the stadium. Just like a Premier League soccer match.
Having found our seats, we laid on supplies (more adult beverages). Prior to singing The National Anthem, The Lions paid a touching tribute to the late, iconic Tom "Killer" Kowalski." You could hear a pin drop during the prolonged moment of silence.
It was Killer, you see, who was directly responsible for bringing the Telway Raiders into being. Our sign in the stands read: "This season's for you, Killer!"
Thanks, Killer, for bringing us together.

The First Quarter—A Dream Somewhat Deferred
By the end of the first quarter, the Chiefs proved to be stout on defense and more than a handful running the rock. Only stupid personal fouls allowed the Lions an early shot at paydirt.
Matt Stafford had thrown an interception to OLB John McGraw, who promptly fumbled it to the opportunistic Lions tight end Tony Scheffler.
A first down is a first down, but this unexpected gift was as if I had dreamed it. Converting a 2nd-and-5 into a first down via the INT route is not a play that I can remember ever seeing.
The Lions clung to a tenuous 7-3 lead on the arm of QB Matthew Stafford and the hands of WR Calvin Johnson. The outcome of the game was far from moot, however, as the Chiefs were running roughshod over the Detroit defense.
It was unfortunate that Chiefs RB Jamaal Charles suffered an ACL injury on a play where he took out Rory, the Lions mascot, on a blatant late hit out of bounds.
It seemed to be one of the few plays that the Chiefs didn't flagged on, as they put on a display that made Lions RT Gosder Cherilus' personal foul gaffe of Week 1 look rather tame.
After some attention by Lions trainers, Rory returned to finish the game. Rory's got moxie.
The Chiefs had outgained the Lions 132-76 yards in the first quarter.

The Second Quarter—The Slumbering Beasts Awaken
I had the sense that the wheels on the Chiefs wagon were starting to come off when the Lions defense made some adjustments that put an end to the Chief's reign of terror on the ground.
Lions LBs and DBs went into zone coverage instead of filling gaps and showing blitz. The Lions speed in breaking down in run support out of the zone was what made the difference. Fewer players out of position to stop the run was an effective adjustment by defensive coordinator Gunther Cunningham.
On offense, The Lions went to work against the Chiefs overmatched safeties with a vengeance.
Stafford hit TE Tony Scheffler with a 36-yard laser for a TD. Once again, it was a beautiful seam route where Stafford threaded the needle perfectly.
With more reps, Scheffler's TD celebrations are becoming more polished.
On the Chiefs ensuing drive, Cassel threw an INT that was more the fault of WR Dwayne Bowe. The ball went through Bowe's hands and was picked off by CB Chris Houston.
Stafford hit on two long throws to Burleson and Johnson. Both plays were negated by penalties.
Stafford did hook up with rookie WR Titus Young, who made a great layout grab for 43 yards.
With 39 seconds left in the half, Cassel made an ill-advised throw that was picked off by SS Amari Spievey.
After two Jason Hanson field goals, the Lions, leading 20-3, sent the Chiefs into halftime with a sack on Matt Cassel by Ndamukong Suh on the last play.
The Lions held the Chiefs to 67 yards of offense in the quarter, while scoring 13 points on 150 yards of total offense.

The Third Quarter—The Rout is On
With a comfortable three score lead (20-3), I had a fleeting nightmare that head coach Jim Schwartz would take his foot off the throttle like he did in the Tampa Bay game.
My fears proved to be unfounded. On the Chief's first possession, the Lions defense stuffed RB Thomas Jones on third and one to force a punt.
After an exchange of punts, Stafford went to work, orchestrating an 84-yard drive that culminated with a two yard, fourth down completion to Calvin Johnson. The longest drive of the day by the Lions. Lions lead 27-3.
On the ensuing Chiefs play from scrimmage, Lions DE Kyle Vanden Bosch strip-sacked Cassel for another turnover. MLB Stephen Tulloch jumped on the loose ball.

The Fourth Quarter—The Dream Finish
Stafford wasted no time making the Chiefs pay for that Cassel Fumble. Five plays later, Lions RB Jahvid Best scored on Stafford's fourth TD pass. Lions lead 34-3.
On the very next Chiefs play, RB Dexter McCluster fumbled the ball back to Detroit.
With only an 18-yard field to conquer, The Lions continued to mix the run and the pass. Jahvid Best scored from the 1-yard line, leaping over the pile. Lions lead 41-3.
With over 11 minutes to play in the game, the Chiefs continued to somnambulate their way to one of the worst starts by an NFL team in history.
Cassel promptly threw his third INT of the contest (if you could call it that), and Lions CB Eric Wright was rewarded for his hard work with the INT.
Now, it was Shaun Hill time. Hill passed only once, but hit Titus Young on a brilliant sideline play. The Lions struck their final blow when RB Kieland Williams pounded it in. Lions win 48-3.

The Afterglow and Some Performances to Sleep On
I've been Justin Durant's harshest critic. The Lions learned, finally, how to use Durant against a quality running offense. Playing in the Lions base zone defense, Durant had an opportunity to use his downhill speed to make plays. Durant led all Lions defenders with 11 tackles.
WR Titus Young has arrived. We'll all sleep better now that Young has shown his ability to stretch the field. Young also proved to be a very reliable target in every aspect of the Lions passing attack.
Gunther Cunningham got some payback for the scurrilous way that he'd been treated by his former team. It was the Chiefs who fired Cunningham not once, but twice. He was even fired by e-mail.
E-mail? C'mon, man! That's colder than cold.
Then there was the infamous "tampergate" punishment levied against the Lions after Chiefs GM Scott Pioli complained to the NFL that Cunningham had inappropriate contact with Chiefs players.
Gunther is a passionate man, but isn't the least bit vindictive. Nevertheless, Cunningham had to go to bed grinning inwardly.
The chastisement of RT Gosder Cherilus has come to an end—for the time being. Cherilus' replacement, Corey Hilliard, did a great job until moving to left tackle late in the game. Gos played the final 10 minutes of the game.
Jason Hanson continues to be "Old Faithful." He will spend the remainder of his career padding his records.
The Lions secondary is becoming fun to watch. We've seen very few opportunities to make plays go unfulfilled.

Returning to Reality—Memories of a Dream Come True
We strolled back to our tailgate for a nightcap and goodbyes. We knew that we had shared a special moment in Lions history and a special time with each other.
As long as we live, this day will be remembered and shared with friends and loved ones.
You just can't dream a day like this up.
This article is
What is the duplicate article?
Why is this article offensive?
Where is this article plagiarized from?
Why is this article poorly edited?

Detroit Lions: Like this team?