Philadelphia Phillies and Ruben Amaro Jr. in the Final Analysis
September 19, 2011
Drew Hallowell/Getty Images
When rating a team's analysis score, we need to keep two key things in mind. First, the object of baseball is to win games. As "Peter Brand" said in Moneyball, "Instead of buying players, you should be looking to buy wins." Of course, the second thing to keep in mind is how economically one can buy wins. With the Philadelphia Phillies, that is a bit of pickle.
Ruben Amaro Jr. knew going into the season he would likely make the playoffs as either the division winner or the wild card. When he went into the July deadline, he knew it as well. Yet, since 2008, they made the playoffs and came up short. They did the same in the seasons before 2008. This is a team that wants the whole thing, and there is no telling how much is too much in that situation.
Key Statistics
Team Payroll: 173.0 million (2nd)
Lineup: 10.0
Rotation: 4.4
Bullpen: 14.8
Composite Ranking: 9.8
Analysis Score: -7.8
Lineup
For that grand sum of money, this team still has a few holes to fill. Hunter Pence filled one of them at the deadline. They still have another one in left field where Raul Ibanez has lost both bat-speed and a step in the field. He could afford to lose neither. Yet, with this pitching staff, they don't have to be the Big Red Machine. They just have to be good and good they are.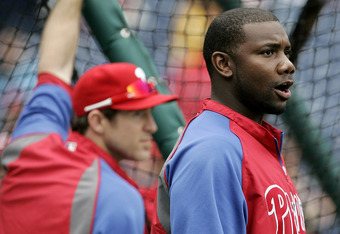 Rich Schultz/Getty Images
There are some storm clouds on the horizon. Jimmy Rollins contract is coming up. Chase Utley will have to be paid someday, and the same is true of Shane Victorino and Hunter Pence. Raul Ibanez will clear off the books, but that won't be nearly enough to cover all of the new money that will have to go out.
Rotation
No, they didn't have four starters that won 20 games like the 1970 Baltimore Orioles. However, I would argue they have a better foursome than that group and almost any other in history. Both Cliff Lee and Roy Halladay could easily be the Cy Young winner this year, and both of them deserve to be the game one playoff starter.
Cole Hamels has come back from a couple of marginal seasons to be the third starter everyone thought he could be. Having Roy Oswalt for a fourth starter almost seems embarrassing. He has battled back trouble this year, but has been his old self when healthy. Throw in the emergence of Vance Worley, and it is almost enough to make you blush. Listening to Phillies fans argue over who the four-man playoff rotation should be is enough to make most fans dry heave.
Bullpen
Brad Lidge is another contract that is thankfully expiring this season. Ryan Madson has been brilliant as the closer, but this bullpen has major depth issues. Thankfully, the strength of the rotation has kept the Phillies from having to explore that depth. The blueprint to beating the Phillies in the postseason will involve getting those starters out before the end of the seventh inning.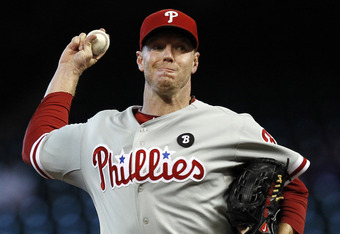 Bob Levey/Getty Images
Analysis Score: -7.8 (28th)
Final Analysis
Keep in mind that Ruben Amaro Jr. is trying to buy a championship, so he felt he had to have Cliff Lee and Hunter Pence. Take away a couple of dead contracts like Raul Ibanez and Brad Lidge, and suddenly he looks a little better. In terms of reality, who knows how long they can sustain this kind of payroll. If ownership is comfortable doing that, they could easily let those two players go and spend the savings making sure the core remains intact.
This is where we move away from pure analysis and more into economic analysis. How much is another World Series championship worth? How much are two World Series championships worth? The Phillies have sold out every game for several years. Television and radio rights are bound to be as good as they can be. Only ownership knows what it can spend and how much more they think they can take in.