Texans vs. Dolphins: 7 Observations from Section 451 as Miami Disappoints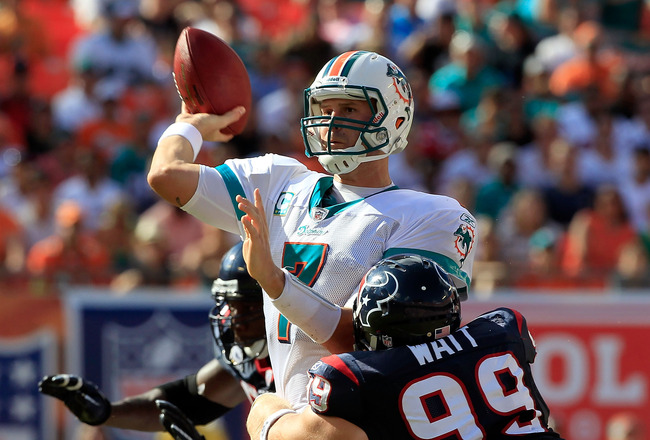 Sam Greenwood/Getty Images
Section 451, Row 28, Seat 15.
Those would be my seats for Sunday's Houston Texans vs. Miami Dolphins tilt.
The original plan was to live blog it, so that you could see my very reaction, emotion and analysis in real time.
But thanks to Stephen Ross giving tickets away, I decided to go to the game instead.
I'm glad I made that decision.
Yes, even though the Dolphins got trounced, by seeing it from the cheap seats, I noticed that not only was I wrong about Miami, but exactly why I was wrong.
Originally this was going to be a slideshow called: "Miami Dolphins: Detailing all of their problems."
It was going to have 54 slides...I'm sure you know what I was referring to as far as the problems.
But instead I'll just analyze the Dolphins from what I saw out there on the field.
It was so bad, I was openly pining for the Wannstedt era.
Dolphins Have a Top-5 Defense: As Far as Most Yards Allowed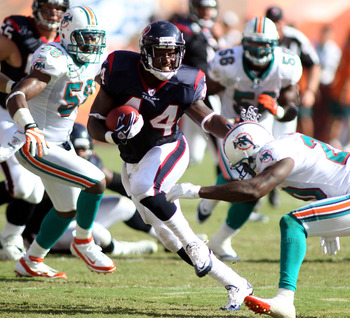 Marc Serota/Getty Images
From my count, the Texans got the ball into the red zone six times.
Now, one of these times was a gift. It was late in the game and the 'Phins had to go for it on fourth down, plus Houston showed good sportsmanship and didn't attempt to score, so it's a moot point.
But each other time, the Texans scored.
One of them was due to a Henne interception (don't worry, I'll get to him later), but as far as the other drives, they were a combination of special teams (whom I'll also get to later), and just plain bad defense.
Houston's offense had their way against Miami. It didn't reflect on the scoreboard, and the Dolphins defense did get a few key stops in the third quarter. On the whole, Matt Schaub was toying with the Dolphins defense like a cat would toy with a mouse.
For the game, Houston gained 345 total yards, which doesn't seem like much, especially in comparison to New England's output on Monday night. But, man, did it feel like the Texans had their way on Sunday.
Special Teams Aren't So Special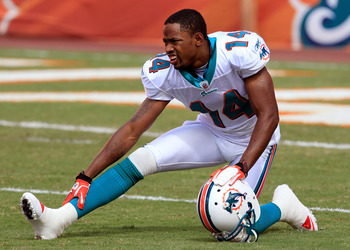 Sam Greenwood/Getty Images
I chose a picture of Marlon Moore, because he's mainly a special teams player.
Now, let's take out Dan Carpenter (one blocked field goal and a miss that was surely inspired by the blocked field goal) and Brandon Fields (another great day for him, three punts that averaged 60 yards per punt), and let's focus on the rest of the not so special teams.
No one took it to the house for the Texans, but Danieal Manning only returned two kickoffs.
The combined yardage of those two: 77 yards.
Punt coverage was also a disaster.
When your punter is averaging 60 yards per punt and getting at least 4.5 seconds of hang time, you should be ready to stop returns.
But oh no, not the Dolphins. Jacoby Jones' two returns totaled 36 yards, averaging 18 per return.
What good is having a punter who can punt that well when the coverage team is going to give back a good chunk of those yards?
Same goes with kickoffs.
Now, onto this blocked field goal business. It really seemed like that's on the offensive line. They let Houston get too much of a push after the snap, allowing them to get their hands up a decent distance away to deflect Carpenter's kick.
So, the next time, Carpenter overcompensates and pushes it wide to the left.
Had those kicks been made, instead of it being 16-10 when Carpenter made his second field goal in the fourth quarter, the score would've instead been 16-16, with Carpenter's field goal making it a 19-16 game.
Sure you could argue that Miami's defense would've blown it, but the complexion of a game does change once your team takes the lead.
Henne Wasn't Any Good, but Not the Disaster You Think He Was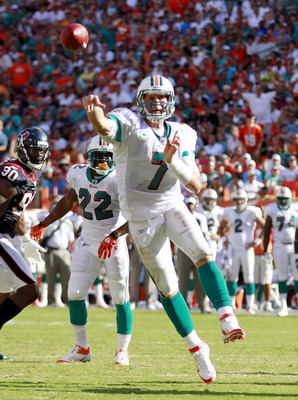 Marc Serota/Getty Images
"Oh Thomas, are you kidding me? Henne was terrible yesterday and if you didn't see it, you were blind. He cost us the friggin game with that interception in the second quarter, as well as his lack of clutchness in the fourth. He overthrew receivers in the red zone again, and he was just terrible. Stop apologizing for him and admit it, he sucks. He's not going to redeem himself, he's not going to be any good, he sucks."
There, I made the comment so you won't have to!
Henne wasn't good. He wasn't terrible either, though.
He was just mediocre and part of that was because of him. He wasn't making the sharp reads that he made last Monday night that allowed him to excel, and he seemed to get stuck on his targets.
He went into his comfort zone after the first interception, which, despite it being tipped, was his fault because he didn't put enough zip on the ball in the first place.
He also messed up during the Dolphins fourth quarter drive. On third down, he was too attached to what play was called, and instead of running it in for a touchdown (he would've had it, nothing but green between Henne and the end zone), he focused on getting it to Marshall.
Bad move, and I'm sure even Marshall would've rather Henne just run it in and scored it himself. If he does that, then Miami takes a 17-16 lead.
Last year I pinned many of Henne's mistakes on Henning. I'm still going to blame Henning even though he's no longer with the team.
Henne played like Henning was still the Dolphins offensive coordinator. He played scared and lacked the confidence that we saw last week and throughout the preseason.
I'm sure Daboll will spend all week working with Henne on that, explaining to him that just because I call for you to throw it to someone doesn't mean you can't change it up if it doesn't work.
Oh, and Daboll should also tell Henne to slide when he runs with the ball.
Again, I'm not defending Henne's performance, he was bad on Sunday and played scared.
But let's not start the Chad Henne lynch mob just yet.
Dolphins O-Line Is Still Terrible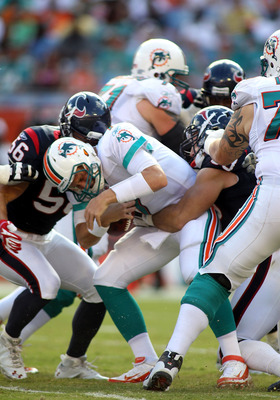 Marc Serota/Getty Images
Let's take Daniel Thomas' performance out of the equation (don't worry, I'll get back to him).
Again, Miami's offensive line blew on the field.
How bad was it?
Two sacks, two tackles for losses.
Wait that doesn't sound too bad right? Combine that with Thomas carving up the field at the clip he did and there is a positive.
No, it is not.
The reason for so many sacks is that Henne got rid of the ball more often.
Williams, Cushing and Houston's front seven still got in there. Henne was hit seven times to go along with those two sacks and two tackles for losses.
In reality, Daniel Thomas saved them, which is why I'll bring him up next.
Now We See Why Daniel Thomas Was Worth Trading Up for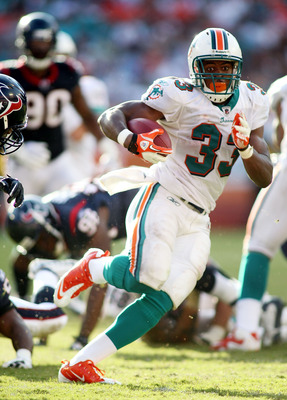 Marc Serota/Getty Images
The crime in this is, why did Daniel Thomas only get 18 carries?
You want to talk about efficient, Daniel Thomas made the most of those 18 carries, racking up 107 yards. My only beef with his performance, other than the fact that he should've had 25 carries, was his fumble at midfield in the third quarter.
How often do you get a running back to average almost six yards per carry? Especially during his NFL debut in a game he didn't even start?
Not very often.
When I reviewed him in training camp, I did say I liked the burst he showed hitting the hole and wondered aloud why he was taking snaps with the second team.
Then in the preseason, he was downright dreadful. We then came to find out that it was due to a lingering hamstring injury, which kept him out of the Week 1 game against New England.
Now, I see why they were so high on him in the first place.
Next week, it's likely he'll again be somewhere between 18-20 carries. But based off of Sunday's performance, the Dolphins best shot at winning is if he averages about 22-25 carries per game.
I'll willingly give away a fantasy football secret: Tuesday morning, the first thing I'll do when I wake up is pluck him off the waiver wire.
I'm not saying he's going to be this season's Peyton Hillis, but he will be valuable to have.
Sparano Must Go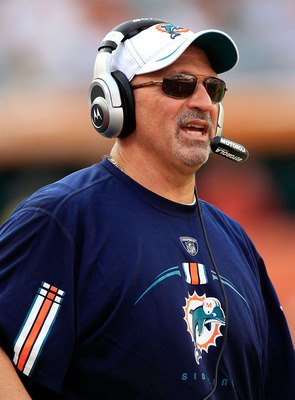 Sam Greenwood/Getty Images
On Saturday night, I went to the FIU-UCF game, and afterwards I thought I had my fill for the weekend of bad coaching. I saw George O'Leary's Knights, a team filled with BCS-Caliber talent, lose to the Golden Panthers, a team that, at best, has maybe 10 players on the whole roster who could play at a BCS school. (Funnier still, it was probably T.Y. Hilton's worst game since he started at FIU. Note to whomever is running the Dolphins at the end of the season since it looks more and more like it won't be Ireland: T.Y. Hilton should be available in Round 3 or Round 4 of the draft. Pick him!)
But then I see Sparano managing to raise...no sorry...lower the bar Sunday afternoon.
When is he going to get that, in the red zone, you always go for it on fourth down?
How come the defensive players seemed to have forgotten how to wrap up a player and tackle him?
Why does it seem like he's put handcuffs on Brian Daboll's offense, which, at times Monday night, looked imaginative and explosive, but then looked like a Dan Henning offense without the Wildcat on Sunday afternoon?
More importantly, why did Daniel Thomas only have 18 carries when he should've had 22-25?
Then there's special teams, which continues to be a problem.
Look at everything I mentioned in this slideshow: what does it come down to?
Bad coaching.
The coordinators have their minds in the right place, but the head coach, who's supposed to oversee all of it, doesn't.
The discipline is no longer there in Miami. All we see is blown plays on both sides of the ball and curious looks to go with curious decisions.
Its only Week 2, but I'm already brushing off my slideshow from last January. Thank goodness all I have to do is remove a few names who are now employed and add a few new names that should come up. The Gruden, Fisher and Cowher entries, along with a couple of others are already saved on Microsoft Word.
In the meantime, if you agree with what I said in this slide, feel free to join this Facebook group.
Professional Football Is Getting Killed in Miami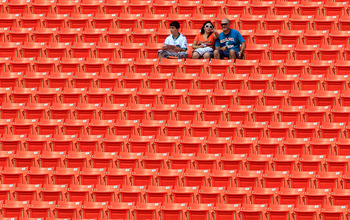 Sam Greenwood/Getty Images
When I saw this picture in the files, I thought it was from the last time the Marlins were in town. Nope. It was from Sunday's Texans-Dolphins game.
It didn't used to be like this.
The old days of the Orange Bowl saw sellouts every week for the Dolphins. There's the story of the Eagles-Dolphins game in the late 70s where Dick Vermiel wanted a penalty called on the Dolphins for "excessive crowd noise," which is possibly apocryphal, but still funny, and a statement of what kind of fanbase the Miami Dolphins have.
See, my grandfather was a season ticket holder during my childhood, which, thankfully for me, was during the Dan Marino years. I can't think of a game where the Orange Bowl or Joe Robbie Stadium wasn't packed.
This was a great football town. It still is from the bottom to the top. Every Friday night you can see high caliber high school football, where, at every game, you'll see at least 10 or 11 guys who will play big time college football. Usually there's at least one player who will make it to the NFL. Both Miami-Dade and Broward Counties have more NFL players coming out of each county per capita than any other county in the country (save for American Samoa, which is a US territory).
Meanwhile, on Saturdays, The U looks to be back, especially after their thrashing of Ohio State 24-6. Sure they're in the middle of having some problems, but they've bounced back from issues like that before. Canes fans have hope in their school.
Go across town to Florida International University and you will see a program that didn't even exist 10 years ago turn into a must-see program. For their UCF game, FIU Stadium was sold out.
Now look at Sundays.
Stephen Ross couldn't even give the tickets away. The Dolphins are being avoided like the plague.
It's not because of bad fans, even though it's now en vogue to trash Miami Sports fans. The Dolphins did sell out as recently as last season. They sold out when they went 1-15. This team has great fans and great fan support.
We're just angry and sick of mediocrity.
Other teams see their teams falter, and they wind up going to games, starting fights with people cheering for other teams, throwing crap on the field and engaging in all sorts of uncivilized and classless behavior.
Miami fans just choose not to show up. If that's being disloyal, then you really don't know business.
You don't send a message to a team by continuing to show up despite years of ineptitude. They still have your money. In the business sense, and remember this is a business as we saw this past offseason, the team is still a success.
Believe me, I would know. I'm a Cubs fan. Up until this season, Wrigley would sell out all 81 games per year. A lot of good that has done the Cubs in the last century.
So we express our anger by not showing up.
So here's my message to Stephen Ross.
Unless the Dolphins somehow manage to go 3-0 on this upcoming road trip (Browns, Chargers and Jets...yeah, sorry, not going to happen), and if you see that there are tickets still available, then don't bother buying them just to have the game shown on television.
Trust me, if we wanted to see bad football that much, we'd go to the games.
The Miami Dolphins fanbase isn't going to make the same mistake that Cubs fans made in the past. No more settling.
Conclusion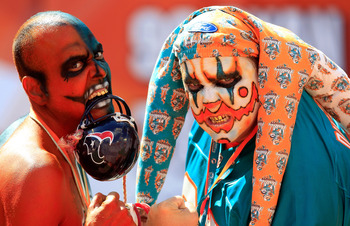 Sam Greenwood/Getty Images
I assure you, I'm not one of these gentlemen pictured above.
While in my last slide I explained how angry we are as fans, I still had fun yesterday and would still recommend going to a Dolphins game.
Unfortunately, my camera was as ineffective as Henne, and it's due time for a new one, so I couldn't actually document the fun I had (hint to my girlfriend: a flip camera would be a great present for my birthday next month). But I can tell you that, between the sights and sounds of tailgating, as well as being around fellow Dolphins fans, it was a blast.
Now if only next time I go, Miami could pull off a win.
Thomas Galicia is a Miami Dolphins Featured Columnist. Follow him on Twitter, and for more of his opinions on other subjects, visit www.thomasgalicia.com.
Keep Reading

Miami Dolphins: Like this team?