Detroit Lions vs. K.C. Chiefs: Toto, I Don't Think We're in Kansas Anymore
September 19, 2011
Leon Halip/Getty Images
After Sunday's 48-3 drubbing of the Chiefs, Lions' fans are clicking their Honolulu Blue heels thinking, there's no place like home.  Meanwhile, the curtain may have been pulled away, revealing Coach Todd Haley as a mere mortal and not the Wizard he believes himself to be.
Haley has to be wondering what happened to his AFC West Champion Kansas City Chiefs.  Desperate to be viewed as a coaching visionary; Haley, dressed in a velour-looking hoodie that appeared ripped from some old lady burning Virginia Slims in front of a Double Cherry slot machine, played the role of dolt on Sunday. 
Haley's troops retreated midway through the first quarter when All-Pro Jamaal Charles planted his left foot on the first down marker going out of bounds and tore his ACL, ending his 2011 campaign.  Kansas City's Ryan Succop chipped in a 33-yard field goal on the next play and those were the last points the Chiefs would see all day.
This game reminded me of my college years when "Directional University" took the field at Michigan Stadium for a fat dowry and were blown out by the Wolverines by halftime.  These games I ended up lying in the commons grass, basking in the September sun; sleeping off the previous evening's libations.
Sunday's game found me juggling my son's need for billiards in the basement and an occasional soiled Pamper from my 10-month-old daughter in-between Matt Cassel interceptions.  Oh, how the times have changed.
Indeed, the 45-point deficit was the largest margin of victory in franchise history for the Lions and has all of Detroit thinking playoffs.  Historically speaking, nearly 70% of all NFL teams starting 2-0 finish the season with a playoff appearance.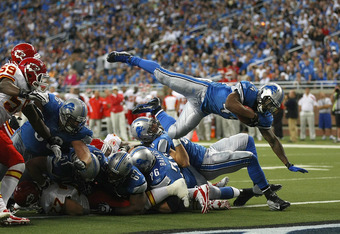 Dave Reginek/Getty Images
The Lions continued their impressive offensive display by scoring in all four quarters of the contest.  Matthew Stafford distributed his 23-of-39, four touchdown performance nicely to seven different receivers, including rookie Titus Young, whose 5-catch, 89-yard effort gave Lions fans a glimpse as to why they used a second-round pick on the Boise State standout.
Calvin Johnson had a quiet day catching 3 balls for 29 yards.  Although two went for scores, Calvin had a ball bounce off his chest in the end zone but was able to atone for the drop with a fourth and goal strike from Stafford on the next play. 
Jahvid Best continues to be a focal point in the offense with 16 carries for 57 yards and a Billy Sims leap from one yard out in the fourth.  More importantly, his 6 catch, 66 yard effort was devilishly timely allowing Stafford to extend drives and create second-and-short opportunities.
Not to be lost in the offensive statistics should be the play of Gunther Cunningham's defense.  They forced five turnovers for the afternoon and made Matt Cassel yearn for his days of toting the clipboard as Tom Brady's back-up; difference in current to previous paychecks notwithstanding, of course. 
The long-time defensive guru and form Chiefs coach, identifiable for his yellow lenses and gruff voice, would never admit publicly that this game meant a little extra to him, but the Gatorade shower given to him by his players would lead you to believe otherwise.
The Lions needed a laugher like this to validate their Week 1 upset victory.  Besides the early interception by Stafford, that within seconds was nullified by Jon McGraw fumbling the ball right back on the same play, the Lions were in control throughout.
Up next for the Lions are the winless Minnesota Vikings and their rookie head coach Leslie Frazier looking for answers.  If the Lions can sneak out of Minnesota 3-0, the bandwagon may need a few extra passenger cars, all aboard!!